Justin Fields Interested in Ohio State as Transfer Option: Report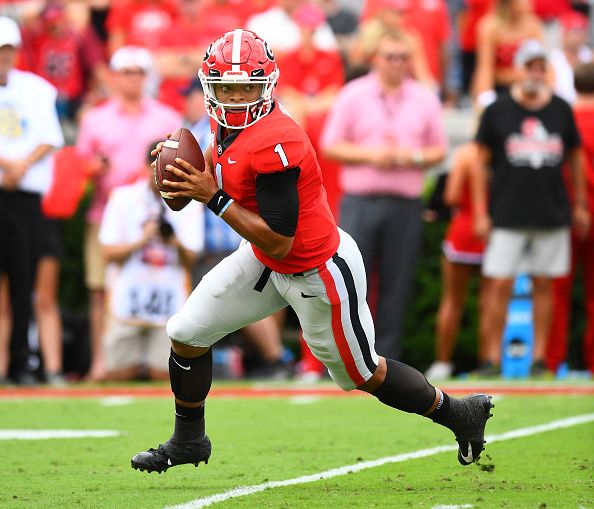 Former 5-star prospect and current Georgia Bulldogs backup quarterback Justin Fields is reportedly has Ohio State in mind as a possible transfer destination.
Fields, whose name was officially in the NCAA Transfer Portal as of Tuesday, is reportedly intersted in joining the Buckeyes as a replacement to quarterback Dwayne Haskins, sources confirmed to ESPN's Mark Schalbach on Wednesday.
Haskins is expected to declare for the 2019 NFL Draft, which would leave the starting job open for Fields to compete for should he transfer to Ohio State. The Kennesaw, Georgia native is expected to apply for a hardship waiver from the NCAA which, if granted, would give him immediate eligibility to play next season.
As for now, Fields is expected to be with the No. 5 Bulldogs during their game against No. 15 Texas in the Allstate Sugar Bowl on New Year's Day. Georgia coach Kirby Smart said the freshman hadn't confirmed his decision to leave the program as of Wednesday.
"I think he's looking at his options," Smart said. "Let me say this about Justin: Justin is competing extremely hard. He's in the meeting rooms; he's rolling and going with the twos. His information to us is he's looking at his options, which is what you do. You go into the [NCAA transfer] portal, which we all know he's in. That's the extent of it, and that's the conversation we've had."
Fields recorded 328 yards, four touchdowns and zero interceptions on 27 of 39 passing in limited action behind second-year starter Jake Fromm, with most of his reps coming late in big wins.
"I'm pleased with his work towards Texas, that he's out there with us and has a really good demeanor," Smart said. "He's getting good reps and providing good competition."
Smart added that Fields' potential transfer decision won't prohibit him from getting playing time in the upcoming bowl game.
"No, we're trying to figure out how to beat Texas," Smart said. "We're going to do everything we can to beat Texas and whatever that instills for a game plan. He decided he wanted to play in the Sugar Bowl, and I told him absolutely, we'd love you to play in the Sugar Bowl. We want you there. He's come out to work, do that, and support his teammates."
Fields ranked as the No. 1 dual-threat quarterback, No. 2 player from the state of Georgia and No. 2 overall prospect for the 2018 national recruiting cycle, as well eighth highest-rated prospect since 2000, according to the 247Sports Composite.
Fromm, who has a 23-4 record as a starter, is Georgia's only other scholarship quarterback currently on its roster. The Bulldogs signed 4-star quarterback Dwan Mathis, who was originally committed to Ohio State, during the opening day of the early signing period on Wednesday.