Justin Fields, Trevor Lawrence Lead Early Betting Odds for 2020 Heisman Trophy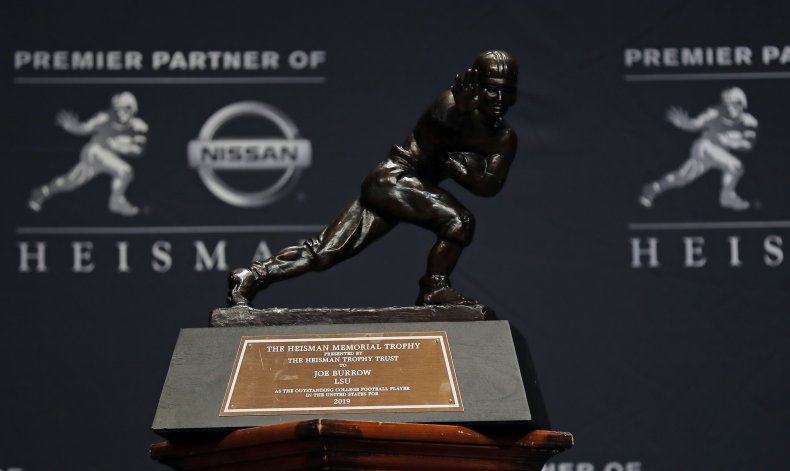 The college football season came to a close on Monday night with LSU taking home the College Football Playoff (CFP) national title, but hasn't stopped fans from looking ahead and sportsbooks from releasing betting odds for the 2020 Heisman trophy.
LSU's Joe Burrow took home the Heisman Trophy during the 2019 season, but as he and many other players have declared for the NFL draft, a new wave of players have taken over as potential candidates for the 2020 trophy.
The favorites to take home the coveted Heisman are listed below.
Justin Fields, quarterback, Ohio State
After finishing third in the 2019 Heisman Trophy voting, Fields remains in the conversation and many sportsbooks have him listed as the outright favorite. He finished this past season with 3,273 total passing yards and 41 touchdowns, but came up short during the CFP semifinal PlayStation Fiesta Bowl against Clemson. He is returning to Ohio State for his junior season and will look to improve on his 2019 performance.
Odds:
Fanduel: +175
DraftKings: +300
Bovada: +205
Trevor Lawrence, quarterback, Clemson
Trevor Lawrence comes in as the second favorite to win the Heisman Trophy, according to sportsbooks. He is coming off of a stellar season, finishing as the CFP national title runner up as well as only having one loss in his entire career at Clemson. Prior to the start of the 2019 season, Lawrence was the favorite to win the trophy in a number of different sportsbooks but was somewhat overshadowed by Burrow's historic season. Lawrence will be returning to Clemson as a junior.
Odds:
Fanduel: +430
DraftKings: +400
Bovada: +400
Spencer Rattler, quarterback, Oklahoma
Rattler will be replacing former Oklahoma quarterback Jalen Hurts who entered the 2020 NFL draft. Rattler did not start during the 2019 season but had a total of 81 yards and 1 touchdown through the three games he played.
Despite his lack of play during his freshman season, Rattler has good odds to win the Heisman considering that last three Oklahoma quarterbacks have been finalists for the trophy, with Baker Mayfield and Kyler Murray taking the trophy home. Rattler will be returning to Oklahoma as a sophomore and will be aiming to improve on Oklahoma's 2019 season, where they lost to LSU in the CFP semifinal, the Chick-Fil-A Peach Bowl.
Odds:
Fanduel: +1200
DraftKings: +600
Bovada: +1200
D'Eriq King, quarterback, N/A
Despite the fact that King recently announced he was leaving Houston and entering the transfer portal, he remains one of the top choices to take home the Heisman Trophy in 2020.
King is a redshirt senior and has one year of eligibility left. He only played four games for Houston in 2019, but played well during his previous seasons with the Cougars. During the 2018 season, King threw for 2,982 yards and 50 touchdowns. It is currently unknown what school King will play for in 2020.
Odds:
Fanduel: +1600
DraftKings: +1000
Bovada: +1000
Jamie Newman, quarterback, Georgia
Just a few days after Georgia quarterback Jake Fromm declared for the NFL draft, the Bulldogs landed former Wake Forrest quarterback Jamie Newman. While Newman has yet to play a game for Georgia, he is listed as a top choice for the Heisman Trophy in a number of sportsbooks.
Newman only started 16 games over the course of the 2018 and 2019 season at Wake Forrest, but showed that he could be a Heisman winning quarterback. In his 16 starts, Newman threw for 3,900 total yards and 35 touchdowns while also rushing for 821 total yards. He will be attending Georgia as a senior during the 2020 season.
Odds:
Fanduel: +1600
DraftKings: +900
Bovada: +1600
Myles Brennan, quarterback, LSU
Out of all of the Heisman trophy candidates, Brennan will have some of the big shoes to fill as he replaces Burrow as LSU's quarterback. While Brennan did not start for LSU during the 2019 season, he still played in 8 games and amassed 353 passing yards and 1 touchdown. He will be returning to LSU as a junior and will play in a national championship-winning offense led by LSU head coach Ed Orgeron and LSU offensive coordinator Joe Brady.
Despite Brennan's lack of game experience, he has Burrow's seal of approval as LSU's quarterback.
"Myles is going to be a great quarterback," Burrow told USA TODAY after winning the 2020 national championship. "He's very accurate and knows the offense."
Odds:
Fanduel: +2500
DraftKings: +1000
Bovada: +1000