Justin Howell GoFundMe Raises More Than $150,000 For Protester Critically Injured by Austin Police
A GoFundMe campaign for Justin Howell, a black protester who was left seriously injured after police fired less-lethal rounds at him, has raised more than $160,000.
Howell, a computer science student at Texas State University, had been at a protest near police headquarters on the night of May 31 when police hit him with a round meant for another protester standing near him.
The 20-year-old was identified by his brother Joshua Howell in an op-ed for Texas A&M University's student newspaper The Battalion. Howell wrote his brother had sustained a fractured skull and brain damage.
"Justin won't be improving quickly. 'It will be a marathon, not a sprint,' according to one of his doctors," he wrote. "Doctors anticipate that when he wakes up, he will have difficulty telling his left from his right."
Gregory Arellano told Newsweek that reading the op-ed as well as seeing videos shared on social media prompted him to start a GoFundMe page to raise funds for Howell's care on Thursday.
Since then, the campaign has collected more than $164,000 in donations.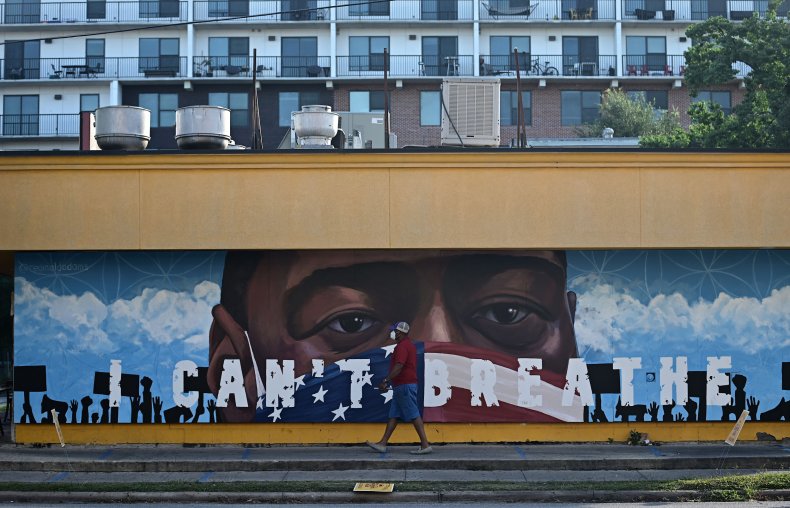 Arellano, 25, a podcaster, said watching video clips of what had happened to Justin Howell triggered a panic attack and he was "inconsolable for about thirty to 45 minutes."
He said he doesn't know Howell or his family, but he wanted to do something to help.
"I began looking for resources on who the people of Austin could hold accountable and when I was overwhelmed by the bureaucratic language of who to contact… I did the next best thing that I knew I could do and made the GoFundMe for him," he said.
He added: "Justin could have been anyone who'd be upset enough to come out and demonstrate against unfair police practices and racism and those bullets shot at him both consciously and unconsciously were his punishment for daring to speak truth to power."
Arellano said he graduated two years ago from Texas State University, where Justin Howell is a student, but still lives in San Marcos, where the college's campus is located.
"Texans already look out for each other, but Bobcats especially," he added.
Joshua Howell has been contacted for additional comment.
In a news briefing early last week, Austin Police Chief Brian Manley said the shooting is being investigated. He said officers had intended to strike a man who reportedly threw a water bottle and his backpack at officers when they hit Howell.
Joshua Howell condemned the police department, writing: "These 'less-lethal' munitions are only 'less-lethal' by technicality. My brother's condition shows what can happen when you fire them into a crowd."
He also slammed police for firing at protesters who had been instructed to bring his injured brother toward officers—something Manley says is also under investigation.
According to KVUE, Manley confirmed on Monday that two other incidents of protesters—a 16-year-old boy and a pregnant woman—being struck by the "less-lethal" rounds were also being investigated.
Protests against police brutality have been taking place in cities across the U.S. since the death of George Floyd, a black man, in Minneapolis police custody on May 25—some of them resulting in clashes between police and protesters.
Floyd was seen gasping for air as a white police officer knelt on his neck for more than eight minutes. The officer, Derek Chauvin, has been charged with second-degree murder and three others have been charged with aiding and abetting.
Over the weekend, Minneapolis city council members announced their plans to disband the city's police department as protesters continue to push to defund the police.