Arkansas House Candidate Calls Gay People 'Disgusting,' Says They Created HIV in Facebook Rant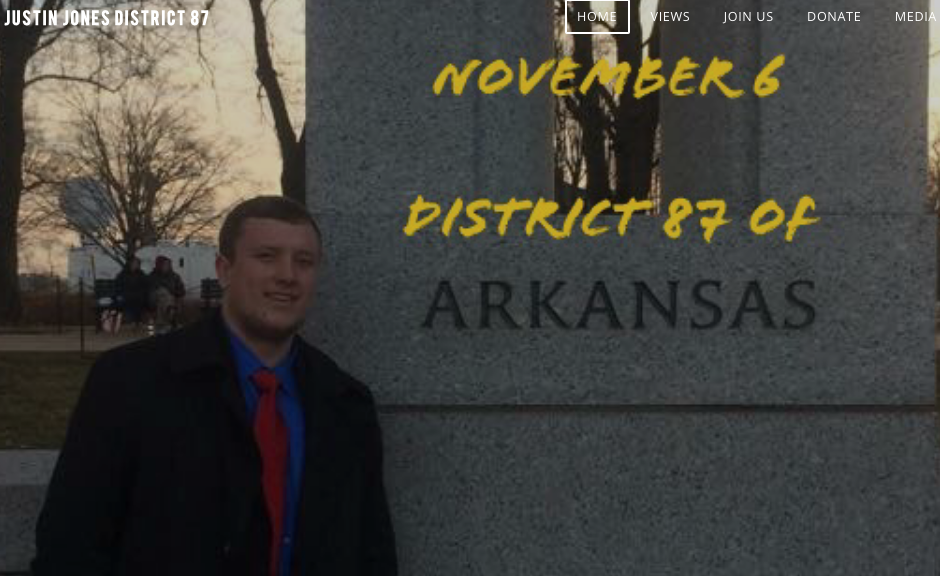 A Libertarian candidate running for a state representative seat in Arkansas responded to a Facebook debate about gay people donating blood by saying "f-gs are disgusting."
Justin Jones, who is challenging incumbent Republican Representative Robin Lundstrum for the northwest Arkansas state House seat, railed against gay people in response to a friend's comment on Facebook. His friend, Hawaii resident Myah Baeza, started the conversation in a March 30 Facebook post in which she said her gay friends should be allowed to donate blood. The Facebook conversation that ensued led to Jones repeatedly labeling gay people "f-gs" before issuing a hasty apology Monday calling his comments "satire."
Baeza told KARK-TV Monday that her initial post was to support a friend who said "my blood is too gay to save a life." In response, Baeza said, "Knowing that my gay friends can't give blood, that has always not sat well with me." Baeza told Newsweek that "networking nowadays is having Facebook and adding each other to discuss and debate online." Baeza explained that her political ideology is in between a Republican and a Libertarian and she has made dozens of mutal friends and acquaintances on Facebook with people of similar ideals -- including Jones.
But Baeza told Newsweek Tuesday that she "didn't previously see anything extremely inflammatory but his true colors showed after the post" about HIV and homosexuality.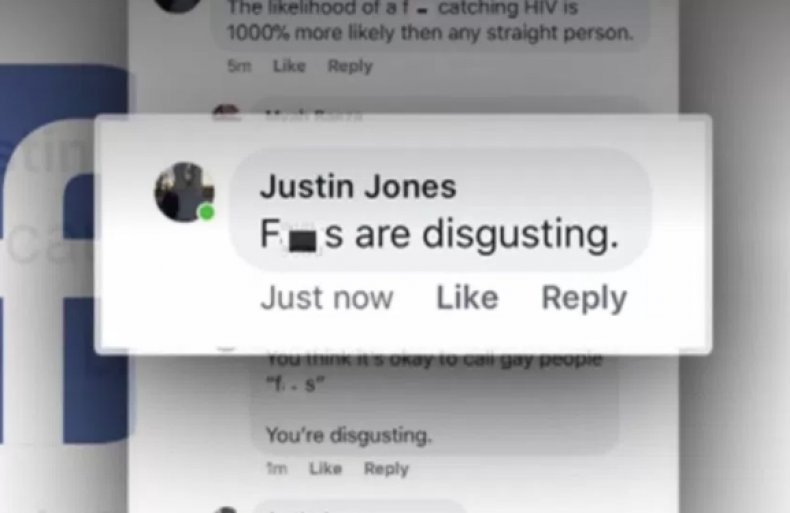 "I just like to have diverse, transitive thought throughout my social media," Baeza said.
But Baeza's Facebook friend, Jones, lashed out at her commentary.
"The likelihood of a f-g catching HIV is 1000% more likely then [sic] any straight person," Jones responded on Facebook. "F-gs are disgusting."
When pressed by Baeza asking, "Why in God's name would you say that?" Jones continued his homophobic rant.
"If you don't think HIV is created by homosexuality then you need education. That's the entirety of my post, for someone who wants free speech, you don't act like it. I shouldn't have said 'f-gs' should have said homosexuals. But I won't apologize of the moral of my comment, homosexuality is wrong, and shouldn't be publicly endorsed," Jones' comment said.
Top responses to Jones obtained by the Arkansas Times from fellow libertarian-minded friends of his on Facebook expressed shock and anger and screenshots clearly showed he had no support for his commentary.
"Satire? I know satire sir, and that was not satire," said Bobbi Hicks, who is running for the Arkansas Senate in District 10. "What that is, however, is a comment that is going to lead potential voters to have the wrong idea about the LP and what we stand for. As a candidate I will likely have to answer for your offensive comment."
Baeza told Newsweek her initial reaction was wondering "how am I friends with this guy?" and how she'd not caught on to his commentary before. "What he said was not only scientifically incorrect, but also offensive and outlandish and unnecessary," she added.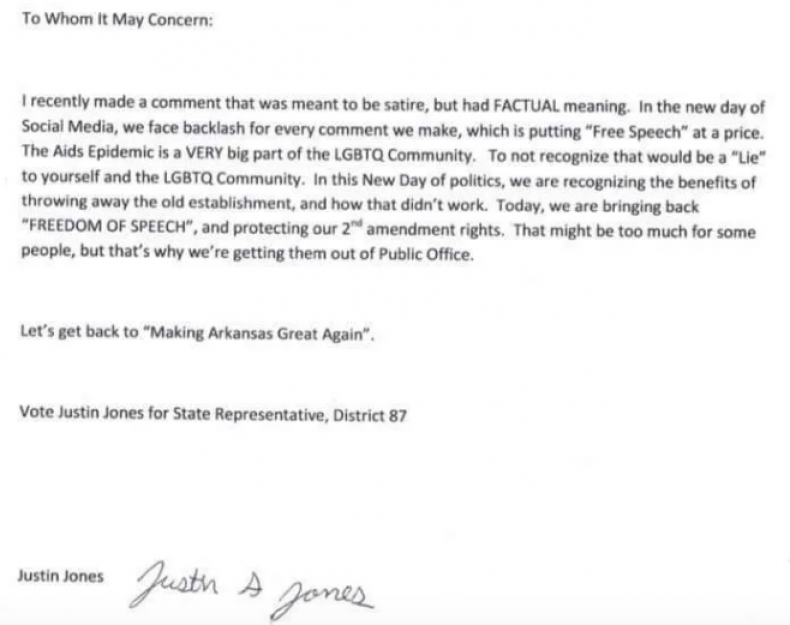 On Monday, Jones issued a hasty, signed statement to KARK-TV after Baeza handed over screenshots of his comments. He also posted the "satire" non-apology on his candidacy page, where it concludes that he'd like to get back to "Making Arkansas Great Again." Baeza said he told her "I'm sorry you're offended" in the immediate aftermath to his comment.
"I recently made a comment that was meant to be satire, but had FACTUAL meaning. In the new day of Social Media, we face backlash for every comment we make, which is putting 'Free Speech' at a price. The Aids Epidemic is a VERY big part of the LGBTQ Community. To not recognize that would be a 'Lie' to yourself and the LGBTQ Community. In this New Day of politics, we are recognizing the benefits of throwing away the old establishment, and how that didn't work. Today, we are bringing back 'FREEDOM OF SPEECH,' and protecting our 2nd amendment rights. That might be too much for some people, but that's why we're getting them out of Public Office. Let's get back to 'Making Arkansas Great Again.' Vote Justin Jones for State Representative, District 87."
Baeza told KARK-TV she wants Jones to resign. Chairman of the Libertarian Party of Arkansas, Dr. Michael Pakko, issued a statement Tuesday denouncing Jones's comments.
"The tone of Mr. Jones' comments are completely antithetical to the inclusive, tolerant position of the Libertarian Party. We believe that the rights of the individual are paramount - that each person has the right to make decisions for themselves about what activities to pursue, what foods to eat, what beverages to drink, and who to love. On the rights of LGBT individuals, in particular, the Libertarian Party has always been a champion of equal rights," Pakko's statement said.
Pakko also touted libertarian ideology as being onboard with marriage equality and keeping the government out of people's private sex lives before Republicans or Democrats.
"Government does not have the authority to define, license or restrict personal relationships. Consenting adults should be free to choose their own sexual practices and personal relationships," Pakko added.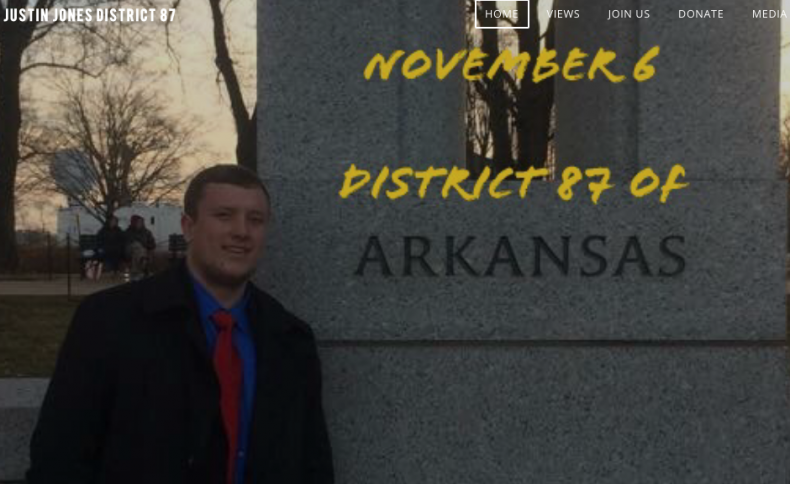 In addition to facing Lundstrum in November's election, Jones will also challenge Democrat Kelly Scott Unger for the seat. Unger issued a statement to Newsweek Tuesday afternoon denouncing the "disgusting and derogatory statements" from Jones.
"I am horrified by the nature and content of these statements; there is absolutely no place for this type of dialogue in our public discourse," said Unger. "The rhetoric around how we treat people must change. This behavior may be encouraged and tolerated on the national level, but that's not how we treat people in my district and in our community. I call on the incumbent, Robin Lundstrom, to also condemn this type of rhetoric."