Justin Smith, Diana Brice Murder Suspect, Hunted by FBI
The FBI is on the hunt for an "armed and dangerous" Pennsylvania murder suspect, who is accused of gunning down his pregnant girlfriend and lighting his car on fire to hide the evidence.
Dianna Brice's body was discovered by police in a wooded lot in Southwest Philadelphia on April 5.
The 21-year-old expectant mother was four-and-a-half months pregnant with another child at home when she was reported missing from Upper Darby on March 30. She was last seen at Landsdown laundromat, seven miles away from where her body was found, before leaving with her boyfriend, Justin Smith, 23, at about 1 p.m. on 30 March, according to the Upper Darby Police Department.
Brice's mother, Betty Cellini, told ABC Action News at the time that her daughter and Smith got into an argument on the day Brice went missing.
Detectives found Smith's Ford Fusion abandoned and on fire at about 5:30 p.m. that day, at the 1500 block of Florence Avenue and Cobbs Creek Parkway. The car was found about a mile from where police said Brice's body was discovered in the woods.
Investigators determined it was the same vehicle that both Brice and Smith were last seen in. An autopsy conducted by the Philadelphia Medical Examiner's Office determined Brice died from multiple gunshot wounds to the head and the case was turned over to Philadelphia Police as a homicide investigation.
Smith remains at-large and is wanted on charges of first-degree murder, arson, abuse of a corpse, tampering with evidence and more, according to a 'wanted' notice issued by the FBI. The agency said he may be armed and dangerous.
The FBI's Philadelphia Violent Crimes Task Force is assisting the Philadelphia Police Department in Pennsylvania with the search for Justin Smith.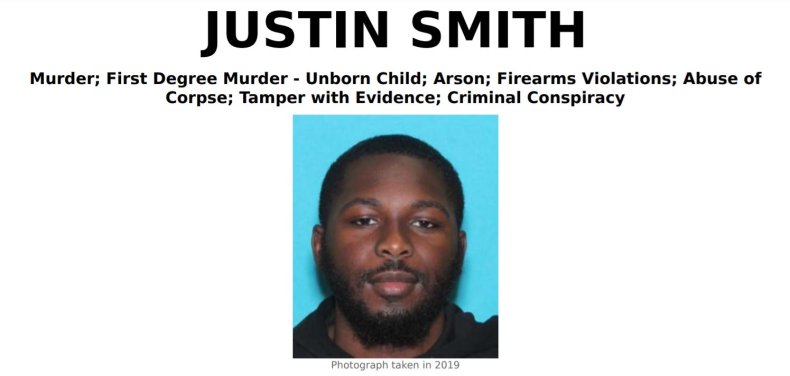 The notice describes Smith as a Black male, 5 feet, 8 inches tall and weighing between 160 and 180 pounds. Authorities say he has ties to Greensboro, North Carolina, where he was born, and New Castle, Delaware. He has also been seen Miami's Little Haiti neighborhood and in Atlanta, Georgia, the FBI said.
The bureau is offering a monetary reward for information that leads to an arrest in the case.
Philadelphia police also arrested a 21-year-old woman named Tylydia Garnett on April 12 for allegedly helping Smith attempt to conceal Brice's murder and burning the car.
Kevin Ryan, a private investigator helping the victim's family, said he believed that Smith "is being hidden right now" by "people that are hiding him."
Brice leaves behind a 4-year-old son.
Newsweek has contacted the FBI and Philadelphia Police Department for comment.