Justin Thomas Chokes Up About Tiger Woods' Car Crash: 'Sick to my Stomach'
PGA golfer Justin Thomas spoke about his friend Tiger Woods' shocking car accident on Tuesday, and expressed great concern over Woods' hospitalization.
As part of a press conference, video of which was shared on Twitter by 11 Alive Atlanta, Thomas revealed that he was "sick to [his] stomach" when thinking about Woods' car crash.
"It hurts to see one of your—I mean, now one of my closest friends—get in an accident. I just hope he's alright," Thomas said.
In his brief remarks, Thomas also called Woods one of his "closest friends" and sent well wishes to Woods' two children, Charlie and Sam. He appeared to hold back emotion when discussing Woods.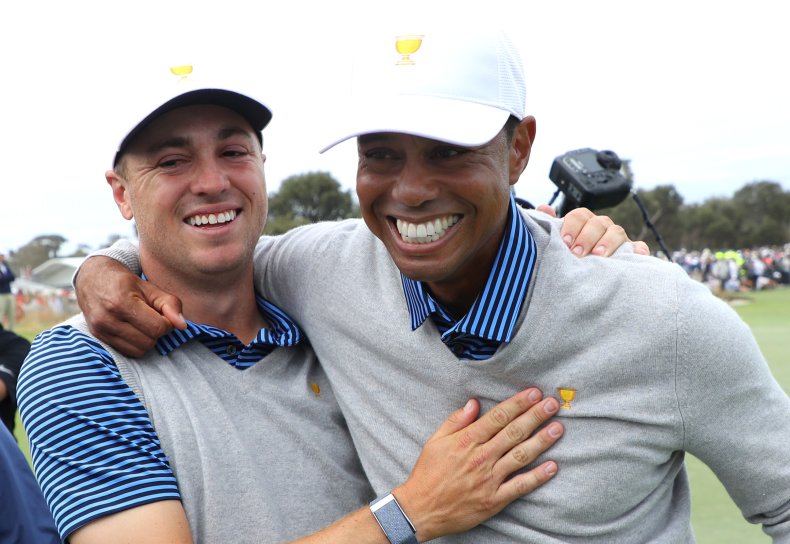 On Tuesday afternoon, the Los Angeles County Sheriff's Office confirmed Woods was hospitalized after a roll-over vehicle crash. Woods was the only person in the car at the time of the accident.
So far, there are no additional details on Woods' condition following the accident. Photos of Woods' totaled car surfaced on Tuesday afternoon, too, along with video; they show the SUV laying on its side in the brush of a part of Rancho Palos Verdes.
Thomas first met Woods in 2014, when the younger golfer entered the professional sport. Since, they've become close pals and competitors who have a unique friendship that's grown out of their shared profession. "He's meant a lot, man. I just respect him so much," Thomas told GOLF Magazine's podcast, Subpar, in December. "I'd looked up to him and his golf game and how he won and how he went about it—now, getting to know him, just his preparation and how hard he works."
While on the podcast, the 27-year-old pro also expanded on his favorite qualities about Woods, including the golf star's relationship with his children. "Probably the coolest thing for me is seeing him spend time with Charlie, just seeing how much he loves being around him [and Woods' daughter Sam] on the golf course," Thomas said. "He is such a good dad and he loves being around his kids."
In December, Woods and his son, Charlie, teamed up for the PNC Championship, which took place in Orlando, Florida.
Woods has recently been in recovery from a December back surgery, which was the fifth back-focused operation he's had. One of his most recent recovery updates included Woods' wish of possibly attending the 2021 Masters Tournament, which is slated to begin on April 8.
"God I hope so. I've got to get there first," Woods said of playing in the tournament, as reported by People. "A lot of it is based on my surgeons and doctors and therapist and making sure I do it correctly. This is the only back I've got, I don't have much more wiggle room left."