Everything We Know About Justin Timberlake's New Album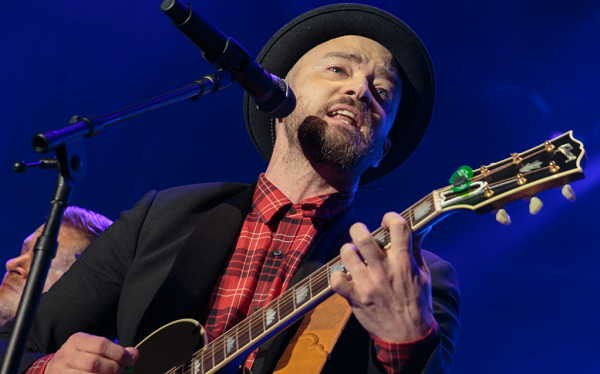 Since March, Justin Timberlake has been assuring his legion of followers that new music would be coming soon. While he's kept details under wraps, a few clues have surfaced indicating that a forthcoming album is close to release.
According to a TMZ report on Monday, the 36-year-old former 'N Sync member filed trademarks for two new phrases, "Man of the Woods" and "Fresh Leaves." There's speculation that the former might be the working title of his new album, the latter the title of the first single.
Under the filing, "Man of the Woods" can be used for a variety of things, including downloadable music, CDs, DVDs, clothing, concert posters and programs, live performances and tours. The "Fresh Leaves" trademark license can only be used for articles of clothing, like hats, robes, long sleeved t-shirts and jerseys.
The release date for Timberlake's album has yet to be revealed, but news of the trademark agreement comes just two months before his highly anticipated Super Bowl LII halftime show.
Back in October, The FutureSex/LoveSound singer announced he would make his grand return to the Super Bowl stage on February 4, 2018, following his controversial performance alongside Janet Jackson more than 13 years ago.
During the 2004 halftime show, Timberlake ripped a piece of Jackson's costume, exposing her right breast, while the duo performed the hit "Rock Your Body," from his 2002 solo debut Justified.
The incident—pegged as Nipplegate by the media—caused a flood of backlash mostly aimed at Jackson, whose music was rescinded and blacklisted, from CBS and its parent company Viacom. That move negatively impacted the sales for Jackson's 20 Y.O album, released in 2006, and 2008's Discipline.
Meanwhile, Timberlake's career thrived, though he did apologize, in 2003, while accepting a Grammy award, a week after Super Bowl XXXVIII.
A lot has happened since then. Timberlake has settled down with actress Jessica Biel, who he married in 2012; their first child, a son, was born in 2015. There are assumptions that, when he performs at the U.S. Bank Stadium in Minneapolis in February, the show will be much tamer.
Timberlake is expected to perform a melody of fan favorites, but there's a chance he'll sing a few tracks from the new album—possibly a collaboration with renowned producer Timbaland, who has talked about working on the upcoming album. During a November interview with Rolling Stone, Timbaland gushed over the songs the two cooked up in the studio. "The music we just made? It's gonna put [Justin] on another plateau," Timbaland said.
Timberlake, who grew up in Memphis, Tennessee, has said the songs on the new album reflect his Southern American roots more than any music he's made so far. To get there, he's enlised the help of top producers like Pharrell Williams, Max Martin and Shellback. But it's Timbaland who has collaborated on some of Timberlake's biggest hits, including "Cry Me a River," "My Love," "What Goes Around… Comes Around" and "Suit & Tie."
The last time the duo joined forces was for The 20/20 Experience, which topped Billboard's year-end Top 200 Albums Chart in 2013. This will be Timberlake's fifth studio album.