Justin Timberlake Finally Addresses Janet Jackson Super Bowl Controversy, Hints They've Made Up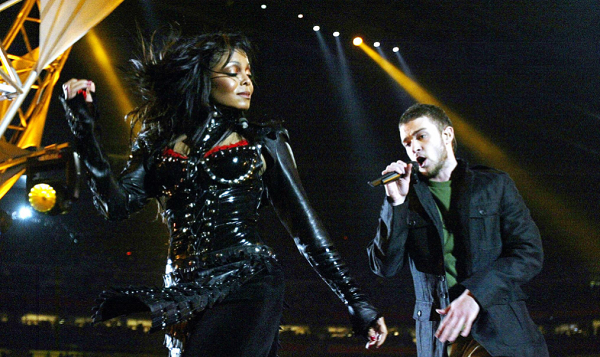 When Justin Timberlake takes the stage for the Super Bowl LII halftime show, he'll try to avoid the kind of controversy that followed his last Super Bowl appearance. And in a conversation with Beats 1 radio host Zane Lowe that will air Thursday, Timberlake admits to botching the response.
In 2004, Timberlake performed with Janet Jackson at Super Bowl XXXVIII, and during "Rock Your Body" he pulled the front of her leather outfit to reveal her jewel-covered nipple to tens of millions of viewers. What followed was pure outrage from fans and CBS, which aired the game. After the incident, Jackson was punished by CBS (the network and its related properties, like MTV, refused to promote her soon-to-drop album Damita Jo) while Timberlake mostly escaped blame.
In the Beats 1 interview, Timeberlake admitted he "stumbled" his way through the controversy in a conversation. "I had my wires crossed," he said. "And it's just something that you have to look back on and go like, 'Ok, well you know, you can't change what's happened, but you can move forward and learn from it.'"
It's not the first time Timberlake has apologized for how he acted after the "Nipplegate" debacle. The singer apologized when he appeared at the 2004 Grammys a few weeks later, and again during a 2007 interview with MTV Timberlake said he realized he could have done more to defend Jackson.
You'd think the incident and how he handled it would have taken a toll on Timberlake's friendship with Jackson. But the former 'NSYNC star said over the years he resolved the situation and made peace with The Velvet Rope singer.
"I don't know that a lot of people know that [we made up]. I don't think it's my job to [explain] that because you value the relationships that you do have with people," he told Lowe.
Naturally, the question came up of how much "Nipplegate" played into the conversation about Timberlake headling the Super Bowl LII halftime show. His answer: It didn't really.
"To be honest, it wasn't too much of a conversation," he said. "It's just one of those things where you go, like, 'Yea what do you want me to say? We're not going to do that again.'"
Timberlake's halftime show performance will take place just two days after his forthcoming album, Man of the Woods, is released on February 2. Part 1 of the Beats 1 interview with Timberlake will be released Thursday at 1 p.m ET, 10 a.m. PST.