Justin Timberlake at Super Bowl LII: Everything to Know About Singer's 2018 Halftime Show Performance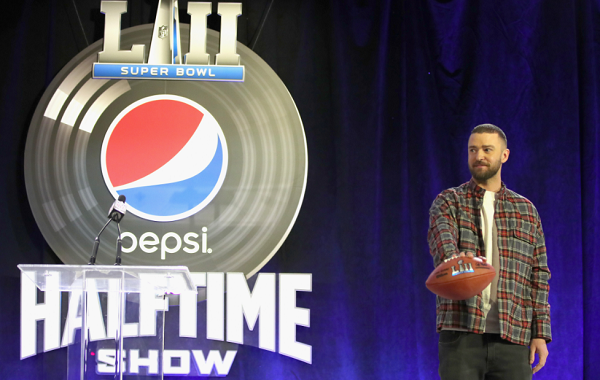 It has been 14 years since Justin Timberlake last performed during the Super Bowl halftime show. But on Sunday, the Man of the Woods singer will finally grace the football field's mainstage again—except this time, viewers should expect a much more "friendly" performance than his raunchy 2004 set with Janet Jackson.
For what it's worth, Jackson won't be making any surprise appearances during Timberlake's set. During a press conference on Thursday, Timberlake shot down rumors the Unbreakable singer would pop up during his halftime performance, eliminating any chance of Jackson suffering a wardrobe malfunction like the one she experienced during the duo's 2004 show.
But Jackson being MIA is nothing personal—JT is doing the halftime show solo. The "Filthy" singer admitted he had "a ton of grand ideas about special guests," but noted no one else would be joining his performance.
"I think Vegas has a lot of odds on it, I heard. From 'N Sync to [Jessica Biel] to Chris Stapleton to Janet," he said. "But this year, I'm just excited—my band, the Tennessee Kids—they're my special guests and I'm excited this year to rock the stage. It's going to be a lot of fun."
Beyond that scrap of news, Timberlake—like most halftime performers before him—remained tight-lipped on details surrounding the show. But the 37-year-old promised what he had planned was unlike anything Super Bowl viewers have ever witnessed. "Without giving too much away, we're doing things with this halftime show that they've never quite done before. I'm excited to do that," he said.
He added: "I always like to push, to be able to do something like that. It's a moment where you have the opportunity to bring so many people together through what I think is the greatest art form, which I think is music. That has been sort of the ethos and inspiration behind putting the set list together and managing how the visuals would all sort of come together."
He did, however, reveal one song he was considering singing during his 13-minute performance. "I think the odds are good that I may have a little 'Can't Stop the Feeling' in the show. That's all I'm giving away," he said.
Despite the lack of performance details, viewers can reasonably expect to see Timberlake decked out in clothes that fully embody his new homey and rustic, man-of-the-woods style. The singer tapped British designer Stella McCartney to style his Super Bowl outfit, according to GQ, and she dressed him in pieces made of faux leather, recycled wool and sustainable crunchy granola.
Super Bowl LII kickoff is 6:30 p.m. ET on CBS on Sunday, but Timberlake won't hit the stage until around 8:30 p.m. ET.