Justin Timberlake 'Hypocritically' Wears All-Black To Golden Globes After Working with Woody Allen: Twitter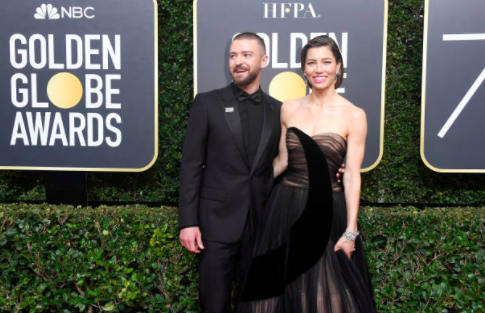 Justin Timberlake is a hypocrite: that was the general consensus among some Twitter users after the "Filthy" singer announced he and wife Jessica Biel were wearing all-black to the 2018 Golden Globes on Sunday. The move was a statement, not a fashion choice, to unite women against sexual harassment and inequality in the workplace.
"Here we come!! And DAMN, my wife is hot!" Timberlake wrote on Instagram Sunday. The post was liked more than 1 million times by his 47.8 million followers.
Timberlake, however, worked with Woody Allen on the film Wonder Wheel. And the director famously was accused of abusing Mia Farrow's daughter, Dylan, when she was 7 years old. For decades, Allen denied the allegations.
Some Twitter users claimed Timberlake essentially sided with an alleged abuser by working with Allen, not speaking out against him.
Wonder Wheel is set in the 1950s around Brooklyn's Coney Island neighborhood. Kate Winslet plays Ginny, the wife of a Coney Island carousel operator (James Belushi). She falls in love with Timberlake's character, an attractive lifeguard named Mickey. The twist comes into play when the estranged daughter of Ginny's husband, played by Juno Temple, also falls for Mickey.
A post shared by Justin Timberlake (@justintimberlake) on Jan 7, 2018 at 2:40pm PST
"There was not one single moment that I was not utterly terrified," Winslet told Entertainment Weekly in August about shooting the movie. "It's an incredibly complicated character — maybe the most complicated female character I've ever had the challenge of grappling with."
Winslet enjoyed working with Timberlake. "He's such a wonderful person," she told EW. "I would turn to him and say, 'Do you know what, Justin Timberlake? The best thing about you being in this film is that you're really not "Justin Timberlake." If you had really been "Justin Timberlake" it could have been a complete nightmare, but really you're not "Justin Timberlake" at all, you're just some guy named Justin.' He's totally unvain, he has an absolutely infuriating ability to learn lines fast, and he's an all around great person — humble, fun, hard-working, easygoing, no ego. Such a joy, really.
Neither Timberlake nor Winslet responded to the allegations against Allen.
Wonder Wheel was released in theaters on December 1.
The 75th annual awards start Sunday at 8 p.m. ET on NBC. Click here to watch live footage of the 2018 Golden Globes.