Third Instance of Trudeau in Brownface Surfaces in 24 Hour Period
A new video of the Prime Minister of Canada in brownface has surfaced, the third in a 24 hour period. The video, published by Global News, appears to show Justin Trudeau wearing a t-shirt and cutoff jeans and dark makeup covering his face, neck and arms.
According to the news outlet, the video was obtained earlier this week but was not released until the identity of the person in the video could be verified. On Thursday morning a senior member of Trudeau's party confirmed the video was of the Prime Minister., Global News said. The time and circumstances of the video have not yet been verified.
The latest video came after Trudeau apologized Wednesday for two other instances of him wearing blackface makeup, which were both revealed in the last 24 hours. The first was released by Time Magazine from an "Arabian Nights"- themed gala in 2001. The picture appeared in a yearbook of West Point Grey Academy, where Trudeau was a teacher. The picture shows Trudeau wearing dark make up on his face and hands while wearing a turban and robes.
While apologizing for the photo, Trudeau revealed that while in high school he performed the song "Day-O", a Jamaican folk song performed by Harry Belafonte, "with makeup on."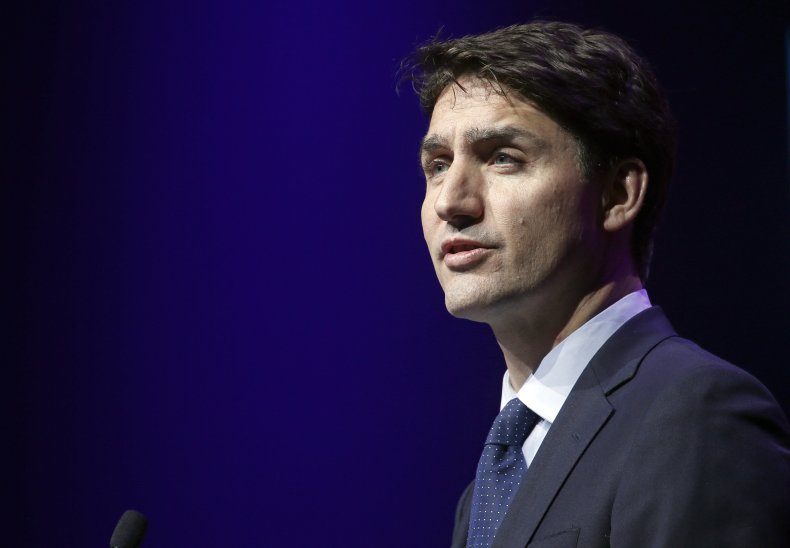 Trudeau admitted his mistakes, saying, "I deeply regret that I did that. I should have known better, but I didn't. This is part of the reflections we all have to have on how we judge the mistakes that we've made in the past, how we take responsibility for them...And if it leads other people to have reflections then that's a good thing..."
The prime minister said he recognized that his actions were an example of how, "...we do need to do more to fight anti-black racism, systemic discrimination, unconscious bias..." Ultimately, Trudeau concluded, "This is very much about me taking responsibility for an action I really shouldn't have taken."
The three incidents come a month prior to Canada's federal elections to elect members to the House of Commons, set for October 21. The Liberal party is attempting to maintain the majority over the Conservative and New Democratic parties.
Conservative Party leader Andrew Scheer, whose party is in a dead heat with Trudeau's for control of the House of Commons, responded shortly after the story broke saying, "Like all Canadians, I was extremely shocked and disappointed when I learned of Justin Trudeau's actions. Wearing brownface is an act of open mockery and racism. It was just as racist in 2001 as it is in 2019."
Jagmeet Singh, leader of the New Democratic party responded to the Prime Minister's apology via twitter: "Tonight is not about the Prime Minister. It's about every young person mocked for the colour of their skin. The child who had their turban ripped off their head. And those reliving intense feelings of pain & hurt from past experiences of racism. To you, I say you are loved."