Justin Trudeau at Risk of Losing Power As Canadians Head to Polls
After his election victory four years ago, Canadian Prime Minister Justin Trudeau promised to lead the country with a "sunny ways" approach.
Yet, on Monday, it is a shadow of uncertainty that hangs over the country as Canadians head into what Trudeau himself branded one of the nation's "nastiest" elections yet.
On the eve of the election, an average of polling suggested that despite a difficult campaign, Trudeau could narrowly cling onto power—albeit far less of it.
While polls have proven wrong before—a fact Americans know all too well—an average of publicly available polling data published by the Canadian Broadcasting Corporation (CBC) suggests that Trudeau could secure a second term, but with a minority government.
According to CBC's Poll Tracker, which was last updated late Sunday night, the Liberals were pulling ahead of the Conservatives by just 0.4 percent, with the former gaining 32 percent of the vote, compared to the Conservative Party's 31.6 percent.
Meanwhile, the New Democratic Party (NDP) appeared to be gaining traction, with 18.4 percent of the vote.
The probability of Trudeau's Liberal Party winning a majority government again was put at 13 percent, however, with the probability of the party winning the most seats, but not a majority government, much more likely, at 48 percent.
Still, the race between Trudeau and his Conservative rival Andrew Scheer is incredibly close, with growing support for the NDP's Jagmeet Singh potentially splitting the progressive vote.
With Trudeau's "sunny ways" edict undermined by a series of scandals—the SNC-Lavalin affair, which saw the prime minister accused of attempted political interference, and the string of photos that emerged showing him in blackface and brownface in his late twenties—many would-be Liberal voters have felt further swayed towards the NDP.
Singh has sought to deter progressive voters from voting for the Liberals "out of fear," with the NDP leader telling supporters during a campaign stop in Port Alberni, B.C., that Trudeau would try to tell them "you don't have a choice in this election."
"He's going to tell you you can only vote for Mr. Trudeau, you can only vote for the Liberals. The Conservatives are going to tell you you have to vote for the Conservatives," he said. "I want to tell you they don't own your vote. You can choose in this election to have someone who is going to fight for you, to have someone who is going to stand up for you."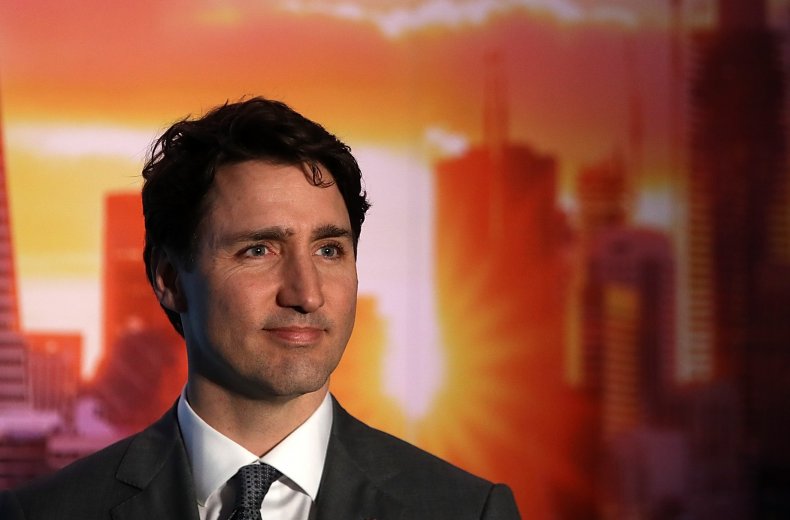 According to an Ipsos poll published on Friday, the majority of Canadians believe that the best outcome from Monday's election would be a majority government (61 percent) compared to 39 percent who would feel more comfortable with a minority government.
Among those who preferred a minority government, however, were voters supporting parties least likely to win a majority: Bloc at 71 percent, Green at 64 percent and NDP at 53 percent, compared to just 29 percent and 23 percent of Liberal and Conservative voters, respectively.
Meanwhile, of those who preferred a majority government, Conservatives made up the largest share, with 77 percent of Tories seeking majority leadership, compared to 71 percent of Liberals.
Another finding from the Ipsos poll shines a light on just how disappointed Canadian voters appear to be with the country's political situation, with at least four in ten (38 percent) saying they are voting "out of protest, disgust or strategically."
While six in ten (58 percent) of Canadians said they were voting for the option they liked best, one in ten (13 percent) said they were voting to express their "disgust" with all the other options, while two in ten (19 percent) said they were voting to make sure another party wouldn't win.
Meanwhile, six percent said they would be voting strategically to try to prevent a coalition/minority government from forming.
"What is clear is that for millions of Canadians, the political parties and leaders are not resonating," Ipsos Global CEO of Public Affairs Darrell Bricker wrote in a report of the market research firm's findings.
Four in ten (36 percent) Canadians said that, ultimately, they didn't "really like any" of their options in the 2019 election.
That number was even higher among those who said they did not plan to vote at all, with 50 percent of non-voters saying they were left uninspired by party leaders.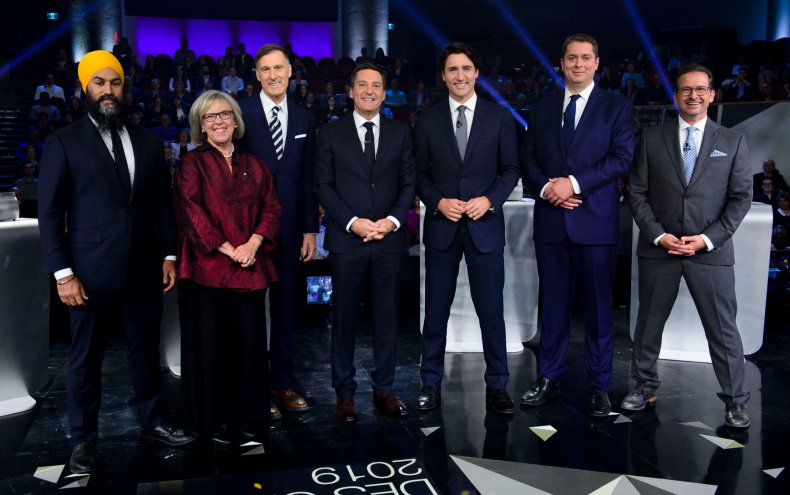 Justin Trudeau at Risk of Losing Power As Canadians Head to Polls | World