Justin Trudeau Hints Removing Queen Not a Priority as Prince Charles Visits
Canadian Prime Minister Justin Trudeau has hinted that removing the queen as head of state is not a priority, telling reporters that the Canadian people are "not preoccupied with constitutional change" as discussions about the country's future with the monarchy increase with the royal visit of Prince Charles and Camilla, Duchess of Cornwall.
Charles and Camilla are paying an official visit to Canada as part of Queen Elizabeth II's Platinum Jubilee, returning home on Thursday. The monarch has been Queen of Canada for 70 years alongside Great Britain and 13 other commonwealth realms.
In recent years, a movement to remove the queen as head of state and for the country to move away from a monarchy has gained increased popularity. A poll by the Angus Reid Institute conducted in April found that 58 percent of respondents said that it was right for countries to sever ties with the British monarchy.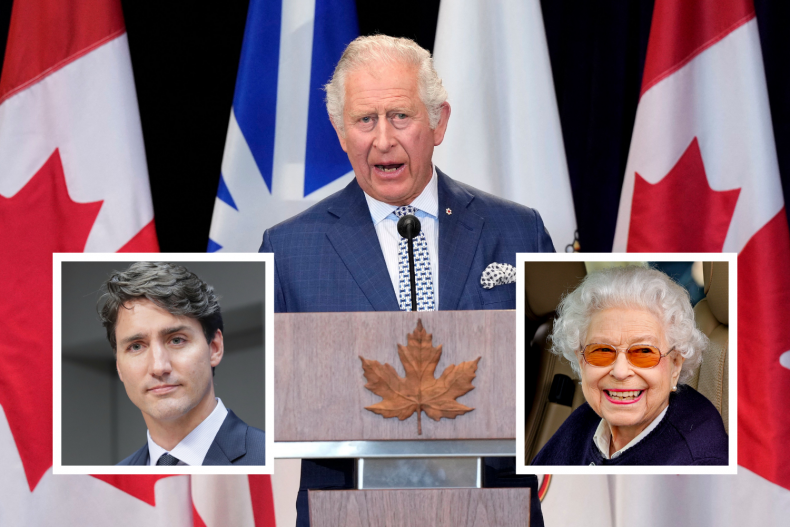 Despite these polling numbers, Trudeau has announced that he believes the issue is not something that Canadians are "preoccupied" with.
Ahead of Charles and Camilla's arrival in Newfoundland on Tuesday, the prime minister told reporters: "When I hear from Canadians about the things they're preoccupied about, and the things they want their governments to work on, it's not about constitutional change."
In order for the country to remove the queen or successive monarchs from Canada's governance structure, it is believed the process would require a series of alterations to the country's constitution.
The 96-year-old queen remains a highly popular figure among Canadians with a 61 percent favorable response from Angus Reid survey respondents. A 2021 poll by the same body found that the majority of Canadians would support the country keeping the monarchy as long as the queen lives, however, 66 percent would oppose recognizing Charles as the next king after her death.
The 2022 polling data also suggests that Charles' popularity is poor among Canadians, with a 54 percent unfavorable response from those questioned, placing him only above Prince Andrew who saw a 68 percent unfavorable response.
Prince William may be the royals' key to holding onto Canada's crown as he polls as the second most popular royal following the queen by only 3 percent.
Despite discussions on the monarchy's future in the country, Charles and Camilla were warmly received on their arrival in Newfoundland and Labrador on Tuesday, with crowds turning out to see the couple as they began their three-day tour.
The visit follows a series of difficult tours for the British royals with the Caribbean visits of William and Kate Middleton as well as the queen's youngest son, Prince Edward, each receiving anti-colonialist and pro-reparations protests and also suffering a series of PR blunders including poorly chosen photo opportunities.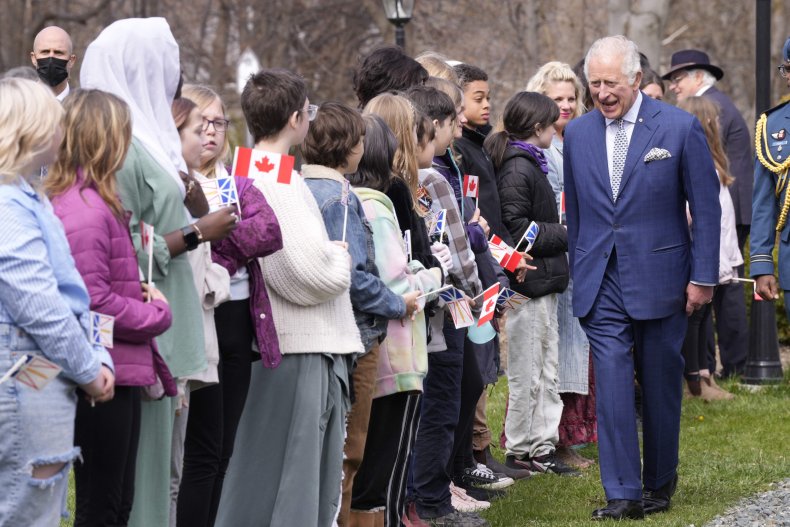 Charles and Camilla's tour was forecasted to face less criticism, but calls for the future king to acknowledge the colonialist policies which negatively impacted Canada's First Nations communities have arisen.
Charles, who has addressed similar difficult issues on past tours, took the subject head on during his opening speech in St. Johns, acknowledging that "we must find new ways to come to terms with the darker and more difficult aspects of the past: acknowledging, reconciling and striving to do better."
"I have greatly appreciated the opportunity to discuss with the governor-general the vital process of reconciliation in this country," he continued.
"Not a one-off act, of course, but an ongoing commitment to healing, respect and understanding. I know that our visit here this week comes at an important moment—with Indigenous and non-Indigenous peoples across Canada committing to reflect honestly and openly on the past and to forge a new relationship for the future."
Charles' addressing of these issues at the beginning of his tour comes in stark contrast to William, who on his visit to the Caribbean countries of Belize, Jamaica and the Bahamas was criticized for not taking a proactive stance in regards to the concerns and criticisms of his host nation's populations.
The queen is said to be deeply fond of Canada, having visited the country more times in an official capacity than any other Commonwealth nation and maintains regular contact with the prime minister.
In March, the monarch honored Trudeau by receiving him in her first in-person audience at Windsor Castle following a series of health issues including a period of sickness with COVID-19.
Following his meeting the prime minister tweeted: "It's always wonderful to see Queen Elizabeth II. When we met at Windsor Castle, we spoke about a wide range of issues— including global affairs, the situation in Ukraine, and Her Majesty's lifetime of service to Canada and the Commonwealth."