Justin Trudeau Declines To Insult Donald Trump After Request To 'Push Him Off A Cliff' From Town Hall Attendee
Canadian Prime Minister Justin Trudeau didn't take the easy cue to insult Donald Trump after a man at a town hall offered him some "bad relationship advice" about dealing with the U.S. president.
Trudeau took questions at a Wednesday town hall event in Kamloops, British Columbia, where an unidentified man thanked him for giving him the floor and asked, "I just want a really, really quick, really funny question...pertaining about Donald Trump. Would it really be bad relationship advice to give you, just to tell you, you know, from all of us, just push him off a cliff? We're good."
The Toronto Star reports that the man's use of a dramatic pause drove the Canadian crowd into raucous laughter and scattered applause before the man continued.
"Like, really. I'll buy you a beer," the man added, before concluding: "But anyways, thank you for giving me the mic. I just wanted to get that off.... You mentioned him."
A reserved Trudeau smiled before responding in his typically restrained manner, saying the relationship between Canada and the United State is bigger than any two politicians.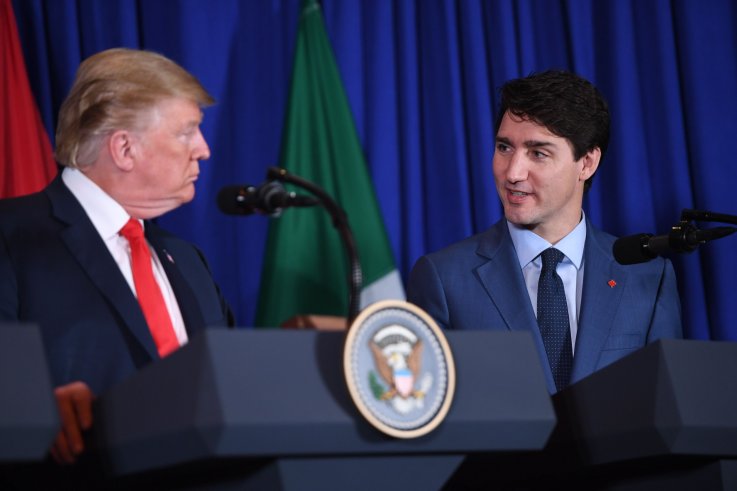 "I wasn't expecting a threat of violence against our closest ally, but I, you know, in politics people have all sorts of opinions," Trudeau replied. "And all sorts of perspectives about who is leading at any given moment. The relationship between Canada and the United States goes far deeper than who happens to be prime minister and who happens to be president."
Trudeau had already addressed one question about Trump prior to the man's comment about the U.S. president, who is highly disliked by Canadians, according to several polls. Another town hall attendee had incorrectly claimed Trump blamed Canadians for the California wildfires, the Toronto Star reported. The Canadian prime minister changed the conversation's course after the man's question and instead addressed how America's northern neighbor pulled together during the negotiations on the North American Free Trade Agreement.
"And keeping things on a pragmatic, regular, thoughtful level—and not, you know, stooping to insults or, you know, jokes—I think is an important thing that Canadians should keep in mind when dealing with the world. But I appreciate your comment," the prime minister said.
Trudeau, who frequently defers making negative comments, unlike his American counterpart, explained that he is expected by those who voted him into office to uphold a "constructive relationship" with Trump.
"I try not to weigh in on various things that he says as a matter of course," he told the town hall crowd.
Trudeau did his best to calm a wild crowd and dampen frustrations despite indigenous, First Nations protesters interrupting the town hall to blast the Canadian federal government's support of the Coastal GasLink pipeline, Global News reported. Trudeau was called a "weak leader" and a "liar" by town hall attendees as he tried to contain the anger directed at himself and the Canadian government.