Trudeau Says Trump G7 Announcement Is What Made His Team's 'Jaws Drop to the Floor' After Video Goes Viral
It wasn't an embarrassing blunder that caused President Donald Trump's team's jaws to drop, according to Canadian Prime Minister Justin Trudeau, but the president's announcement about the new location of the next G7 meeting.
In a viral video taken at Tuesday's reception at Buckingham Palace, Trudeau is seen telling French President Emmanuel Macron and British Prime Minister Boris Johnson that people saw Trump team members' "jaws drop to the floor." Microphones captured a portion of what said and the context that caused the reaction from Trump's team was not clear until Trudeau's Wednesday press conference.
"We were all surprised and I think pleased to learn that the next G7 would be at Camp David," Trudeau told reporters on Wednesday when asked to clarify his "jaw drop" remark.
Trump's initial plan was to host world leaders at his golf resort in Miami, but announced it would be held at Camp David, the president's country retreat in Maryland, during a meeting with Trudeau Tuesday. Trump added that world leaders would be doing "very special things" at Camp David and that the press would have "great access."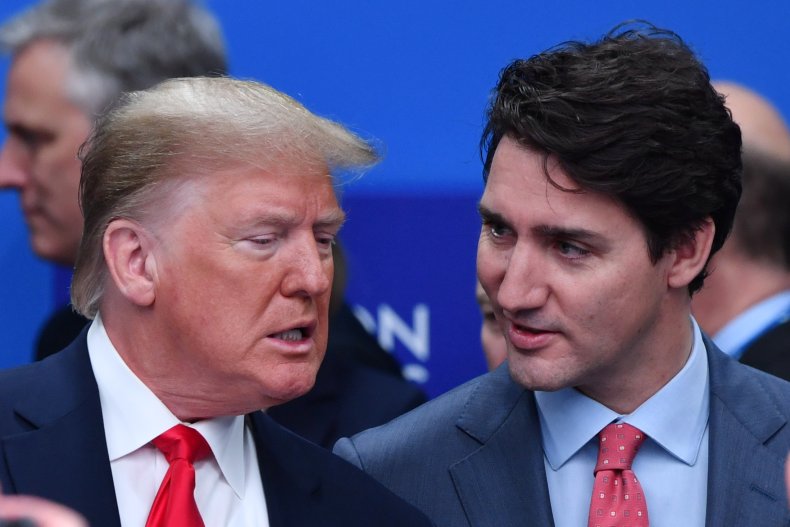 Trudeau told reporters he thought the announcement about the G7 meeting was unscheduled and acknowledged that every world leader has shocking moments for their teams. One of those "unscheduled surprises" that causes aides' jaws to drop, Trudeau said, was the viral video.
While the conversation has been viewed as a gossiping session among world leaders, the Canadian prime minister rejected that he was talking behind the president's back. Leaders of G7 countries, he said, were interested in where the meeting would be held and he was "pleased" to share with Johnson and Macron the story behind the Camp David announcement.
Trump characterized Trudeau as being "two-faced" after the video surfaced and claimed that the Canadian prime minister's comments were a response to his decision to call Trudeau out for failing to meet NATO'S 2 percent defense spending goal.
"It's Canada—they have money and they should be paying 2 percent...so I can imagine he's not that happy, but that's the way it is," Trump told reporters when asked about the video.
Newsweek reached out to the White House but did not receive a response in time for publication.
Trudeau told reporters the United States had a legitimate concern that every country was contributing fully to NATO. He said Canada has a "history" of stepping up for NATO and said it would continue making increased defense investments.
The two leaders, who butt heads from time to time, met again Wednesday morning and Trudeau said they had "good conversations" both before and after the video went viral. He told reporters the relationship between the neighboring countries was "extremely strong," and that he has a "very good" relationship with Trump and his team.