Justin Trudeau Says He's Been 'More Enthusiastic About Costumes' Than Appropriate Amid Brownface Scandal
Justin Trudeau apologized Wednesday evening after a years-old photo emerged depicting the Canadian Prime Minister in brownface, telling reporters that he now realizes such an act was "racist."
But in apologizing, Trudeau admitted that a 2001 image of him dressed in an Aladdin costume at an end of the year "Arabian nights" gala was not the only instance in which he applied dark makeup on his face to appear as another race.
"The fact of the matter is that I've always—and you'll know this—been more enthusiastic about costumes than is sometimes appropriate," Trudeau said. "When I was in high school, I dressed up at a talent show and sang Dale—with makeup on."
The revelations and emergence of the photo have rocked the party in the lead up to Canada's presidential election coming up on October 21, calling into question whether the Liberal Party member will be able to win re-election.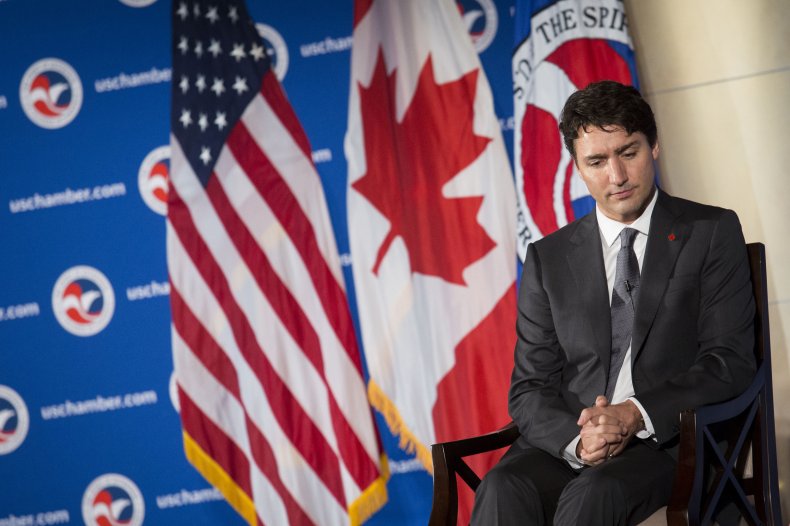 Trudeau said rather than the public narrative centering around the timing of the photo being released, it was about the fact that he did "something that I should've have done."
"I shouldn't have done that. I should've known better, but I didn't. And I'm really sorry," he said. "Obviously, I regret that I did it. It's not about timing, it's about having done something that I shouldn't have done, and I'm really sorry that I did."
Trudeau further explained that at the time of the photo, which appeared in a 2000-2001 yearbook of the private school West Point Grey Academy in Vancouver where he was a teacher, according to TIME, he "didn't consider it a racist action."
"But now we know better," Trudeau continued, "and this was something that was unacceptable... I'm pissed off at myself. I'm disappointed in myself."
A third instance of the prime minister appearing in racist makeup in the past was revealed Thursday morning by Global News, showing Trudeau in the 1990s in blackface. Based on rips in his jeans shown in the video, the news organization said it appeared as though the dark makeup was also applied on his legs.
Global News reported that a senior member of the Liberal campaign confirmed it was Trudeau in the video.