Are Justin Trudeau's Eyebrows Fake? Strange Pictures Prompt Conspiracy Theories
Canadian Prime Minister Justin Trudeau's eyebrow was the unexpected star of the G-7 summit, prompting online speculation after it appeared to slide down his face.
Trudeau was speaking at a joint press conference with French President Emmanuel Macron when the apparent eyebrow mishap occurred, with pictures appearing to show one eyebrow unusually lower than the other.
"Eyebrowgate" may well have been due to the lighting at the press conference or to pictures taken at a strange angle, but that hasn't stopped speculation about Trudeau's possibly fake eyebrows online, with Twitter loving the strange images.
Among those enjoying the eyebrow conspiracy theories was Mike Huckabee, former Arkansas governor and father of White House press secretary Sarah Huckabee Sanders.
"Breaking wind from CNN! @realdonaldtrump announces new tariffs on fake eyebrows!" he wrote.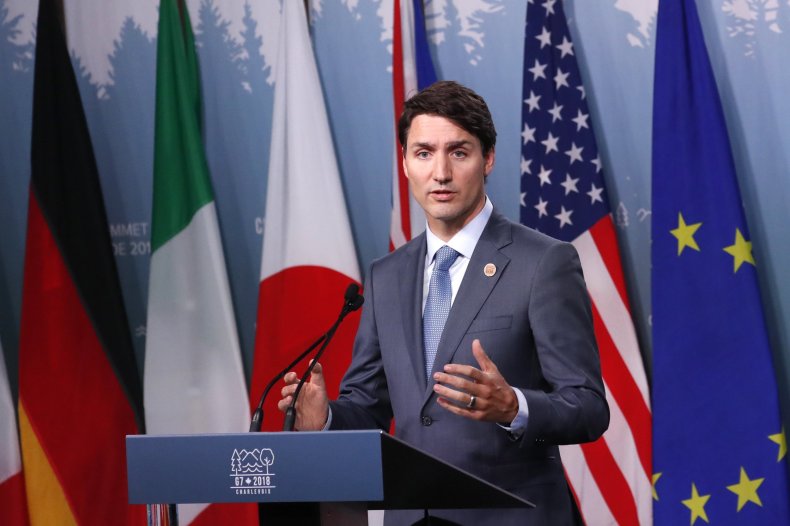 Another user shared footage from the press conference, writing, "Justin Trudeau's left eyebrow detached after meeting Trump—so what? These days, who doesn't wear fake eyebrows?"
And memes from the possible fake-eyebrow fail include caterpillars on the loose, flying eyebrows and an eyebrow wig makeover kit.
Other tweets speculated about why the Canadian prime minister would need to don fake eyebrows.
"Just so you know, yes it's true. Justin Trudeau wears fake eyebrows and takes really good care of us most of the time. But he's really intimidated by ‪@realDonaldTrump, and the sweat loosened the glue that keeps us attached. No biggie," the Twitter account Trudeau's Eyebrows (yes, that's an actual Twitter account) tweeted.
The G-7 summit also saw President Donald Trump lash out at the Canadian prime minister after he said that Canada would with "absolute certainty" impose retaliatory tariffs on U.S. goods.
"Based on Justin's false statements at his news conference, and the fact that Canada is charging massive Tariffs to our U.S. farmers, workers and companies, I have instructed our U.S. Reps not to endorse the Communique as we look at Tariffs on automobiles flooding the U.S. Market!" Trump tweeted Sunday.
"PM Justin Trudeau of Canada acted so meek and mild during our ‪@G7 meetings only to give a news conference after I left saying that, "US Tariffs were kind of insulting" and he "will not be pushed around." Very dishonest & weak. Our Tariffs are in response to his of 270% on dairy!" he added.