Justin Trudeau Apologizes to Canada's Native Peoples, Something the U.S. Hasn't Done Publicly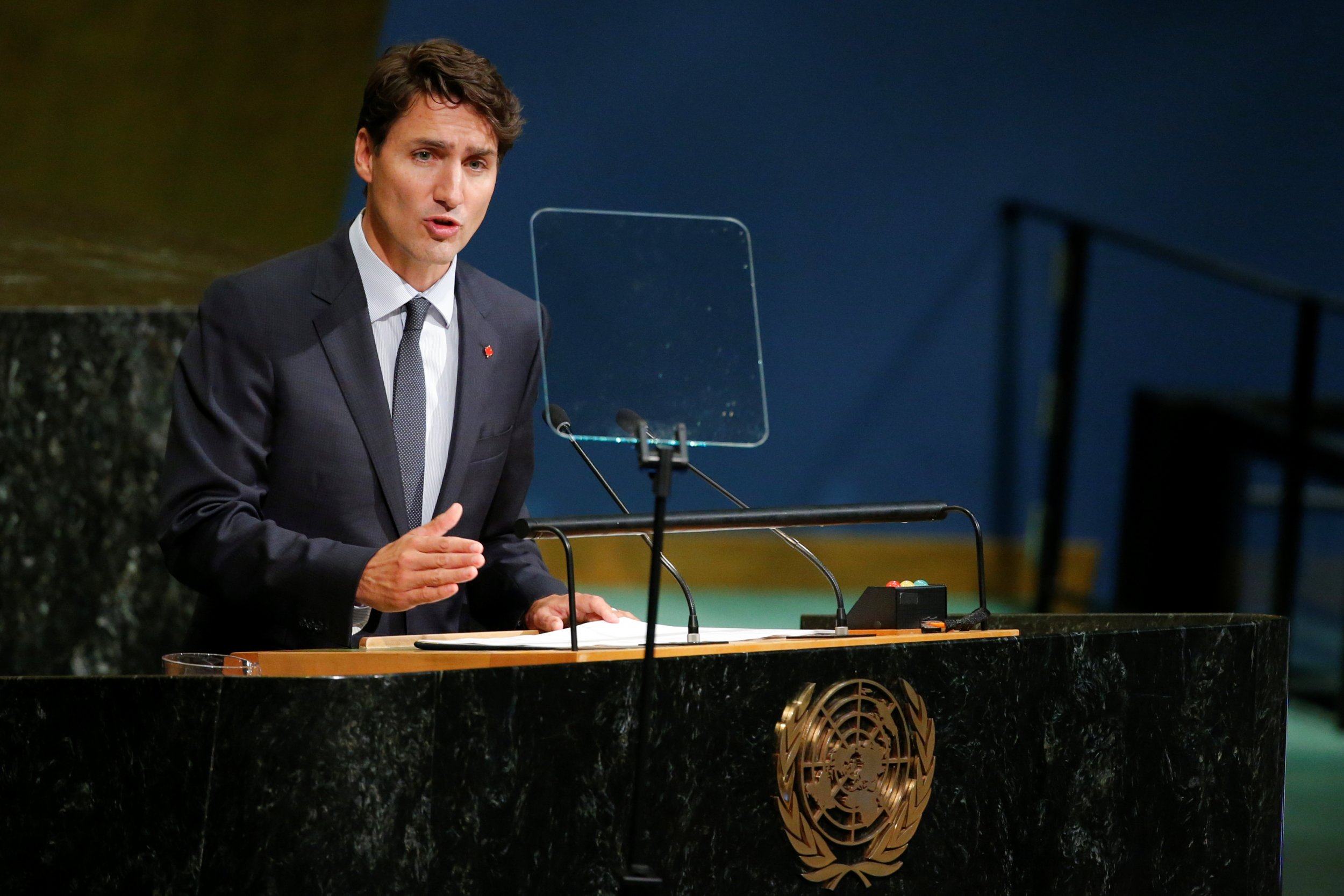 Indigenous peoples were "victims" of a government that set out to destroy their culture, Canada's Prime Minister Justin Trudeau said Thursday in what are perhaps the most expansive comments ever made by a North American leader on the topic of indigenous peoples.
Trudeau's speech to the United Nations General Assembly focused on Canada's abuse and humiliation of the continent's original inhabitants, who have lived on these shores for millennia.
"They were victims of a government which sought to rewrite their unique history, to eradicate their languages and their cultures, by imposing traditions and ways of colonial life," he said.
"They were victims of a government which refused to protect the lands and the waters recognized by the indigenous peoples and their principle of always thinking seven generations ahead. In short, we rejected the idea that entire generations of indigenous peoples could define their lives and live in dignity and pride, and we denied Canada these significant contributions which these generations could have offered, so that we could build our great country together."
Trudeau's willingness to blame Canada for its treatment of its native population stands in stark contrast to the approach of President Donald Trump, who used his United Nations speech to call out the human rights abuses made by many nations today, but not look back to past American transgressions.
And on policy, President Trump is not acting like his Canadian counterpart. In May, Trump proposed $300 million cuts to the Interior Department's Indian Affairs budget. And his bid to repeal Obamacare has been protested by Alaska natives who fear the GOP "repeal and replace" bill would put tribal healthcare at risk.
And tribal leaders in Oklahoma continue to object to a Trump proposal to privatizing some Indian lands.
Perhaps most famously, Trump immediately signed off on the Dakota Access Pipeline, ignoring the months-long protests that the pipeline's planned route would endanger native lands.
To many Native Americans and their supporters, that action symbolized America's disrespect for its original residents, millions of whom were killed and displaced in the first 200-plus years of white colonization.
"The reason you can't find an admission of wrongdoing (from the U.S.) is that colonialism is still alive and well," said Tarah Demant, director of gender, sexuality and identity programs for Amnesty International. "I don't think you can even find an admission for the Trail of Tears."
It does not appear that Trump or the Republican Party is going to have a Trudeau moment. Indeed, two weeks ago, Trump ally Steve Bannon called Native American issues a "thing of the leftists" in response to a question from 60 Minutes correspondent Charlie Rose.
"We're all immigrants. Except the Native Americans who were here," Rose said.
Bannon retorted: "Don't–don't give me–this is the thing of the leftists. Charlie, that's beneath you."
Alabama Senate candidate, Roy Moore, who is in the Republican runoff on Tuesday, lamented on Monday the racial divisions between "reds and yellows," appearing to refer to Asian and Native American people with racist terms.