Justin Trudeau Meets Emmanuel Macron and the Rest Is Bromance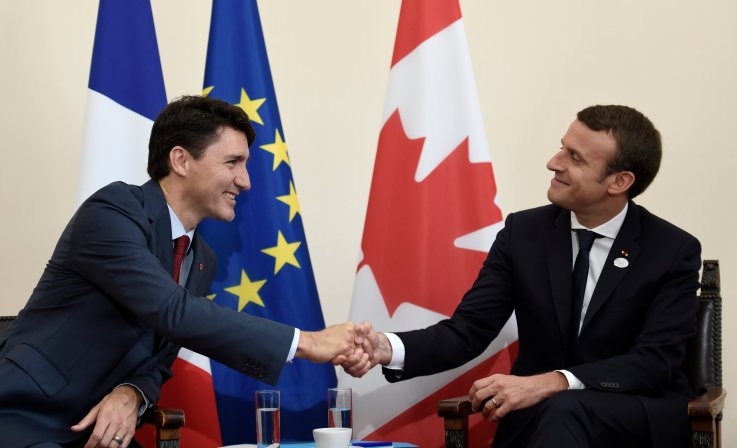 The first meeting between Canadian Prime Minister Justin Trudeau and French President Emmanuel Macron finally took place, and social media users everywhere cheered as the two leaders shook hands and took a stroll under the Sicilian sun in Taormina.
Trudeau and Macron are the youngest heads of government participating in the G7 summit in Italy on Friday and Saturday. It seemed inevitable that the two progressive liberals would get along—and Macron appeared to think so, too.
"The French-Canadian friendship has a new face. @Justin Trudeau, we have to meet the challenges of our generations," the newly elected French president tweeted, sharing a video of the two of them walking side by side. Macron also tweeted a picture of the two of them talking on a terrace overlooking a spectacular view of the Ionian Sea. "Together, around common values, responding to issues related to terrorism, climate and economic cooperation," Macron wrote.
Trudeau's response came four hours later, but it was worth the wait. "Sitting down with @EmmanuelMacron for the first time, talking jobs, security & climate – looking forward to more conversations, my friend," Trudeau wrote, sharing a series of photos of the two of them in tweets in French and English.
Trudeau is no stranger to the world of power bromance. The Canadian leader was close with former U.S. President Barack Obama and said he'd miss him when he concluded his two terms in office. Perhaps his relationship with Macron can fill the void, as Canada looks for progressive allies.
It hasn't always been that friendly between the Trudeaus and France. Fifty years ago, when Pierre Trudeau (the current prime minister's father) was minister of justice, a diplomatic incident occurred between the two countries. The former French President Charles de Gaulle sparked outrage during a visit to Canada when he uttered "Long live free Quebec!" in a show of support for the French-speaking region of the country, where separatists pushed for independence. Pierre Trudeau publicly wondered whether the French would have found it acceptable for a Canadian Prime Minister to shout "Brittany to the Bretons." De Gaulle, clearly not amused, replied: "We have not one concession, nor even any courtesy, to extend to Mr Trudeau, who is the enemy of the French entity in Canada."
That's all water under the bridge. As Macron said, the Franco-Canadian friendship is as strong as ever. Social media users could not agree more.