Trudeau Urges Tough NATO Line on Russia but Refuses to Say When Canada Will Meet Trump Spending Demands
Canadian Prime Minister Justin Trudeau has called on fellow NATO leaders to help create a stronger alliance in the face of the threat from Russia.
Speaking at the NATO Engages event in London on Tuesday, Trudeau said that the alliance must engage from Russian President Vladimir Putin from a position of strength rather than one of compromise, as national leaders prepared for an end-of-year meeting outside London on Wednesday.
But Trudeau also refused to say when Canada would meet its NATO commitment to spend at least 2 percent of its GDP on military investments. The majority of NATO nations are currently spending less than this, having agreed in 2014 to reach the threshold by 2024.
The shortfall is a major grievance for President Donald Trump, who regularly to the underspend as evidence that the U.S. is being "ripped off" by its transatlantic allies. The issue of "burden-sharing" is likely to be prominent again when Trump meets fellow NATO leaders on Wednesday.
Earlier on Tuesday, NATO Secretary-General Jens Stoltenberg suggested that the alliance must do more to engage Russia diplomatically.
But Trudeau—appearing alongside Dutch Prime Minister Mark Rutte—said this will be difficult while Russia continues pursues aggressive foreign policy.
Trudeau noted there was a "clear sentiment" at the recent G7—formerly the G8 before Russia was excluded over its invasion of Ukraine—meeting in France that "genuine rapprochement" with Moscow would be "very difficult" while the Kremlin continued its "unacceptable behaviors."
"We know that Russia continues to be a significant challenge, and we need to understand that Putin responds to strength, not concessions," Trudeau added.
However, Trudeau dodged questions as to Canada's part in a strong alliance, refusing to say when the country would achieve its 2014 commitment on military spending. Canada currently spends 1.3 percent of its GDP on its military, as shown below in the Statista infographic.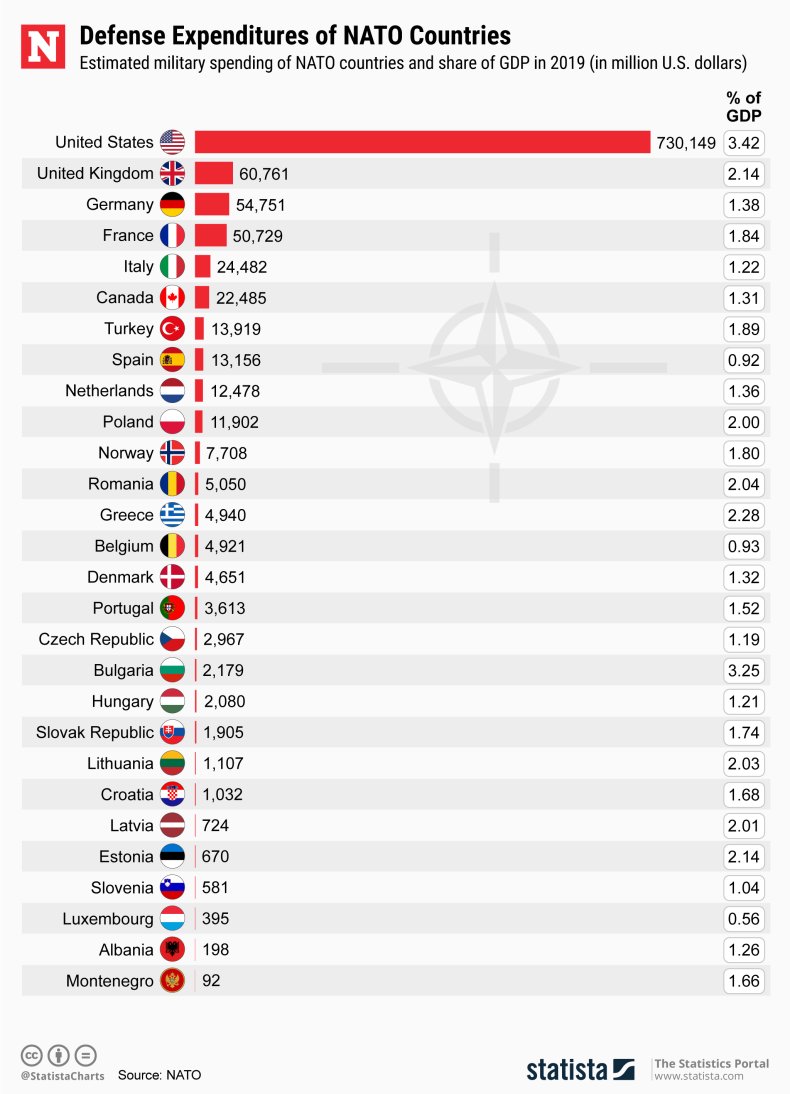 Trudeau said Canada is increasing its military investment by 70 percent over the 10 years to 2024. He added that the country's continued commitment to NATO is evident in significant naval upgrades, new fighter jets, fresh European troops deployments and training missions in Iraq.
He added: "We're going to continually invest more but we're going to do it in a way that is right for Canada and right from the alliance."
Pushed again on the 2 percent target, the prime minister replied—to laughter from the audience—"We're continuing to move forward and investing...that is what we will keep saying."