Justin Trudeau Trends as Twitter Reacts to Photo of Canadian PM Wearing Brownface at 2001 Party
Justin Trudeau began trending on Twitter on Wednesday afternoon as tens of thousands of users reacted to a newly surfaced photo of the Canadian prime minister in brownface at an "Arabian Nights" party in 2001.
The previously unreported photo, obtained by Time magazine and circulated on Wednesday, shows then-29-year-old Trudeau wearing brownface makeup, a turban and robes at an "Arabian Nights"-themed gala. His hands and neck were also darkened in the image that was found in the 2000-2001 yearbook of West Point Grey Academy, a private institution that Trudeau once taught at.
Time reportedly obtained the yearbook and image earlier this month from Michael Adamson, a businessman in Vancouver who had ties to the school. Adamson was not in attendance at the party but said he felt like the image should be made public.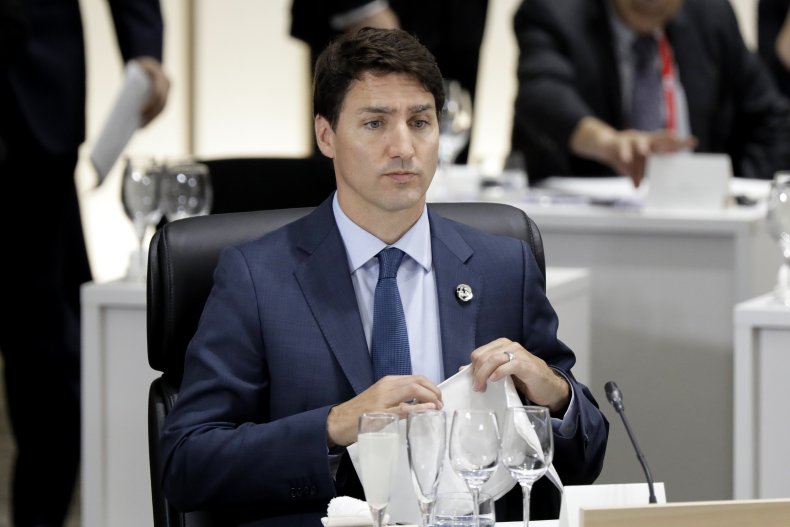 Newsweek subscription offers >
Trudeau was confirmed to be the man in the image by Zita Astravas, who's part of the Liberal Party of Canada's media relations team, a political party that the prime minister leads.
"It was a photo taken while he was teaching in Vancouver, at the school's annual dinner which had a costume theme of 'Arabian Nights.' He attended with friends and colleagues dressed as a character from Aladdin," she said.
Newsweek subscription offers >
Trudeau apologized for wearing brownface to the party on Wednesday night.
"I apologise profoundly," he said. "I regret it deeply. I'm deeply sorry I did that, I should have known better."
"It was something I should not have done. I didn't think it was racist at the time, but now I see, it was a racist thing to do," he added.
Tens of thousands of social media users took to Twitter to react to the photo shortly after it was released, elevating the Canadian prime minister's name to the number four trending topic across the U.S.
"That Justin Trudeau blackface photo made me feel physically sick. When will white men stop disappointing me?" Twitter user @notcapnamerica wrote.
"This is one of the liberal establishment's greatest heroes — Justin Trudeau — wearing blackface," author Raheem Kassam tweeted.
"When Justin Trudeau turns out to be MORE racist than President Trump. #Brownface," Twitter user @TweetReallyRick wrote.
"Caught in Blackface: Liberal Canadian PM Justin Trudeau. Dem. Gov. Northam. Dem. Virginia Attorney General Mark Herring. Not Caught In Blackface. President Donald Trump," Twitter user @CarmineSabia wrote.
"There are no journalists of colour on PM Trudeau's plane. I'd like those who are there to ask him a question on my behalf: Next time he's at a mosque/temple or a community of colour, how will he look those people in the eye & say he truly understands diversity?" National Observer reporter Fatima Syed tweeted.
"Me running to see why Justin Trudeau is trending. Also me running away after finding out why Justin Trudeau is trending," Twitter user @coolercambackup wrote, alongside a video of video game character Kirby running back and forth.
"Well, this is hugely depressing, @JustinTrudeau. The unqualified apology is the right thing to do, but still... I don't have the words to express my disappointment," Toronto Star graphic novel reviewer Mike Donachie tweeted.
"justin trudeau you beautiful disappointing milkshake duck," Twitter user @arb wrote, referring to the popular "milkshake duck" meme, about discovering that a famous person has done objectionable things.
"Trudeau will make up for this by opening a cultural center for minority children who can't read good and want to learn to do other stuff good too," Twitter user @redsteeze wrote.
Justin Trudeau Trends as Twitter Reacts to Photo of Canadian PM Wearing Brownface at 2001 Party | World