Justin Trudeau Unveils Long-Awaited Bill to Legalize Recreational Marijuana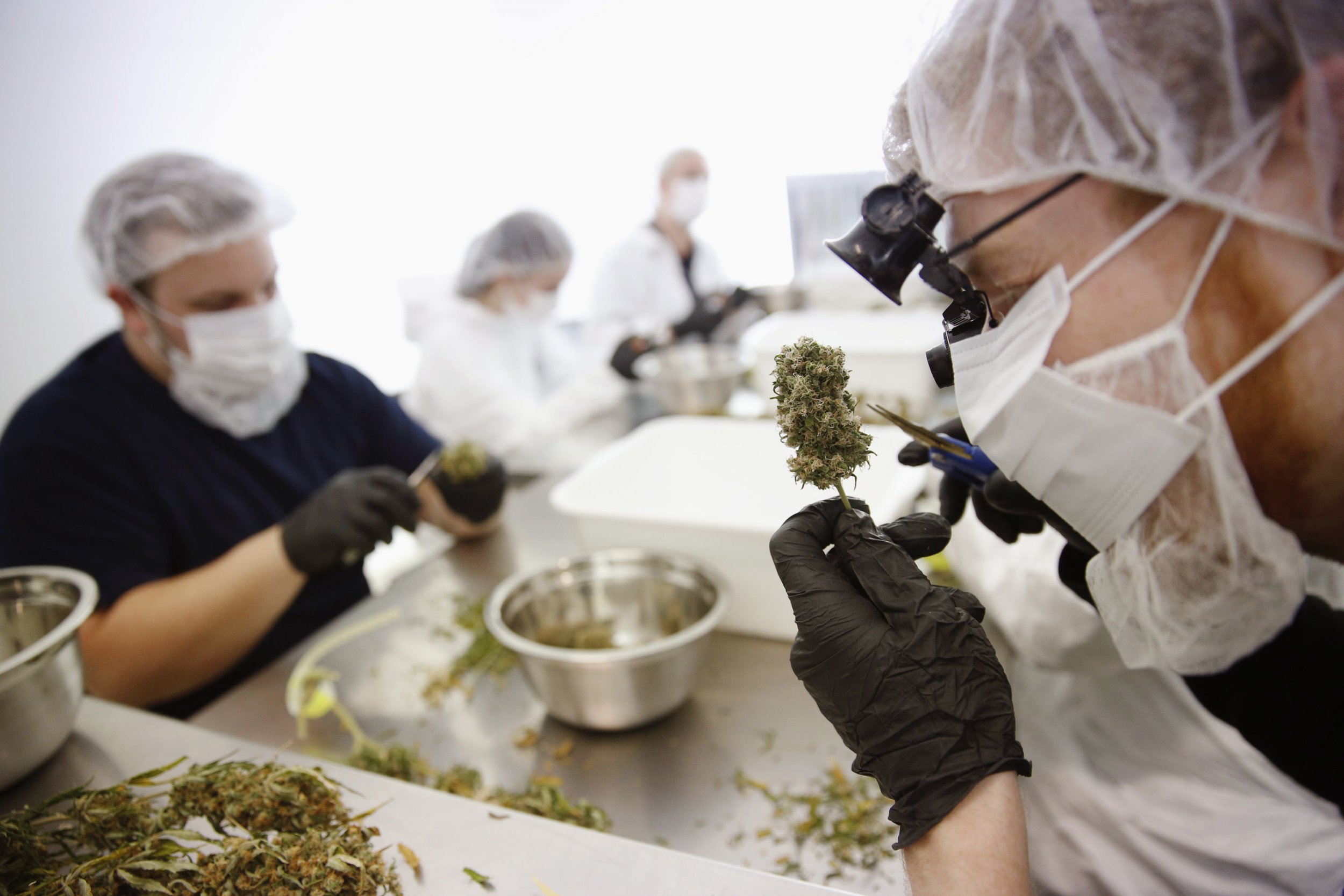 Canada's President Justin Trudeau on Thursday introduced the long-awaited legislation that would legalize marijuana in the country.
The bill, which is headed to Royal Assent next, aims to create strict guidelines to regulate the cultivation, distribution, sale and possession of marijuana in Canada for adults to use and possess legally. Under the bill, people 18 and older would be able to purchase and consume cannabis legally, and households would be authorized to grow up to four plants at a time.
People 18 and older are considered adults under the legislation—similar to Canada's legal drinking age—which some conservatives and the Canadian Medical Association have suggested should be upped to at least 21 to prevent potential brain development issues from occurring in young people.
Possession of small amounts of marijuana—about 30 grams to an ounce— would be decriminalized under the bill, which was created by the Task Force on Cannabis and Regulation, comprised of law officials and health and safety experts in Canada. However, people caught selling to or engaging in pot-related actives with minors would be specifically subject to harsher penalties.
Trudeau, who campaigned on promises of legalizing marijuana in the country, has been adamant about setting the legal marijuana consumption age to 18, which he's previously said could be an impactful way to crack down on minor consumption. Bill Blair, Parliamentary Secretary to the Minister of Justice in Canada, said in a statement Thursday that the legislation was designed specifically to keep marijuana out of the hands of youngsters.
"As a former police officer, I know firsthand how easy it is for our kids to buy cannabis. In many cases, it is easier for our children to get cannabis than it is to get cigarettes. Today's plan to legalize, strictly regulate and restrict access to cannabis will put an end to this. It will keep cannabis out of the hands of children and youth, and stop criminals from profiting from it," he said.
Some Canadians, however, feel that the Cannabis Act will only give teens more access to the plant.
"This piece of legislation puts the Canadian family at risk. Youth already think marijuana is harmless, and now we are giving them the government's seal of approval. This risk will spill over into even younger kids," Pamela McColl, a member of Smart Approaches to Marijuana (SAM) in Canada, an anti-marijuana organization, said to Newsweek in a statement.
Across the border in the U.S., SAM's President Kevin Sebet said Canada's legislation isn't just making marijuana dangerously more available to the youth but it's potentially putting them at higher risks of developmental disorders by setting the recreational use law at such a young age.
"The Canadian legislation is not about decriminalization, but rather the full legalization of marijuana and marijuana edible products for anyone over 18 years of age. The brain is in a critical time of development until about age 30. And without safeguards to protect against stoned drivers, public safety will be at risk," Sebet said. "Canadians should learn from our painful experience of legalization in Colorado, where the special interest marijuana lobby now has set up more pot shops than Starbucks coffee outlets and McDonald's.
"Senior researchers at Harvard, University of Colorado, Boston Children's Hospital, and other public health research universities, found surges in youth pot use, hospital visits among young children, increases in fatal car crashes related to recent marijuana uses, greater workplace issues, more arrests of Black and Latino youth and other negative consequences."
The recreational law won't allow producers and manufacturers to market pot products as intricately or appealingly as many marijuana companies in the States do.
Marijuana packaging, for instance, would be heavily regulated under the bill. Producers and retailers would only be allowed to display the factual information about the product, including the product's name, ingredients and marijuana strain. The Task Force also suggested only allowing plain packaging to be used for marijuana products.
The Task Force expects the majority of Canadians will most likely purchase marijuana products supplied by commercial growers and dispensaries, all of which require approved licenses and will be heavily monitored by the federal government. Each Canadian province will mandate how many dispensaries will be allowed and the areas in which cannabis can be sold. Provinces will also regulate their own pricing on marijuana products.
Marijuana supporters in the U.S. believe their North American neighbor is on the right track with ending probation overall.
"While there are certainly issues with Canada's proposed legislation that we would like to see amended, including some overly severe provisions regarding for driving under the influence, the Canadian government is at least moving in the direction of legalization and regulation," Erik Altieri said in a statement. "On our side of the border, the Trump administration and Attorney General Jeff Sessions seem more intent on reviving outdated and erroneous 'Reefer Madness' rhetoric than allowing science and facts to dictate public policy. The United States government would be wise to follow the lead set by our neighbors to the north and end our nation's own failed war on marijuana consumers."
Following Royal Assent and Parlimentary approval, Canada's government is expected to establish the law's start date no later than July 2018.