Justin Trudeau to Rich People: You Need to 'Give Back'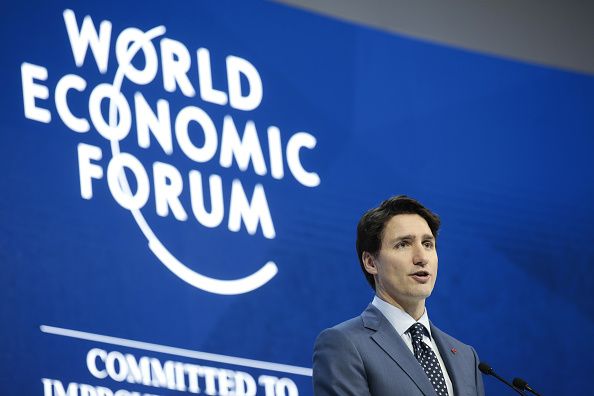 On Tuesday, Canadian Prime Minister Justin Trudeau urged corporate chief executives to put workers first and "give back" during his keynote speech at the World Economic Forum in Davos, Switzerland.
Trudeau sent out a powerful message during the forum, asking business leaders at the annual meeting to focus on the "well-being of their workers."
"Too many corporations have put the pursuit of profit before the well-being of their workers … but that approach won't cut it anymore," Trudeau said. "We are in a new age of doing business—you need to give back."
Too many people are being left behind by automation and globalization, Trudeau argued. "People have been taken advantage of, losing their jobs and their livelihoods," he said. "All the while, companies avoid taxes and boost record profits with one hand, while slashing benefits with the other."
Trudeau called on corporate executives to take the necessary steps to tackle sexual harassment in the workforce, lending his support to the #MeToo campaign.
"Sexual harassment in business and government is a systemic problem and it is unacceptable," Trudeau said. "As leaders, we must recognize and act to truly show that time is up."
More, Trudeau used his speech to announce that the 10 remaining members of the Trans-Pacific Partnership would move forward with a free trade agreement, despite President Donald Trump's decision to pull the U.S out of the deal in January 2017.
On Friday, Trump is slated to speak in Davos to end the four-day assembly with a "special" closing address, but there have been protests over his attendance. About 500 anti-globalization demonstrators marched through Switzerland's capital city of Bern earlier this month.
Justin Trudeau to Rich People: You Need to 'Give Back' | World