Who Is Justine Skye? Singer Accuses Sheck Wes of Abuse, Shares Video of Rapper Jumping Fence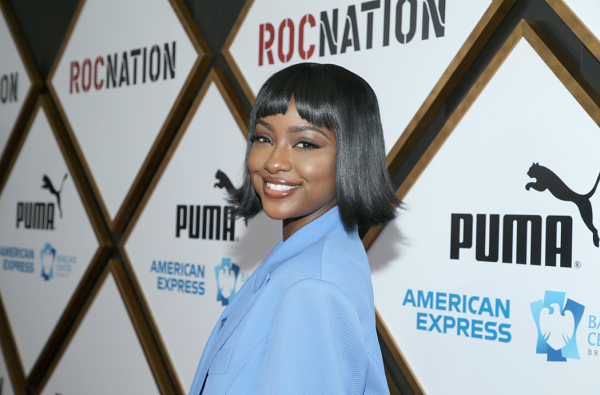 Justine Skye named rapper Sheck Wes as her abuser in a Twitter post on Monday. The singer, model and actress previously opened up about domestic violence she endured in a former relationship but hadn't identified her alleged abuser.
She came forward about Wes—the rapper behind the platinum hit "Mo Bama"—after an alleged altercation with Skye's new boyfriend, rapper Goldlink.
"Taking a walk with my friends and my man and Sheck Wes (my abuser) and his friends decide to STALK US and attack my friends.. two cars full of n***as while he sat in the car like a b***h. you're pathetic sheck and you beat women. You hit your girl before me and you'll do it again," Skye wrote.
In a follow-up tweet, Skye added: "You're pathetic… and all the people defending you, ya whole b***h a** label.. everyone. You spreading lies about me. Moral of the story is, if you never put your hands on me… you wouldn't be in this situation and you just keep making it worse."
Not long after Skye's tweets, Wes denied the claims. "I've chosen to remain silent until now out of respect for actual victims of abuse. But I cannot stand by while lies are repeatedly told about me," he wrote on Tuesday. "I never hit or beat any women and I did not beat up or jump anybody."
Skye responded to the post immediately, writing, "I literally have footage of you jumping over the fence of my crib to attack me Sheck…your lies are even more disrespectful."
After sharing screenshots of old text messages, in which she told a friend she was "f**king terrified" and locked in a room while Wes was outside of her home "breaking things," Skye additionally uploaded a video of Wes entering her property. "Are you going to lie now and say this is not you too?" she tweeted, along with a video of a man who appeared to be Wes jumping over a gate.
It's unknown how long Skye and Wes dated. The Roc Nation singer first said she suffered from abuse while loved while advocating for Domestic Violence Awareness Month in October. She shared an Instagram video confessing her abusive past on the same day she released her latest single, "Build," which also details an abusive relationship.
"Recently I've had one of the scariest/heartbreaking experiences in my life and it's still hard for me to talk about," she wrote. "I felt stupid, angry, depressed…blamed myself. Trying to figure out how someone who claimed they loved me so much could find such evil within themselves to hurt me mentally and physically."
Although she never named Wes in the initial post, fans quickly speculated he was allegedly responsible.
Who Is Justine Skye? Singer Accuses Sheck Wes of Abuse, Shares Video of Rapper Jumping Fence | Culture