NBA Players React to Gruesome Video of Jusuf Nurkic's Injury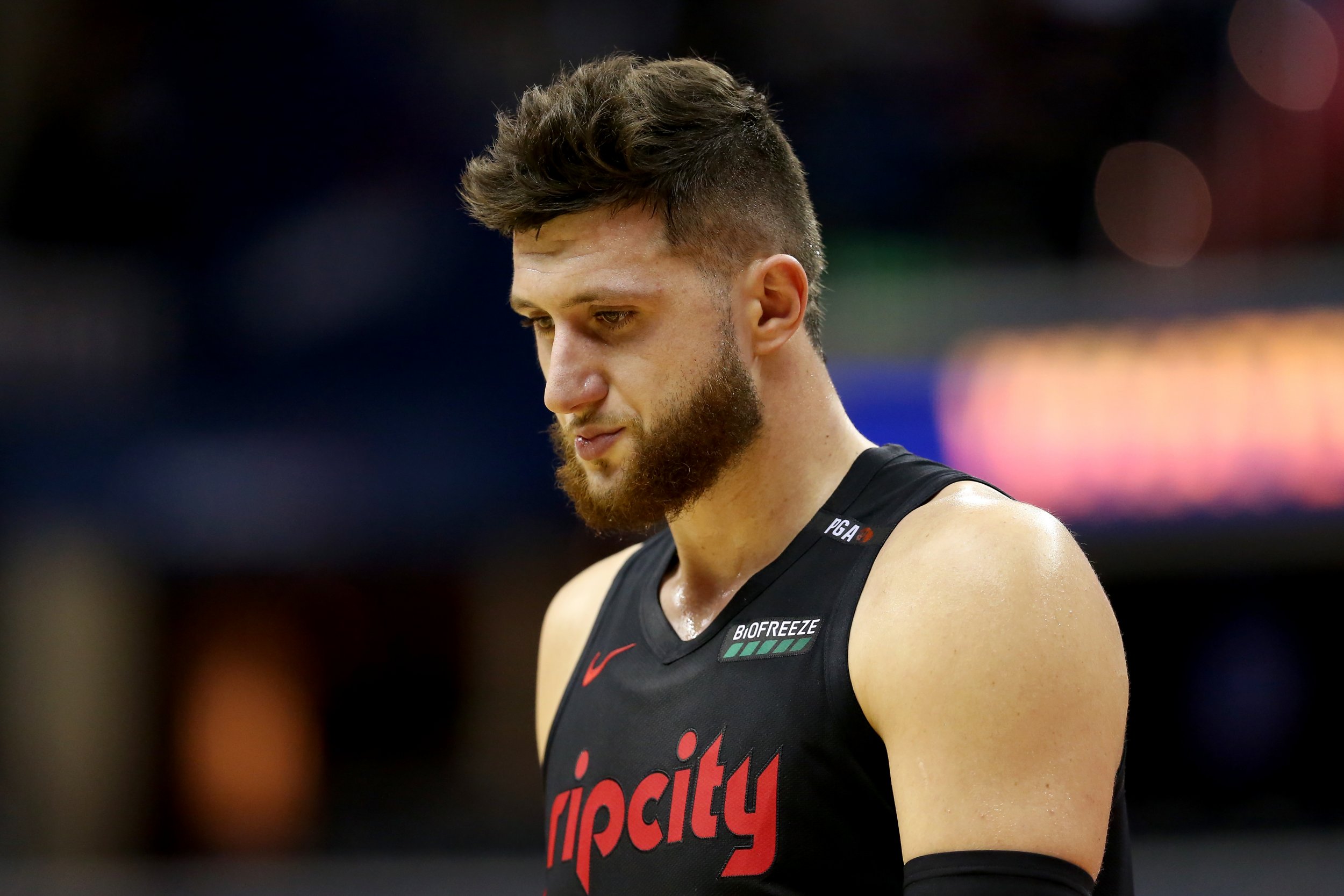 NBA players rallied in support of Jusuf Nurkic, after the Portland Trail Blazers' center suffered horrendous leg injuries in a double-overtime win against the Brooklyn Nets on Monday night.
With 2:22 remaining in the second period of overtime, the Bosnian landed awkwardly after jumping for a rebound and suffered compound fractures to his left tibia and fibula.
The reaction of players around him spoke volumes for the severity of the injury, as they immediately dashed away from the scene while the arena went silent as Trail Blazers medical personnel rushed on the court to help Nurkic.
"It made me sick to my stomach," Portland guard Damian Lillard told ESPN.
"I think he tried to tip it in, he crashed the glass and I saw him hit the ground and roll over real quick, and I thought maybe he got hit in the face or something again. As I was walking over there, I saw everybody else turn around real quick and walk away, and then I looked and saw his leg—and you just hate to see that happen to him."
Nurkic's teammates and fellow NBA players took to social media to wish the Bosnian a speedy recovery after his gruesome injury. A clip of the incident immediately went viral and is included at the bottom of the page, but contains images some might find disturbing.
Nurkic was eventually stretchered off the court and after the game Portland coach Terry Stotts explained the 24-year-old was taken to a local hospital.
Stotts described the incident as "devastating" and the Trail Blazers subsequently confirmed the extent of Nurkic's injuries, indicating he will miss the remainder of the season and that there is as yet no timetable for his return.
The incident brought back memories of the gruesome injury suffered by Indiana Pacers' star Victor Oladipo earlier this season, as well as of Gordon Hayward's horrendous ankle fracture on opening night of last season.
Up until his injury, Nurkic had put on a dominant display with 32 points and 16 rebounds. The 16th overall pick of the 2014 NBA draft was having an excellent season, averaging 15.4 points and 10.3 rebounds in 71 games.
Despite his injury, the Trail Blazers managed to see off the Nets with a 148-144 win, which improved their record to 46-27. Portland is fourth in the Western Conference standings, 0.5 games behind the Houston Rockets.
Meanwhile the Nets slipped to 38-37 and remain seventh in the Eastern Conference standings, 1.5 games ahead of the Orlando Magic, who would currently be the first team to miss out on a playoff berth if the season ended today.