Juwan Howard's Punch Has Sports Fans Both Blasting and Supporting the Coach
The head slap heard around the sports world at the end of a college basketball game Sunday has taken on more interest than today's Daytona 500, NBA All-Star Game, and Olympics Closing Ceremony combined.
There are folks who support Michigan men's basketball coach Juwan Howard throwing an apparent punch at a Wisconsin assistant coach on Sunday, but there's an overwhelming amount blasting the coach.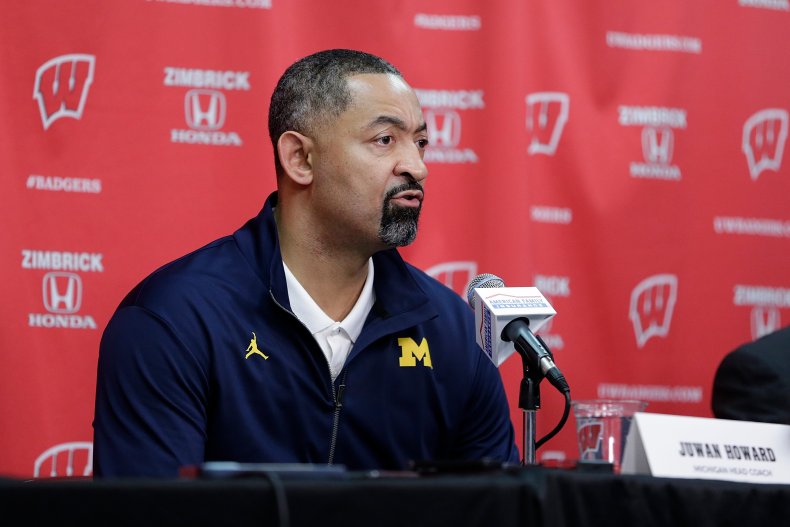 Here's the quick background. Wisconsin defeated Michigan, 77-63, on Sunday in Wisconsin. During the post-game handshake, Howard looked as if he was saying something to Wisconsin head coach Greg Garb while dodging Garb's handshake.
Garb sidestepped to get in front of Howard, and the two exchanged words. A Michigan player and Wisconsin assistant coach appear to intervene with an attempt to separate the head coaches. A small crowd of players and coaches from both teams quickly surrounded them, and Howard is shown in video reaching out with his right arm to swipe at Wisconsin assistant coach Joe Krabbenhoft.
Real-time video makes it seem like Howard threw a punch that ignited a brawl between players on both sides. A slow-motion replay shows Howard with an open-handed slap to the back of Krabbenhoft's head.
Coaches from both teams were separated, but a brawl between Badgers and Wolverines players ensued.
Here's the video footage of what happened Sunday afternoon in Madison, Wisconsin.
Warde Manuel, who's the athletics director at Michigan, said he has apologized to his counterpart at Wisconsin, and said the Michigan president sent an apology to the Wisconsin chancellor.
It didn't take long for social media folks to spew opinions, and most immediately said Howard should be suspended or even fired. (Those supporting Howard will be mentioned below as well). Here are the comments:
"Don't care who's FAULT it is. This is embarrassing by Juwan Howard. Gotta do better as a HC," Fox Sports host Colin Cowherd tweeted.
Longtime ESPN and ABC analyst Dick Vitale said Howard should face "severe punishment."
"It's sad thinking about what I watched in that handshake line as the coach of a gr8 Univ. ala UM could not control his temper & nearly set off a full blown riot. INEXCUSABLE behavior by Juwan Howard MUST LEAD TO SEVERE PUNISHMENT. UM President & AD should take ACTION NOW!" Vitale tweeted.
Clay Travis, the owner of Outkick, said it's just a matter of time before Howard declares "racism."
"How long until Juwan Howard accuses someone of Wisconsin of racism to try and save himself? I give it 34 minutes," Travis wrote.
CBS college basketball writer Seth Davis said Howard's actions are "disturbing" and that the Michigan coach has "zero excuse" for what he did.
"The more I see the video, the more disturbing it is. This is why Woody Hayes was fired. Juwan Howard needs to be suspended for multiple games. As I mentioned, this is not the first time this has happened with him and another coach. Zero excuse," Davis wrote.
Lots of fans and media personalities blasted Howard for what happened. But there were some who said it would be crazy to fire the coach—or even give him a lengthy suspension.
Here are some of those comments:
"Pretty sure they're gonna try to bury Juwan Howard now," ESPN football analyst Ryan Clark wrote.
Jemele Hill of The Athletic said a suspension was worthy, but not very many games.
"What Juwan Howard did was wrong and suspension-worthy. The rest of the season seems sufficient. Firing him seems over the top," Hill tweeted.
ESPN football analyst Damien Woody said firing Howard would be "crazy as hell."
"Some of y'all calling for Juwan Howard to be fired is crazy as hell. We've seen MUCH worse incidents in CBB but sure let's go with that," Woody wrote.
Wisconsin won the game, 77-63, but Gard said Howard was most likely upset over a timeout by Wisconsin with 15 seconds remaining to reset the 10-second clock to get the ball past mid-court.
"Apparently he didn't like that I called the timeout to reset the 10-second call. Because we only had four seconds to get the ball over halfcourt," Gard said during an interview with CBS after the incident. "I didn't want to put my backups—I had all my bench guys in the game—I didn't want to put them in that position of scrambling with only four seconds. So I took a timeout and got us a new 10 seconds and it helped them get organized and get the ball in. And he did not like that when he came through the handshake line. I'll leave it at that and the tape will show the rest."
Howard said he thought someone had put their hands on him, which led to the melee.
"Someone touched me, and I think it was very uncalled for, for them to touch me, as we were verbalizing and communicating with one another. That's what escalated it," said Howard, who admitted he didn't like the late timeout. "I didn't like the timeout they called, and I'm being totally honest with you," he said. "I thought it was not necessary at that moment, especially with it being a large lead. I thought that wasn't fair to our guys. And so that's what happened."
The Big Ten Conference issued a statement Sunday, not long after the altercation, saying it would take "swift and appropriate disciplinary action."