'Jersey Shore' Star Jenni 'JWoww' Farley Opens Up About Son Greyson in Heartfelt Instagram Post
The second season of Jersey Shore: Family Vacation premiered on Thursday and Jenni "Jwoww" Farley opened up about her 2-year-old son, Greyson.
Farley, 32, explained that Greyson still is not speaking. Most toddlers have a vocabulary of about 20 words by the time they are 18-months old, according to Kids Health.
After the season premiere, Farley posted a photo to her Instagram account on Friday of her and Greyson, as well as a video of her son verbalizing the word "mama." She received a wave of support from other parents who have dealt with the same situation.
"To everyone that tuned into [Jersey Shore] last night and messaged, commented etc about [Greyson Matthews] with similar stories or just showing love I can't thank you enough," she wrote. "As a mother, I will go to the moon and back for my kids... no question. I live my life differently because of them."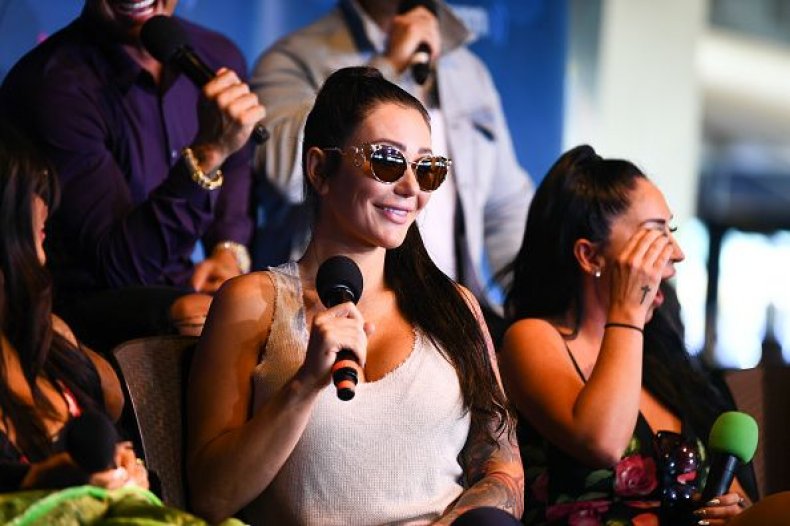 She continued, "To find out Greyson is 'behind' or 'delayed' crushed me... but only for a moment... that moment came from wanting to have 'perfect children' and 'how could this happen to me?'... but Grey is PERFECT and it CAN happen to anyone.. I saw that last night when the messages came in by the hundreds."
Farley explained that Greyson goes to therapy three times a week to help him develop his verbal skills. "I decided to share that side of my family on Jersey Shore because I want to help anyone going through what I'm going through," she said. "[Greyson] is doing a lot better. We also changed his diet and removed unnecessary preservatives. I've had almost every test done you can think of because I'll never accept that this is the best case for Grey... I'll always think outside the box and do anything that will try and help him achieve nothing short of greatness."
Stages of speech and language development are the same for all children, Kids Health said, though the age at which this development occurs can vary.
Farley's husband, Roger Matthews, orchestrated a Mother's Day video to lift her spirits in May and asked many of her friends to send in 30-second clips of them sending her well-wishes. Mike "The Situation" Sorrentino was the only Shore cast member to participate.