Did K. Michelle Get a Nose Job? Rumors Swirl on Instagram After She Removes Butt Implants from 'Betsy'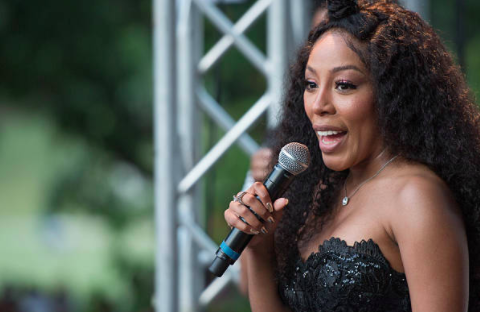 The rumor mill was abuzz on Thursday after R&B singer K. Michelle posted a new video of herself to Instagram. On January 12, K. Michelle revealed she had her butt implants removed. So when the new clip hit, some of her 5 million IG followers assumed she was showing off something else that was altered when she went under the knife.
"I hope u didn't get your nose done," urban_classiq wrote. "The one thing about u was ur natural beauty besides the body work ur gorgeous don't fall into the trap."
"Her nose looks different. Shouldnt have touched ur face kimberly. Still cute. But u looked better before. Maybe its the contour idk," eah_tim added.
K. Michelle, née Kimberly Michelle Pate, had her famous butt reduced after she faced health risks. She affectionately called her derriere "Betsy."
"I'll miss you Betsy but you also caused me inflammation through out my body. No amount of beauty is worth your health! So everything has to be returned to its natural state!" she wrote on December 27.
The suffering she endured was serious. "It's to the point where the aching and the pain that made me get checked for lupus, now it's due to my legs. My butt is so big that my legs are not holding it," the 33-year-old said on The Real, according to BET.
The morning before K. Michelle bid Betsy adieu, she said insecurities made her turn to plastic surgery in the first place. "I was like, 'I want a big ass, I want some titties, I want some teeth. This is what I wanna do.' I just did it. It felt good. It was a temporary bandage on some issues with me and it felt good at the moment," she said on the WQHT radio show "Ebro in the Morning." "Now I just want to be me, who my mama made me."
Despite accusations about her nose, K. Michelle said she never altered her face. She also gushed about her favorite body part.
"My boobs. I love my boobs. I love them. I've never touched my face. That's been a thing: 'She did her face.' I've never touched my face," she explained on the radio show.
K. Michelle will show off her new body when she begins The People I Used To Know Touron February 9.