#ASTRO and #BLUEFLAME Trend as K-Pop Boy Band Releases New Album and Music Video
K-pop boy band Astro have released a new album Blue Flame, along with a new music video for its title track of the same name.
The new record, which was unveiled on Wednesday, embodies a "sensual image," according to a statement by Fantagio, Astro's management company, when a teaser of the music video for the title song was released earlier this month.
The "eye-catching" and "sophisticated" video includes a dark garden scene that "creates a mysterious and dreamy atmosphere" and "Astro radiates glamorous dreamlike beauty and deadly sexy beauty at the same time," the company described.
Featuring foggy night shots with the band members dressed in all black suits, contrasted by their pale skin with red-stained lips and dark eye makeup, and with a wolf pictured in some scenes while illuminated by a moonlit backdrop, the video channels a vampire/werewolf film-like vibe.
The album's title track "Blue Flame" features "new musical attempts, with reggae and mumbaton rhythms...in particular, the combination of trap, future bass, and EDM," Fantagio said.
The new album and track have been welcomed by Astro fans on social media, with many sharing their impressions using the hashtags #BLUEFLAME and #ASTRO, which have been trending on Twitter, along with #BLUE_FLAME and #ASTRO_BLUEFLAME.
Several fans commented on the progression of the group's music, including the impressive vocals of members Eun-woo and MJ.
"I'm not biased when I say that #ASTRO keeps on becoming more amazing every comeback. This choreography is flawless. It's super difficult but they make it seem so fluid and snappy at the same time. I mean I can't believe i stan such daebak human beings. #BLUEFLAME #BLUE_FLAME," wrote @JacksGapGalaxy.
"BLUE FLAME WAS SUCH AN AMAZING COMEBACK. IM SO PROUD. I LOVE THIS NEW CONCEPT ITS TRULY SO GREAT. THEIR VOCALS WERE OUT OF HERE. I FEEL BAD FOR ANYONE WHO DOESNT STAN ASTRO AND HASNT HEARD OF THIS SONG YET. GOD I LOVE ASTRO #BLUE_FLAME @offclASTRO #BLUEFLAME," wrote @zkpopglobalz.
"Eunwoo singing along with mj's high note part is the biggest in your face kind of energy. How he showcased his progression as a vocalist, from singing verses/pre-chorus, to being part of chorus and now slaying the climax, eunwoo has come so far @offclASTRO #BLUE_FLAME #블루플레임," noted @lighteuroha.
One Twitter user appreciated the visuals of band member Moonbin, who is pictured topless. "eXcUsE ME who gave him PERMISSION TO LOOK THIS GOOD HELLO SHIRT I SEE YOU #ASTRO #BLUEFLAME #블루플레임 [Blue Flame]," gushed @Joyceeebox.
While Moonbin is featured in the new music video and new album, the band member recently went on hiatus due to health issues.
The group expressed their disappointment that Moonbin could not join them to promote the new album but noted "Moonbin's health is the most important" at a press event in Seoul, the capital of South Korea, on Wednesday.
"I was sorry toward both Moonbin and our fans who were waiting to see all 6 of us. But the members and the company discussed this for a long time. It was ultimately decided because Moonbin's health is the most important," Astro member Jinjin said at the event, Allkpop reports.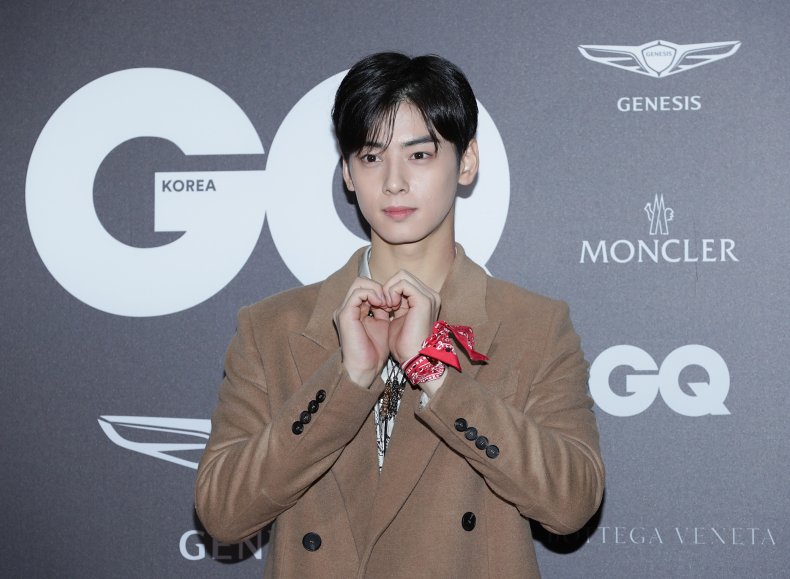 "We are also disappointed that he won't be here with us, but we will always believe that Moonbin is always with us on stage and in our hearts, so please anticipate our comeback," Jinjin added.
The latest album is Astro's sixth EP since the group's debut in 2016, when the band was named among the best new K-pop groups of that year by Billboard.
#ASTRO and #BLUEFLAME Trend as K-Pop Boy Band Releases New Album and Music Video | Culture