#BTSatGayoDaechukje Trends Ahead of K-pop Group's Final Performance in Korea for 2019
K-pop royalty BTS are getting ready for one of their final performances of 2019 at a music festival in South Korea on Friday.
The boy band are due to take to the stage around 11 p.m. (local time) at the 2019 KBS Gayo Daechukje (also known as the KBS Song Festival) which is being aired on the KBS television channel in South Korea. K-pop fans outside the country can catch the show at the official KBS World TV YouTube channel, where it is currently being live-streamed.
The group are expected to deliver a "comfortable but sexy" performance, the band said during a press call ahead of the show.
The star-studded music showcase features performances from a host of K-pop artists including GOT7, ITZY, MONSTA X, TWICE, NU'EST, RED VELVET, BTS, SEVENTEEN, NCT 127, NCT DREAM, Stray Kids, THE BOYZ, TOMORROW X TOGETHER, Golden Child, MAMAMOO, Ga In Song, ASTRO, EVERGLOW, Apink, N.Flying, GFRIEND, Oh My Girl, GWSN and CHUNG HA.
BTS fans have taken to social media to share their excitement over the band ahead of the upcoming performance using the hashtag #BTSatGayoDaechukje, which has been trending on Twitter, along with #KBSGayoDaeChukJe2019.
Several have been commenting on the band's looks during the press photo call, including BTS member Jin's glasses, which were reportedly trending on Twitter in South Korea just minutes after Jin arrived.
Others have commented on the jolly mood of the group as they appeared on stage with other K-pop stars during a performance by another artist. Some band members were seen dancing in sync and blowing air kisses to the audience, while others twirled each other around to the beat of the song being performed.
"When i tell you BTS sets the mood at every show they attend #BTSatGayoDaechukje," wrote @BTSGIobal.
"MY LUNGS SKSKS. KBS did a special trot song performance that featured all the artists that attended during BTS, the singer sang "world star bangtan sonyeondan" and JINKOOK'S REACTION LMAO I'M CACKLING #BTSatGayoDaechukje," wrote @sugakookids.
"Taehyung [BTS member] is breathtaking and undeniably gorgeous!!! #BTSatGayoDaechukje," wrote @GoodestTae
"JIN WITH GLASSES!!! HE LOOK SO FINE!!!!! SIR I— #BTSatGayoDaechukje #KBSGayoDaeChukJe2019 @BTS_twt," wrote @vminggukx
"THE GODDHAMN MULLET HAIR IS BACK AND IT'S A STRONGER LOOK THAN EVER #BTSatGayoDaechukje #KBSGayoDaeChukJe2019," wrote @taekookmemories.
"Excuse me but did he just say we should expect a "comfortable but sexy" performance....@BTS_twt #BTS #방탄소년단 #BTSatGayoDaechukje," wrote @modooborahae.
BTS's final performance of 2019 will be in New York City, performing at Dick Clark's New Year's Rockin' Eve with Ryan Seacrest, which will be airing live on December 31 at 8 p.m. (local time) on ABC.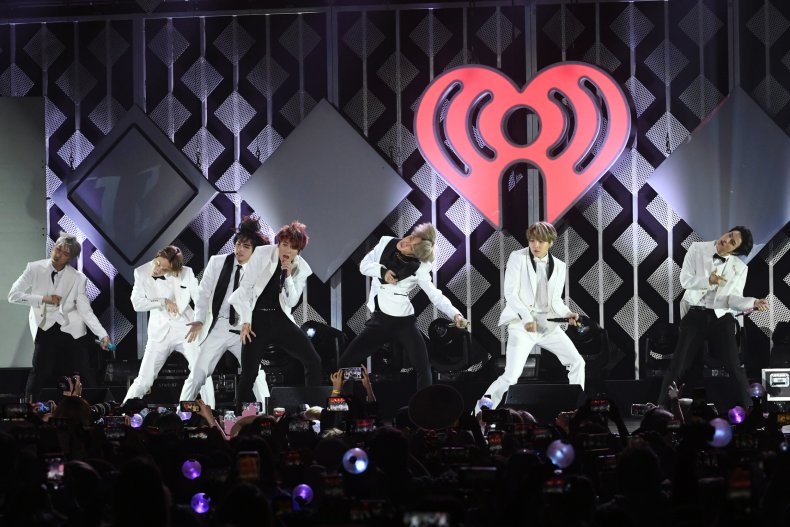 #BTSatGayoDaechukje Trends Ahead of K-pop Group's Final Performance in Korea for 2019 | Culture