BTS member Jeon Jungkook is being investigated by police after crashing his Mercedes Benz into a taxi.
The incident took place in the Hannam-dong neighborhood of central Seoul, where Jungkook lives in a luxury complex with the other members of BTS.
The singer was reported to be sober when he crashed into the taxi, according to the police, The Korea Times reported.
Big Hit Entertainment, BTS's management company, released a statement that read: "At present, the police hasn't closed the file so we cannot reveal the related information in detail."
The statement revealed: "Jungkook was driving his car and, due to his mistake, crashed another vehicle.
"Immediately after the accident, Jungkook admitted he violated the traffic signals violation laws. He followed the legally required procedures at the scene and answered to police who arrived at the scene. Afterward, he reached an agreement of compromisation with the victim.
"We once again apologize to the victim. We also apologize to the fans for their heartfelt concerns," Big Hit said.
Jungkook and the taxi driver did not sustain major injuries, the statement confirms. But both were reported to have been bruised in the accident and treated at a hospital, The Korea Herald reported.
The news of the crash has caused a storm of reaction from avid BTS fans, with #JungKookCarCrash trending on Twitter, who were quick to defend the singer from any backlash.
"#JungKookCarCrash why do ppl gotta be so ignorant!!! Like you should be worried if someone was hurt during the accident, not immediately start the blame game! And now that both parties ARE okay, and Jungkook took responsibility, that's all that MATTERS," wrote @vaishnavikuppa
"Honey, we ain't covering up the car crash. But it was literally minor, no one died in the accident and he admitted to his wrong doing. Y'all only mad because it's someone famous. #JungKookCarCrash," wrote @kaikommentates
"Car crashes happens everyday. You are all humans Jungkook is just a human like everyone else.polis is investigating right now but Jk and taxi driver are both healthy. SO leave JK alone. #jungkookcarcrash," added @girlmeetsdevll
"Even in a car accident ya'll are attacking him? There were no major injuries and he even said that it was his fault and admitted his mistake. If you don't like him then just stay out of it and ignore it. Ya'll are childish as hell. #BTS #jungkookcarcrash #JungkookWeLoveYou," wrote @madlaei.
Other BTS fans—collectively known as the Army—on Twitter commented on the publicity Mercedes Benz may receive following the news of the accident, with the carmaker also trending on Twitter.
"Mercedes benz better share their profits with jungkook when their shares go up today," wrote @springtaytaee.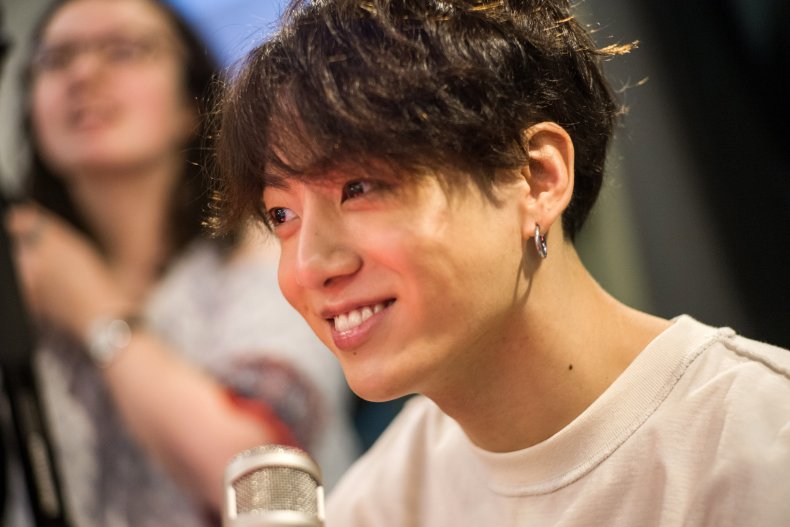 "I'm just waiting for armys to sold out mercedes benz now," added @grammyoon.
"Mercedes-Benz we would like to have our Promotion check please @MercedesBenz," wrote @BANGTANPRlNT.
"Mercedes Benz should hire Jungkook as their ambassador," suggested @btspaved_way.
Despite any negativity around the crash, love for BTS has been ongoing, with fans using the hashtag #CNS100M to celebrate the music video of the song "Chicken Noodle Soup" featuring BTS member J-Hope (also known as Ho-seok) and American singer Becky G, which has received more than 100 million views on YouTube.
"Chicken Noodle Soup MV by @BTS_twt's #JHOPE ft Becky G has surpassed 100M views on youtube. It's his 2nd MV to do so. Congratulations to our sunshine and thank you ARMY for streaming. #CNS100M," wrote @ArmyBrigade13_H
"Congratulations @BTS_twt and ARMY! #CNS100M," wrote @OdeliaLiha.
"This was the last thing I tweeted about and waking up to our goal being achieved is amazing. Well done ARMYs and congrats Hoseok, you deserve this," said @sorafirstlove.