#MakeItRightAcoustic Trends As BTS Releases New Remix
K-pop royalty BTS has unveiled an acoustic version of their song "Make It Right," a track from their latest album "Map of the Soul: Persona" co-written with Grammy Award-winning singer-songwriter Ed Sheeran.
The latest installment is an unplugged version of the "Make It Right" remix the group released last month featuring American singer-songwriter Lauv, a fan of BTS.
"The [latest] song features a lyric guitar melody and acoustic sound created by minimizing electronic instruments. The acoustic guitar, bass, and keyboard ensemble lead the song's melody to create a sweet and light feel," according to an official statement from Big Hit Entertainment, the management company of BTS, when the song release time and date was announced on the company's official Twitter account.
The new track was released Thursday on various live streaming platforms worldwide at 6 p.m. KST (Korean Standard Time).
Newsweek subscription offers >
"In particular, the intro[duction] made by striking the acoustic guitar's torso and building up various types of guitar playing is impressive. As the song unfolds, the acoustic sound fills the song, capturing the ears," the company adds.
The song has already received much praise from BTS fans around the world—collectively known as the ARMY—using the hashtag #MakeItRightAcoustic, which has been trending Twitter, with several designating the latest remix as their favorite version of the song.
"All the remixes of Make It Right are amazing, but this acoustic remix was the one I liked the most.I love it!!! Acoustic versions never fail. #MakeItRightAcoustic," wrote @Souadouadeot7.
"The acoustic version is so soft and melodious! Just what was needed #BTS #MAMAVOTE @BTS_twt #MakeItRightAcoustic," wrote @teamkimseokjins.
Newsweek subscription offers >
"The new Acoustic version is much better than the EDM ver in my opinion. They may even release Metal ver next month LOL, i miss rock-jin. Still waiting for any Shadow announcement from @BTS_twt #MakeItRightAcoustic," commented @BornDevious_kf.
"There's a MIR remix for nearly every mood and occasion now. For example, #MakeItRightAcoustic is the perfect version for me to listen to whilst waking up in the morning. The slower groove is not too much for my still waking brain as I make my morning coffee. @BTS_twt," added @875OT7.
The acoustic track is the third incarnation of the original Make It Right song. Just a few weeks after the release of the initial version featuring Lauv, BTS also revealed an EDM version of the track. Both remixes were reported to have topped several iTunes Top Songs charts around the world following their releases, according to Soompi.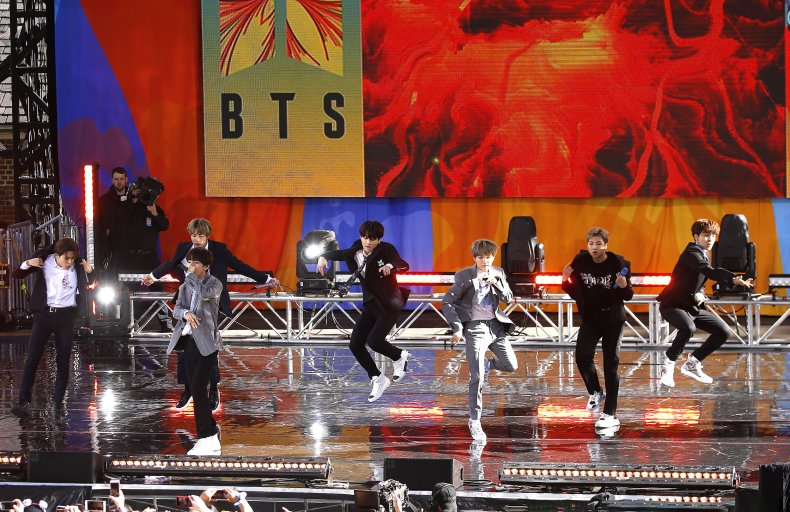 Earlier this month, BTS bagged several awards at the MTV European Music Awards, including Best Group and Best Live Act.
#MakeItRightAcoustic Trends As BTS Releases New Remix | Culture