MAMA 2019 winners #BTSDaesangSweep and #BTSDaesangAllKill Trend As K-Pop Boy Band Dominates Top Awards
The winners of the 2019 Mnet Asian Music Awards (MAMA), one of the biggest music awards in Asia, were announced Wednesday at a ceremony at the Nagoya Dome in Japan.
K-pop royalty BTS dominated this year's awards, bagging 9 wins, including the top 4 "daesang" (grand awards), becoming the first artist in Mnet history to win all 4 grand titles, according to Soompi.
The K-pop sensation's top wins include artist of the year, song of the year for their track "Boy with Luv (featuring Halsey), and album of the year for Map of the Soul: Persona, which was announced by comedian/television host Jimmy Fallon who made a special appearance for the award, claiming he owned all of the BTS albums and "loved this band [BTS] so much."
BTS also claimed worldwide icon of the year to round out the top 4 grand titles, as well as best male group, best dance performance by a male group and best music video for "Boy with Luv," and Qoo10 favorite male artist among their other wins. The group were also awarded a spot in the top 10 Worldwide Fan's Choice list.
The band's sweep of awards comes after a record-breaking year for BTS, having already achieved several milestones including "Love Yourself: Answer" becoming the first K-pop album to spend a year on the Billboard 200 chart and the song "Euphoria" (sung by BTS member Jungkook) becoming the first song by a male K-pop singer to surpass 100 million streams on the music platform Spotify.
The latest accolades follow their nods at the 2019 American Music Awards this month, where they won the awards for tour of the year, favorite duo or group (pop/rock) and favorite social artist, beating the likes of Shawn Mendes, Ariana Grande, Jonas Brothers and Billie Eilish across all three categories.
The Mnet awards victory also comes after being snubbed by the Grammy Awards Nominations, which left fans outraged earlier this month as the K-pop phenomenon didn't make the cut.
Among the other top wins at the 2019 MAMA include K-pop girl band TWICE (for best female group), who also won best dance performance by a female group for their song "FANCY", as well as Chungha (for best female artist), who also bagged best dance performance by a solo artist for the song "Gotta Go". Baekhyun took the title of best male artist, while English singer-songwriter Dua Lupa won the title of international favorite artist.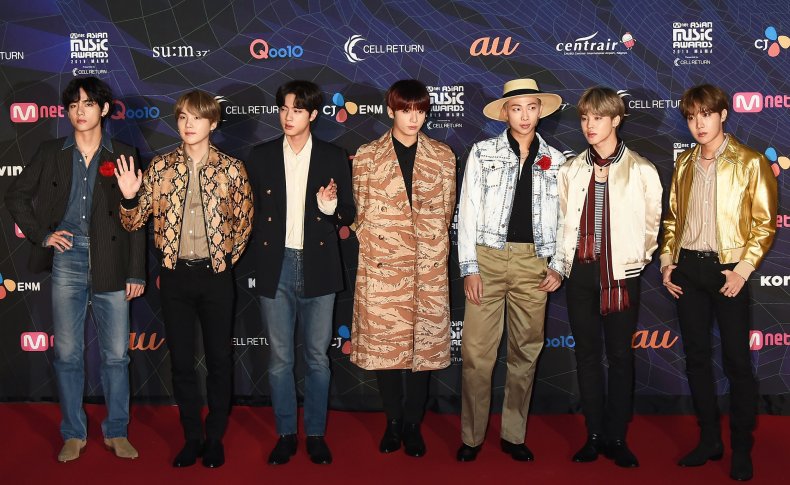 Fan frenzy over the awards and its winners dominated social media, with droves of adoring fans posting messages of praise and congratulations using the hashtag #MAMA2019, which has been top-trending on Twitter, along with a host of others such as #BTSatMAMA, #BTSDaesangAllKill and #BTSDaesangSweep, as well as hashtags around various other award winners, nominees and performers including #ATEEZxMAMMA, Mamamoo, Seventeen and Jihyo.
"Have to bust this out on behalf of K Armys. they crushed this year for the boys, and we're proud of y'all too!! TWO Daesang sweeps, y'all TELL 'EM. #BTSatMAMA #BTSatMMA #BTSDaesangAllKill #BTSDaesangSweep," wrote @OT7_esq.
Another winning night for our boys. Couldn't have asked for a better gift for Jin @BTS_twt #BTSDaesangSweep #BTSDaesangAllKill #BTSatMAMA," wrote @NishaAhir6.
"THIS JUST WENT DOWN IN HISTORY ; ATEEZ BEING THE ROOKIE LEGEND PERFORMERS AND GETTING BTS REACTIONS TO BS&T , A GREAT MOMENT IN ATINYARMY WORLD , THATS ON ROOKIE POWER #2019MAMA #ATEEZxMAMA," wrote @mingithighs.
"Seventeen's performance tonight at mama is the highlight. they own the stage. they hyped everyone up. seventeen is legendary. carats are legendary. you can never play dirty with talent," wrote @winternonie.
"Jihyo you are so brave... thank you for always staying strong..the woman you are today!! you deserve all the love in the world," wrote @chewykiss.
"Congratulations to MAMAMOO Moonbyul - HIP Chair Move for winning Best Performance at 2019 MAMA (Mnet Asian Music Awards)," @ultmoonsun.
The Mnet awards were launched in 1999 in South Korea, modeled after the MTV Video Music Awards in the U.S. It has since expanded, becoming one of Asia's biggest music awards, with the event now airing internationally.