BTS Will Not Be Exempt From Military Service Under New Government Regulations Issued by South Korea's Military of Defense
BTS and other male K-pop stars will still be required to serve in South Korea's military under new government regulations reducing the number of exemptions from mandatory service and enforcing stricter rules around eligibility for military service waivers, the country's government announced on Thursday.
All men in South Korea are required to serve in the military for a period of around two years, as outlined by the Constitution of the Republic of Korea and the Military Service Act: "Every masculine gender of the Republic of Korea shall faithfully perform military service," Korea Law Translation Center (KLT) reports.
"Unless otherwise prescribed in this Act, no special exception to military obligation shall be prescribed," the law states.
The new guidelines were imposed by the government in a bid to address the shortage of men available for military service, South Korean Culture Minister Park Yang-woo said at a press conference in Paris this week (via the Yonhap News Agency).
"We could not overlook this problem any longer and we found it inevitable to reduce the exemption system," South Korean Prime Minister Lee Nak-yeon said at a cabinet meeting on Thursday where the new law was passed, The Korea Herald reported.
There has been an ongoing outcry for BTS to be given a military waiver, which has been granted in some cases to award-winning athletes and classical musicians who have promoted the image of South Korea across the globe.
Many have urged the government to also allow K-pop group an exemption in view of the group's global success, which has helped to promote Korean culture in several countries across the world.
"In the case of BTS, I personally wish I could allow exemptions for them under certain standards, but the Military Manpower Administration and the Ministry of National Defense [in charge of conscription] are inclined to downsize the overall scope [of exemptions]," the minister said at the conference.
"Unlike classical arts or sports, it is difficult to fix the criteria of the selection in the popular culture and arts fields, which makes it difficult to institutionalize [a waiver system]," the culture minister said.
"We also believe that military duty will not hurt the talents of popular performers so critically that they cannot perform anymore," Lee Nam-woo, the chief of the South Korean defense ministry's personnel welfare office, said at a briefing among various government ministries on Thursday.
The new law will see a 20 percent reduction in exemptions from the year 2022 to 2026, reducing the number of exemptions from the current figure of 7,500 to 6,200 by the end of that period.
Typically around 45 people are granted a military waiver per year, and currently those who qualify include athletes who earn any medal at the Olympics or a gold medal at the Asian Games as well as artists who win 2nd place or higher at selected international competitions and top-ranking artists at any arts competition in South Korea.
But under the new regulations, the government will reduce the number of competitions that qualify for exemptions, while also imposing stricter rules for how athletes are selected to join national teams, which are exempt from military service should they win a game at a qualifying competition. It is not uncommon for national teams to get their players to join a winning match for even as short a time period as a minute in a bid to be issued military exemptions, The Korea Herald claimed.
"There have been many controversies over the exemption system," the South Korean prime minister noted on Thursday.
Some of these controversies include concerns over the fairness of the exemption system, a low birthrate in the country that has reduced the number of men reporting for military duty, and the placement of military candidates, as many specialist enlistees—including researchers or technicians—are allowed by the Military Act to continue their careers in their area of expertise or in a relevant department, according to The Korea Herald.
Last month, Big Hit Entertainment, the management company of BTS, confirmed that no member of the band would be enlisting in the military this year.
Jin, the group's oldest member, is required to enlist in the military by next year when he turns 28, according to Yonhap. Earlier this year, the bandmember was reported to have been willing to serve in the military "when duty calls."
"As a Korean, it's natural and someday, when duty calls, BTS will be ready to respond and do our best," Jin told CBS Sunday Morning back in April.
Earlier this year, BTS fans—collectively known as the Army—launched an online petition at Change.org urging South Korean President Moon Jae-in and the government to "allow BTS members to go through military service together," sending the group to the same military camp at the same time to carry out their duties.
"It is known that BTS members are respectful men and faithful Korean citizens. They will never agree to be exempted because they see military service as their honor and duty."
"In the case all the members will be enlisted together and return in two years, it will save their time and career. On the other hand, if BTS members will go separately they are going to lose too much time and popularity that will probably have a very bad impact on the country's economy, culture and tourism," argued the petition, which has garnered more than 32,300 signatures so far.
BTS has gone from strength to strength since the group's debut in 2013, with several history-making accolades under their belt, including this week when the song "Euphoria" (sung by BTS member Jungkook) became the first song by a male K-pop singer to surpass 100 million streams on Spotify.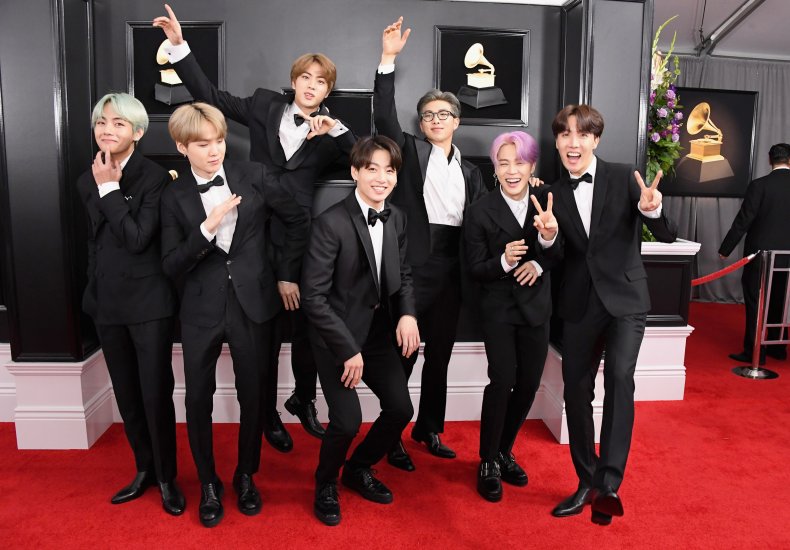 The BTS album Love Yourself: Answer became the first K-pop album to spend a year on the Billboard 200 album chart back in April.
The group also walked away with several wins at the MTV European Music Awards this month, including Best Group and Best Live Act, and is nominated in several categories for the American Music Awards being held this Sunday, including Favorite Duo or Group (Pop/Rock), Tour of the Year and Favorite Social Artist.