#ThePeopleChooseBTS Trends as Fans Are Outraged by BTS People's Choice Awards Snub
BTS' losses at this year's People's Choice Awards has caused outrage among devoted fans.
The K-pop boy band walked away empty-handed after losing out to K-pop girl group Blackpink in all three categories in which it had been nominated, including Best Group of 2019.
BTS was also nominated for Music Video of 2019 for their song "Boy With Luv" featuring Halsey and Concert Tour of 2019 for their Love Yourself, Speak Yourself tour, while Blackpink's "Kill This Love" and the Blackpink 2019 World tour won awards in both those categories.
The awards snub has caused outrage among BTS fans—collectively known as the ARMY—who took to social media to express their disappointment using the hashtag #ThePeopleChooseBTS, which has been trending on Twitter, along with #ARMYsChoiceBTS and #ThePeopleChoiceBTS.
Newsweek subscription offers >
Several cited the band's chart-topping accomplishments. ". @BTS_twt landed 7 #1 hits on the World Digital Song Sales chart in 2019 alone than any other Korean Acts has throughout their entire careers,"wrote @shadow_twts.
"It is also a major accomplishment for any act on any one of Billboard's weekly lists. - Forbes #ThePeopleChooseBTS #ARMYsChoiceBTS," the user added.
User @Ishra_twt noted: "3 #1 albums on BB200 in a year, revenued $4.65B for south korea in 2018 alone, sold out all 64 concerts from their tour, with 1.8M tickets and $170M in revenue, currently #1 best selling album of 2019 with 4.1M copies#ThePeopleChooseBTS @BTS_twt."
"Number don't lie tho hmm since they pay to win so bangtan was robbed. Let's work even harder for the boys @BTS_twt #ThePeopleChooseBTS #ARMYsChooseBTS," wrote @bangporahae.
Others also commented on the sold-out BTS concert tours that have been overlooked.
"Remember when bts sold out wembley stadium TWICE in like 90 minutes,,, nobody is doing it like them #ThePeopleChooseBTS," wrote @moonchildpjms
"So you got the audacity to tell me this didn't win tour of the year? A joke..#ThePeopleChooseBTS @BTS_twt," wrote @yootaekook
"Don't drunk to make a chart.Tell me how @BTS_twt didn't win concert when they sold out Stadiums left and right!! #ThePeopleChooseBTS," wrote @FKhukumoni
"Don't be discouraged Army. Keep on fighting. @BTS_twt I love you so much #ArmyChooseBTS #ThePeopleChooseBTS," wrote @Loveedesy.
"You can buy the awards, but you can't buy our hearts. #ThePeopleChooseBTS @BTS_twt," wrote @yonkisuga.
"No matter what happen, you guys are still my choice #ThePeopleChooseBTS#ARMYsChoiceBTS @BTS_twt," wrote @YanTae2.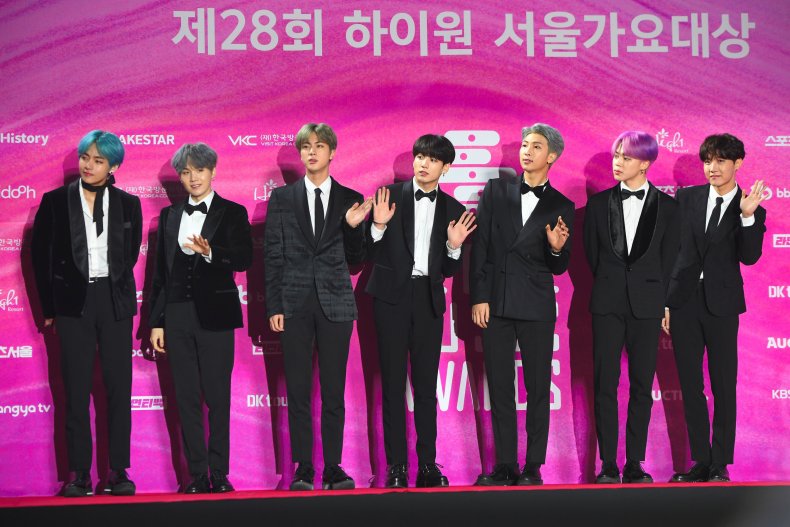 Earlier this month, BTS won several awards at the MTV European Music Awards, including Best Group and Best Live Act.
#ThePeopleChooseBTS Trends as Fans Are Outraged by BTS People's Choice Awards Snub | Culture