GOT7's Jinyoung on His New Single, 'The Devil Judge' Spoilers and Artist He'd Most Love to Collaborate With
Many K-pop stars are of the triple threat kind—those who can sing, dance and act. Among this multi-talented clan is Jinyoung from GOT7—one of South Korea's biggest K-pop boy bands—who is currently starring in the K-drama series The Devil Judge.
The actor and singer-songwriter (whose full name is Park Jin-young) has been "thankfully...very busy" throughout the COVID-19 pandemic, working on new projects, including his new solo single "Dive," the artist told Newsweek in a U.S. first exclusive interview.
Speaking to U.S. media for the first time about his new solo track, Jinyoung told Newsweek about what fans can expect to see in the coming episodes of The Devil Judge, the artist he'd love to collaborate with most and more.
Inspiration for New Single and Life During COVID
"Dive," written and composed by Jinyoung, was created as gift for his fans while he—like the rest of the world—spent more time at home during the COVID-19 outbreak.
Jinyoung told Newsweek: "Despite the pandemic, thankfully I was able to start a new project so I was very busy shooting. On days off, I rested a lot at home and watched a lot of movies.
"I wanted to stay safe and make sure production never had [to be] shut down because of me [getting infected with COVID-19]. So I cut down on a lot of unnecessary activities and spent a lot of time at home," he explained.
"Dive" ranked no. 12 on the Billboard World Digital Song Sales chart in August in the week of its release.
The bright and upbeat new solo single—a special clip of which was shared on 1theK YouTube channel on July 29 just after the song's release that day—is a "cool summer song" with a "band sound," he described.
"I thought about the ocean while making this song. No matter who you are, while looking at the ocean you can always feel how large it actually is," the artist explained.
When it comes to songwriting, Jinyoung told Newsweek: "I think about the lyrics first. The message of the song is most important to me."
Jinyoung has also written songs for GOT7, who were formed under JYP Entertainment, one of the country's biggest entertainment agencies managing a host of popular K-pop artists such as 2PM, Stray Kids and Twice.
The seven-piece boy group has seen much chart-topping success since their debut in 2014. The group has appeared on several American television shows including NBC's Today show back in 2019.
Their songs have ranked on several Billboard charts, including four no. 1 hits on the Billboard Global chart and 33 songs on the World Digital Song Sales chart, 19 of which have been among the top 10 hits.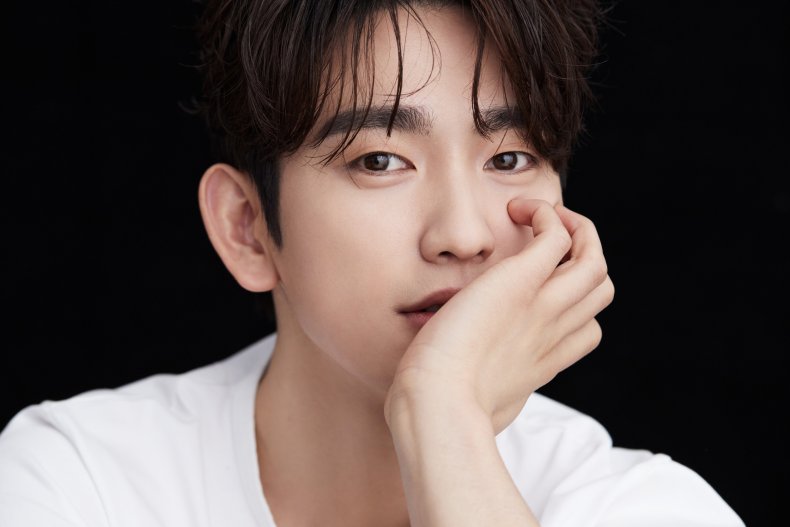 The Devil Judge
Spoilers and Acting Roots
Before GOT7 officially launched, Jinyoung had been honing his acting craft. He first debuted as an actor in 2012 in the K-drama series Dream High 2.
"There was no big opportunity or event that started my career in entertainment. It was something I wanted to do to challenge myself," Jinyoung told Newsweek.
Asked what words of advice he'd give his younger self, the artist told Newsweek: "I would tell young Jinyoung not to be afraid and challenge yourself in anything and everything."
This year he signed an exclusive contract with BH Entertainment, the agency launched by veteran Korean actor Lee Byung-hun, who has starred in the Hollywood films The Magnificent Seven and the G.I. Joe film series.
Since his acting debut in 2012, Jinyoung has featured in a string of K-dramas, including most recently The Devil Judge, which is available on the Rakuten Viki streaming service.
The series, which airs every Saturday and Sunday on the tvN Korean channel, is set in a dystopian world where a live television studio serving as a courtroom becomes the ultimate reality tv show, with greed and corruption exposed "for all the nation to see."
Jinyoung plays the role of Judge Kim Ga On, who investigates one of the courtroom's corrupt judges, Kang Yo Han, tracking his movements.
"I was most attracted to my character Kim Ga On's principles and beliefs being broken and tested through the course of the drama," Jinyoung told Newsweek.
Judge Kim will get caught up in "bigger revelations and scandals" in upcoming episodes, the K-pop star told Newsweek.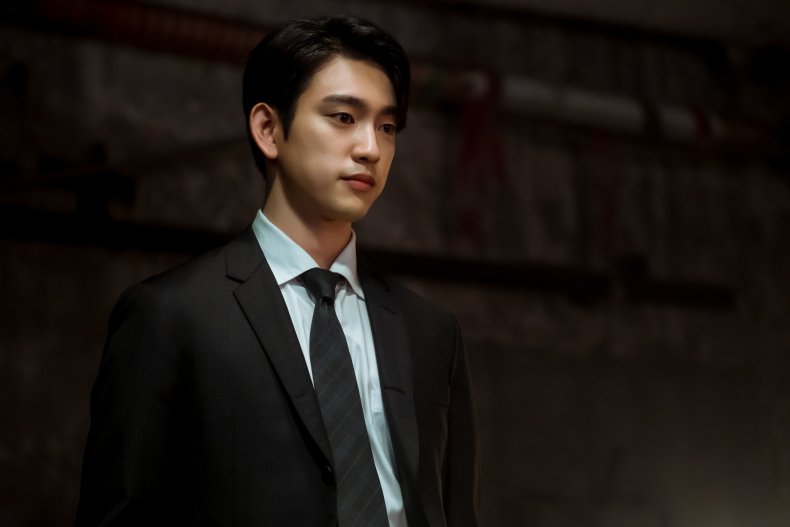 U.S. Acting Debut Plans
With several K-dramas under his belt, making an acting debut in the U.S. could be in the cards for Jinyoung.
"Nothing is set but I am looking at a few potential projects. If the opportunity presents itself I would definitely like to work in the U.S.," he told Newsweek.
While Jinyoung says he enjoys singing the most, "because you can hum along to any tune wherever you are," asked which he would choose between singing and acting if he could only do one for the rest of his life, the artist said: "That's a very difficult question.
"I think I can probably only answer that question after I've done both for a very long time," Jinyoung told Newsweek.
Jinyoung at a Glance: Quickfire Q&A
Artist you want to collaborate with most?
Justin Timberlake.
Song you're listening to most right now?
"Mind Trick" by Jamie Cullum.
Actor and musician you admire most?
Joaquin Phoenix and John Mayer.
Music genre you want to try?
I would like to do a Christmas song.
How do you relax?
Just sleep.
Favorite food?
A hamburger.
Favorite city?
New York.
Unique personal item you always carry with you?
Film camera.
One thing fans will find most surprising about you?
They don't know how easy it is for me to grow a mustache.
Jinyoung's new single "Dive" is out now. The final episode of The Devil Judge airs on August 22 at 9 p.m. KST (8 a.m. ET) on tvN and will be available on Rakuten Viki just after it airs on tvN.