#HopeForWonho and #WeBelieveInMonstaX Trends as Fans Continue to Call for Singer to Return to K-Pop Group
Monsta X fans—collectively known as "Monbebe," meaning "my baby" in French—have been dominating social media with their emotional messages of love for the now 6-piece K-pop group as well as continued bid for Wonho's return to the band in posts shared with the hashtags #HopeForWonHo and #WeBelieveInMonstaX, both of which have trending on Twitter.
"Wonho, if you're not covering yourself up with warm blanket, a cup of hot chocolate and your fav shin ramen now, istg we'll nag at you. Leave this to us, we'll bring you back to where you originally belong. @OfficialMonstaX #HopeForWonho #WeBelieveInMonstaX," wrote user @booqijae
"We know we will see all seven of you together again, on a stage, totally burning it up. Because there is only one Monsta X. With 7 members. Who were all born to stand on the world stage. Let's GETTIT! LET'S TIKITAKA!! @OfficialMonstaX #HopeForWonho #WeBelieveInMonstaX," declared @melancolymel.
"We cant lose hope. this could take days, weeks, months but please dont give up, there's still hope #HopeForWonho #WeBelieveInMonstaX," wrote @gigglesyunho.
Newsweek subscription offers >
"Wonho, we will bring you back home. Hold on tight. Monbebe is with you, always. #HopeForWonho #WeBelieveInMonstaX @OfficialMonstaX," wrote @shxnwonh0
Newsweek subscription offers >
Fans were left heartbroken following Wonho's departure from the band last week and have been urging the group's management company (Starship Entertainment) to reconsider the decision of his departure.
Several from the Monbebe clan were found to be placing Post-it notes on the facade of Starship's office building, with messages of support for Wonho and Monsta X while others pleaded with the company to bring Wonho back, just hours after the announcement of his exit.
"The starship building is filled with post it notes from monbebe giving strength to monsta x and asking starship to bring back wonho, this is the most beautiful thing but also the most heartbreaking. everyone is desperate im devastated," wrote @byoungmidam.
Wonho's departure from Monsta X was announced last week in an official statement from Starship, which read: "After a long discussion with MONSTA X's member Wonho, we have agreed that it's best to part ways amicably at this point. We greatly respect Wonho's decision who wants to make sure the recent chain of events doesn't distract from all of the exciting things that are happening for MONSTA X now and what lies ahead in the future. We will continue to hold legal liability for malicious and distorted claims related to this matter."
Several devastated fans also expressed outrage over Starship's alleged mistreatment of the band.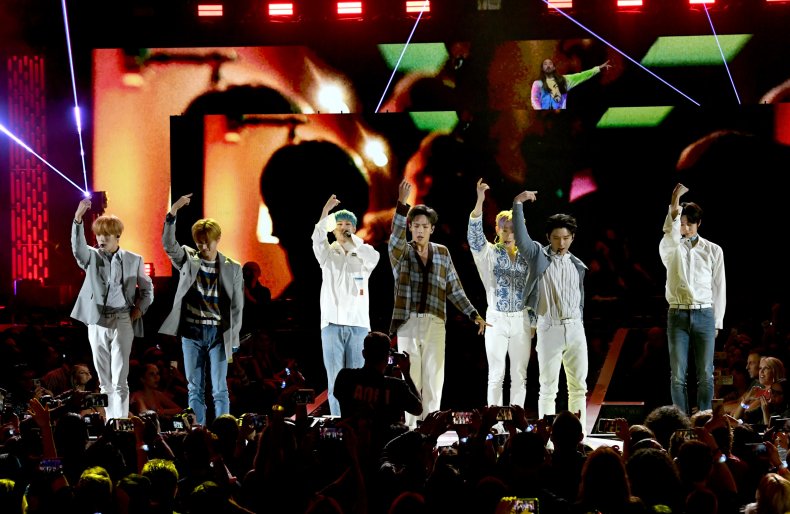 "Put monsta x as a whole on hiatus ffs . Their mental health is at risk. They dont deserve this. Put them on hiatus for now and let them come back when everything blows over as 7 members again.@STARSHIPent," wrote user @sonnie_idk
"Monsta X dont need Starship, Starship need them. Monsta, please leave that s***ty company and grab Wonho by the ear and bring him with you," wrote @WonhoPrinceEric.
"Monsta x are gonna attend music core on saturday. that's another live show. starship is putting their artists under an inhumane amount of stress AND ignoring millions of people's wishes. they really don't care neither about them nor about us," wrote @leeminhyikes_.
#HopeForWonho and #WeBelieveInMonstaX Trends as Fans Continue to Call for Singer to Return to K-Pop Group | Culture