K-pop Star Jung Joon-young Could Face 7 Years in Prison for Alleged Rape and Illicit Filming: Report
Prosecutors recommended K-pop singer Jung Joon-young be sentenced to seven years in prison for his role in an alleged gang rape and for illicitly filming and sharing footage of the incident in a group chat, reports said Wednesday.
Prosecutors also suggested five years for fellow singer Choi Jong-hoon of the boy band F.T. Island for his role in an alleged sexual assault in March 2016, reports South Korean entertainment news website Soompi.
The two entertainers and three others are on trial for allegedly raping and filming a woman while she was passed out at a hotel room party in March 2016. In June, Jung admitted having sex with the woman but denied rape. Choi denied all the charges and said he did not have sex with the woman, according to Yonhap News Agency.
But on Wednesday, prosecutors urged formal charges against all five suspects including jail time ranging from 5 to 10 years for the men involved. Prosecutors also recommended all of the men were banned from working with minors for 10 years and undergo rehabilitation for sex offences, said Soompi.
"The demands were made considering the natures of the crimes and that settlements have not been reached with the victims," prosecutors said, according to the website.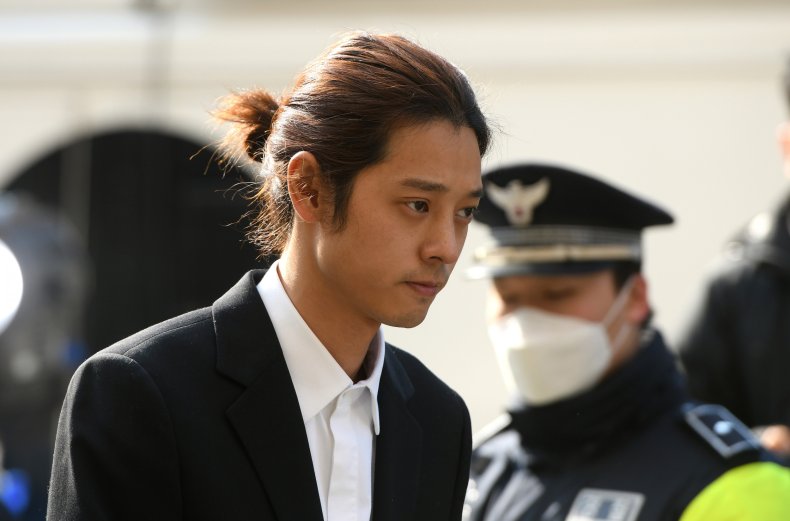 In March, Jung was indicted on charges of illegally filming himself having sex with women and distributing the footage in group chats to other people. The 30-year-old star admitted to filming women without their consent, saying in a statement: "I admit to all my crimes."
"I filmed women without their consent and shared it in a chatroom, and while I was doing so I didn't feel a great sense of guilt," Jung said in March. "Throughout the rest of my life, I will repent on my immoral and illegal acts that constitute crimes."
In May, Jung pleaded guilty in a criminal case to 11 counts of filming and sharing illicit footage and said he wished to settle with the victims.
The victim in the rape trial came forward after hearing news reports about Jung filming and sharing footage of himself having sex with other women. She reached out to the lawyer who exposed the group chats and who confirmed to her that there was one audio clip and six photos of her in the chat, The Korea Times reported.
"After seeing the media reports about these group chats, I realized they were not really my friends. They treated me like a toy. It was humiliating and difficult. I hope they get the punishment they deserve," the woman told broadcaster SBS in April.