#ChallengeTheSystemForMX7 Trends As K-Pop Fans Blame Wonho's Monsta X Departure on Cyberbullying Culture and False Rumors
Outrage over Wonho's recent departure from Monsta X continues, with fans claiming the former lead singer of the group was unfairly dismissed from the K-pop boy band based on "rumors without evidence" and was "failed by the system."
Wonho's sudden departure last month was preceded by several allegations about his past before joining the band, including owing money to Korean actress Jung Da Eun, a former castmate on the Korean comedy show Ulzzang Shidae, as well as the illegal use of marijuana.
His exit was announced in a statement by Starship Entertainment, the management company of Monsta X, which stated: "We greatly respect Wonho's decision [to leave Monsta X] who wants to make sure the recent chain of events doesn't distract from all of the exciting things are happening for MONSTA X now and what lies ahead in the future. We will continue to hold legal liability for malicious and distorted claims related to this matter."
Nearly 3 weeks since Wonho's departure, Monsta X fans—collectively known as Monbebe (meaning "My baby" in French)—have not backed down in the fight for his return, calling for the "better treatment of [K-pop] idols."
Both Starship and Wonho have yet to respond to pleas for Wonho's reinstatement and allegations of Wonho being unfairly dismissed by the company. Newsweek has contacted Starship for a comment.
Fans have been urging each other to "challenge the system" of cyberbullying and "cancel culture" based on false rumors spread throughout the K-pop community, with messages of support on posted on social media using the hashtag #ChallengeTheSystemForMX7, which has been trending on Twitter, along with the Korean hashtag #우리얘길_새로써 ("Let's rewrite our story.")
"We need to challenge the system so that idols are treated with more humanity. I wonder what Wonho did so bad to have to exit the bad. He did not harm anyone #ChallengeTheSystemForMX7 @STARSHIPent," tweeted @oanamp11.
"K-pop is systematically rooted in cancel culture; in believing rumors without evidence. wonho was failed by this system. by @STARSHIPent. we won't let him disappear - we are not going anywhere #ChallengeTheSystemForMX7 #우리얘길_새로써[let's rewrite our story] @OfficialMonstaX," wrote @lvingnunu.
"Idk what's happening backstage. But I know contracts can be rewritten, Lawsuits can be won, Companies can take new decisions, Cultures can CHANGE. And we will keep fighting to MAKE THIS HAPPEN. We want Wonho back! #ChallengeTheSystemForMX7 #우리얘길_새로써 @OfficialMonstaX," declared@beardadshownu.
"We are challenging the way things are done in the community. Our mission is to bring Wonho back, fight for stiff penalties for online harassing, & better treatment for idols. #ChallengeTheSystemForMX7 #우리얘길_새로써 @STARSHIPent @OfficialMonstaX," wrote @SunnyMonbebe.
"Idols are humans; they make mistakes but learn and grow from them. their past shouldn't be held against them. plus, idols shouldn't suffer because of some baseless allegations and rumors. it's time for change #ChallengeTheSystemForMX7 #우리얘길_새로써," wrote @KIHYUNeeee.
"It's time for change, enough is enough. we won't back down for @OfficialMonstaX . #ChallengeTheSystemForMX7 #우리얘길_새로써 @STARSHIPent," wrote @kihyunsnena.
"It's been almost 3 weeks and Monbebe are not stopping. For Wonho. For Shownu. For every idol that has to deal with jobless cyber-bullies derailing their dreams and careers. #ChallengeTheSystemForMX7 #우리얘길_새로써 @STARSHIPent @OfficialMonstaX," wrote @desikyuMX.
K-pop fans, especially in South Korea, are known for their passionate following and idolization of K-pop stars, which has previously had dark consequences due to the pervasion of cyberbullying culture.
The late female K-pop singer Sulli, who was suspected to have died by suicide last month, was often scrutinized for her provocative posts on social media and spoke out against cyberbullying.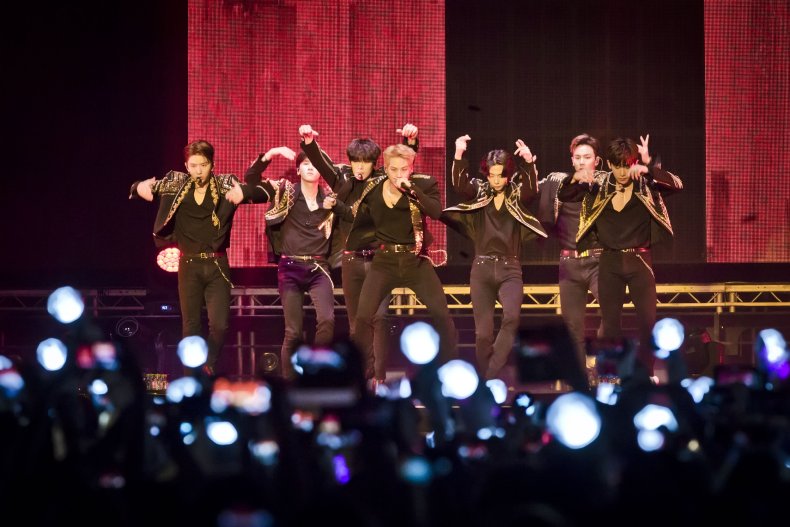 On her appearance on Night of Hate Comments, a Korean variety television show in which celebrities tackle mean comments posted about them on social media, Sulli said she wished the public would accept that people can be different.
"There are so many unique types of people in this country with so much talent and I feel like they're wasting it by putting their energy into critiquing others like this online," she said on the show.