#JusticeForApink Trends After K-pop Broadcast Bungle During Biggest Show of The Year
K-pop group Apink have been issued an apology by a national Korean television station after the group's performance at the 2019 Gayo Daechukje was cut off due to a broadcasting error. Many outraged fans took to social media to voice their protests using the hashtag #JusticeForApink.
The girl band were performing their song "% %" at the annual music festival, one of the country's biggest music shows, featuring the top K-pop acts including BTS and Monsta X, which is broadcast live on South Korea's KBS television channel.
Their performance was abruptly cut short before they could perform the ending of the number they prepared. The band members were left lost and confused before they were forced to head backstage, Hellokpop reports.
KBS has since released an official apology from the show's chief producer Kwon Yong Taek, who claimed the show's director of the production division had attempted to apologize to Apink as soon as the show was over but the band had left the building by that time. So they asked the band's management agency to pass on their apology to the group, Soompi reports.
"We had a rehearsal the day before, but we were unable to do the camera rehearsal [on the day of]. It was a decision I had to make as audience admissions were delayed. Though not being able to do camera rehearsals puts a lot of pressure on staff during the live show, we made the decision that we could not delay the audience any longer so some teams were not able to do camera rehearsals. As a result, a mistake was made and I believe it is something I must take responsibility for," Kwon stated.
"As soon as the show was over, the director of the production division went to meet with Apink. Although he was unable to meet them as the members had gotten in their vehicle by that time, he met with their agency's vice president and asked for our apology to be delivered to the members.
"While the show was going on, the PD [producer] who was there made sure to go to Apink in their waiting room and explain the situation and apologize. There have been some who said we were neglecting Apink, but we have no reason to do that."
"I'm sorry. I have nothing to say for myself. It was our fault. I want to apologize once again to Apink and their fans."
The girl group were reported to be missing on the final stage appearance by all the featured artists at the end of the program. Some band members expressed their upset over the broadcast error on their Instagram accounts.
"So many upsetting things have happened at the end of this year. I'm posting this because I feel upset and sorry that we weren't able to show you the full performance that we worked hard to prepare...it was an event which all the artists worked really hard to prepare for. I hope that in the future, it will be a fair and safe environment in which the performers can do a great job," band member Nae-un posted on her Instagram account, Hellokpop reports.
Band member Eunji also addressed the incident in a post on her Instagram account: "Many of our fans have felt upset together with us and have been comforting us. That's why after debating over what I should say, I'm posting this. I know that at the end of every year, many people work hard to put on a great show, and I'm always grateful to get to step onto the stage. However, I sincerely pray for an environment where the fans who fill the seats and the performances of all the artists, which are prepared with passion and sweat, are always treated with respect."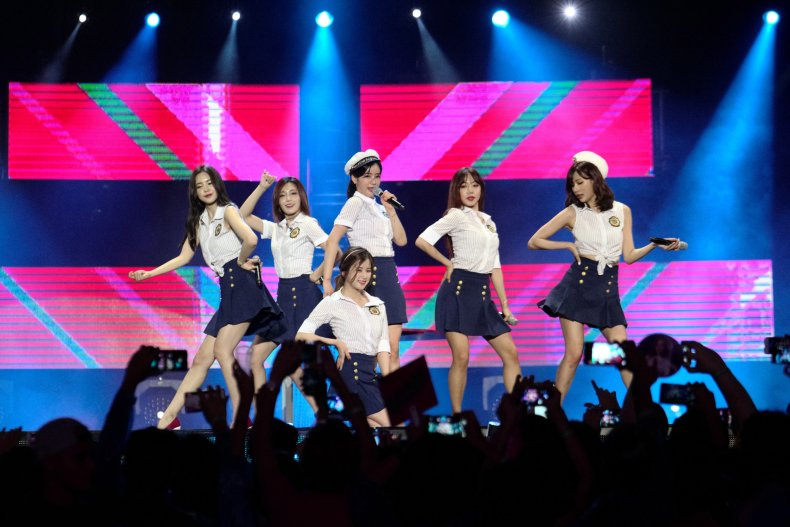 Apink fans were left outraged by the network's "disrespect" and "unfair treatment" of the band and took to social media to share their thoughts using the hashtag #JusticeForApink, which has been trending on Twitter. Some fans have even accused KBS of being biased towards male K-pop groups.
"All Apink members ever wanted is to keep working hard to keep on making music for the fans to perform as a group for as long as they can but the industry's unfair treatment has been standing in their way all along #justiceforapink #에이핑크_사랑해 [we love you Apink]," wrote @eunyoobinji.
"Kbs as well as other song festivals/award shows are obviously biased towards boy groups...why would u give one of the artists 21 minutes for their performance,while giving other ones barely enough time to perform ONE song..the amount of disrespect...#JusticeForApink," wrote @rosyvves.
"Sbs/kbs trying to put the blame on other artists to hide the incompetency and mistreatments is disgusting. they done ruined the happiness and disregarded the hard work of many, had this happened to male idols they wouldnt take it so lightly #TakeResponsibilitySBS #JusticeForApink," wrote @twicepinked.
"This is so unfair. They're seniors in this industry and they get treated like this?...I'm so sorry for them, this shouldn't happen to any artist. #JusticeForApink," wrote @askfordreamsbb.
Apink made their debut in 2011. They have released 3 full-length albums and 8 mini-albums and have reportedly won more than 30 music awards to date.
#JusticeForApink Trends After K-pop Broadcast Bungle During Biggest Show of The Year | Culture