Choi Seung-chol, also known as S.Coups from South Korean K-pop band Seventeen, is taking a break from activities and scheduling around his music due to health issues.
His official hiatus was announced by Pledis Entertainment, the boy band's management company, in a statement posted on the group's official Twitter account, stating that the band leader had been "undergoing a detailed examination and diagnosis" after experiencing "symptoms of anxiety," the company said.
"S.COUPS has recently been undergoing a detailed examination and diagnosis of his health, due to symptoms of anxiety. And after thorough discussion, all of the SEVENTEEN members, including S.COUPS himself, have decided that it would be best for him to take the time to rest and temporarily abstain from participating in SEVENTEEN's activities.
"We sincerely extend our apologies to all fans who have continued showing their love and support for SEVENTEEN and hope for your understanding, as we have made this decision to prioritize our member's health and well-being. We will make sure to continue trying our best to protect our artists," the company said.
The news has caused a storm of concern from fans of the group–collectively known as Carats–with many posting emotional, endearing messages of support and empathy for the singer-songwriter using the hashtag #GetWellSoonSCOUPS, which has been trending on Twitter, along with Seungchol.
"#GetWellSoonSCOUPS i literally don't have words, i am so sad about this, literally crying because he definitely have one of brightest smiles, and i want it to see him smiling like that again, also thank you pledis for prioritizing his health @pledis_17," wrote @skyler_svt.
"Cheol became the leader bc everyone believed him but he often felt as if being a leader was a burden he had to carry despite all, he is always there for his members to support them, for carats, cheol is the best leader in the world#GetWellSoonSCOUPS," wrote @odetosoonhao.
"To seungcheol scoups ㅠㅠ get well soon boy ㅠㅠ it's okay take as much time you needed ㅠㅠ we always going to support you no matter what ㅠㅠ remember we always be there for you okay ㅠㅠ get well soon okie ㅠㅠㅠ take careㅠㅠ #GetWellSoonSCOUPS #WeLoveYouSCOUPS @pledis_17," wrote @justmeaniething.
"'The members are more important to me than the agency is. No matter what, the members are more precious.' cheol is a leader at heart, he cares a lot about his members and does the best for them. I hope he remembers to take some time for himself and his health #GetWellSoonSCOUPS, wrote @odetosoonhao.
"it's okay not to be okay, just treat yourself as good as you could; we love you so much you can't compare with anything and we will wait forever for you, we'll be together forever too; rest well our seungcheol," wrote @wonwooiscool.
It is unclear when S.Coups is planning to return to work and whether Seventeen will continue to work during the group leader's hiatus. But the management company noted it "will make further announcements accordingly in regard to his recovery and future activities."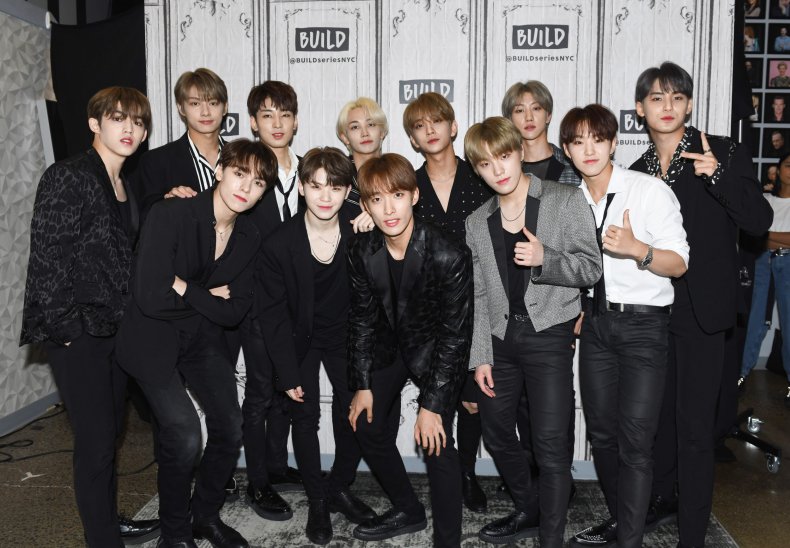 "We sincerely hope that there will be no excessive assumptions or misunderstandings regarding the health of S.COUPS," the company added.
Formed in 2015, Seventeen is made of 13 members featuring 3 groups of specialization including a vocal unit, hip-hop unit and performance unit. The band has released 3 studio albums as well as several EPs since its debut.
About the writer
Soo Kim is a Newsweek SEO Reporter is based in London, UK. She reports on various trends and lifestyle stories, from health, fitness and travel to psychology, relationships and family issues. She is also a South Korea expert who regularly covers Korean culture/entertainment for Newsweek, including the latest K-dramas, films and K-pop news, and is the author of the book How to Live Korean, which is available in eight languages. Soo also covered the COVID-19 pandemic extensively from 2020 through 2021 after joining the general news desk of Newsweek in 2019 from the Daily Telegraph (a U.K. national newspaper) where she was a travel reporter/editor from 2010. She is a graduate of Binghamton University in New York and the journalism school of City University in London, where she earned a Masters in international journalism. Languages spoken: English and Korean.
Follow her on Twitter at @MissSooKim or Instagram at @miss.soo.kim
You can get in touch with Soo by emailing s.kim@newsweek.com