Singer Jung Joon-young Held for Secretly Filming and Sharing Sex Videos: 'I Will Live My Days Repenting for My Sins'
In the latest chapter of an unfolding sex scandal hitting South Korea's entertainment scene, singer-songwriter Jung Joon-young has appeared in court over allegations he secretly recorded women he had sex with and shared the footage online without their consent.
The Seoul Central District Court issued an arrest warrant for Jung soon after he had appeared on Thursday at a hearing where he apologized to the victims.
In an emotional mea culpa, he said during the hearing: "I am sorry. I made a big and inexcusable mistake, and I admit my guilt. I will accept the court decision without a battle. I apologize to the ladies who have suffered because of me. I will live my days repenting for my sins," Yonhap news agency reported.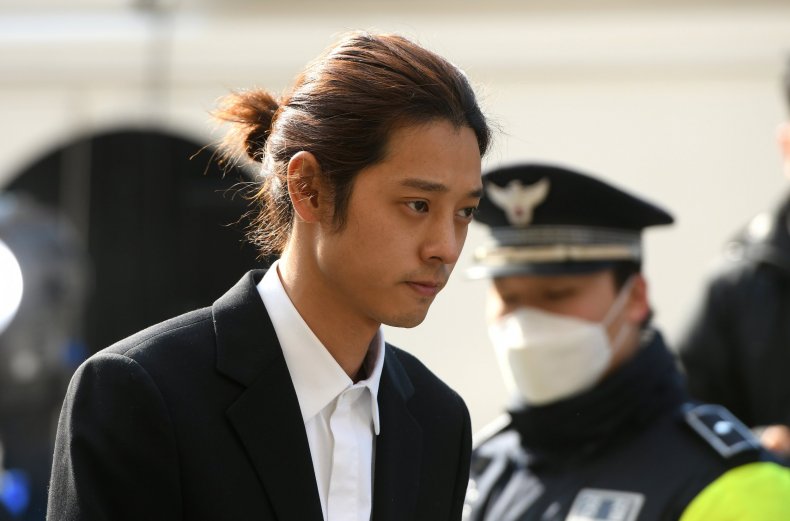 After the hearing he was taken into police custody in handcuffs. The nature of the allegations against him have shocked the country and have enveloped other stars in K-pop, a lucrative and tightly controlled industry worth around $4.7 billion a year.
He allegedly uploaded films of the sexual encounters on a KakaoTalk messenger chat room. One of the recipients was Seungri (Lee Seung-hyun), from the boyband BIGBANG.
Seungri is facing allegations that he tried to set up unlawful sexual services for his business investors, which he denies. Lee Jong-hyun of boy band CNBlue, Choi Jong-hoon of FT Island and Yong Jun-hyung from the group Highlight are also implicated.
The Korea Times obtained text messages allegedly showing the men sending the videos to each other, joking about rape, and discussing their sexual encounters.
If found guilty, the men accused could be sentenced to five years in prison. All apart from Lee have been dropped by their management companies or quit.
President Moon Jae-in has ordered an investigation into the scandal and South Korean media is reflecting on what it says about a culture of misogyny.
Michael Hurt, a sociologist at the University of Seoul told the South China Morning Post: "I don't think K-pop has a toxic masculinity problem, I think Korean society does. Korean men have weaponized the camera."
He added that victims of such crimes are often threatened with blackmail. "Sex tapes and revenge porn are credible social threats here," Hurt said.
There has been a growing epidemic in the country of "molka" spycam videos; women being secretly filmed by men in schools, toilets and offices.
Al Jazeera reported that more than 5,400 people were arrested for spycam-related crimes in 2017, but fewer than two percent were jailed.
The extent of spy cam use in South Korea was highlighted this week when police accused four men of using illegal cameras in motel rooms to film and livestream videos of more than 800 unwitting couples to paying subscribers. The scandal involved 42 rooms in 30 accommodations in 10 cities around the country, CNN reported.