Extraordinary You: K-Pop Group Stray Kids Releases New Song From Korean Drama Series Soundtrack
Stray Kids fans have created a frenzy of tearful praises around the new song from the K-pop group that was released on Thursday.
The song titled "끝나지않을이야기"—which translates to "The Story That Will Not End" in English—is featured on the soundtrack of a Korean television drama series titled in English as Extraordinary You (titled in Korean as 어쩌다 발견한 하루 , which translates to The Day I Discovered By Chance). The track is said to be the group's first-ever OST (original soundtrack) song release.
Many fans have been sharing their first impressions of the new Stray Kids tune using the Korean hashtag #스트레이키즈_끝나지않을이야기 (which translates to "Stray Kids_The Story That Will Not End"), which has been trending on Twitter, with several commenting on the "beautiful" lyrics, impressive high notes and "warm vocals" of the song.
"Guess who is listening while reading every word in english. Try to not cry. Try to not shed tears. Try to hold every tear drop. But end up aching on my heart. Omg too beautiful to handle @Stray_Kids #스트레이키즈_끝나지않을이야기," described Twitter user @leadndrum.
"Oh my god jisung's high notes, this is honeslty so beautiful!! I hope that they get to do more OSTs like this in the future. stray kids never disappoint #스트레이키즈_끝나지않을이야기," declared @mypinkuwus.
"I cant stop crying and shaking changbin [Stray Kids member] wrote it, changbin wrote the most beautiful love song I love him and his art so much I just fell in love 1000 times more I didn't even think it was possible #스트레이키즈_끝나지않을이야기," wrote @sp9rb.
"I love the song so much. Their vocals are so warm. #스트레이키즈_끝나지않을이야기," wrote @skzRsofties
"Still can't get over with how Jisung hit that freaking high note... #스트레이키즈_끝나지않을이야기 @Stray_Kids," wrote @325_9ornone.
"Man changbin really is such a talented lyricist,, he can write happy songs, he can write sad songs, songs about his struggles, but also uplifting songs, angry songs, nostalgic songs, and now we know he can also write love songs beautifully #스트레이키즈_끝나지않을이야기," added @plachaebo.
"The song is so heartwarming. The lyrics hits hard. It's feels like another message of @Stray_Kids to Stays, when it's an OST for a drama," added @eyesmilejeong.
Stray Kids are also expected to release a new project titled "Astronaut" on November 9, TheStandom, a K-pop news website, reports, the details of which have yet to be revealed.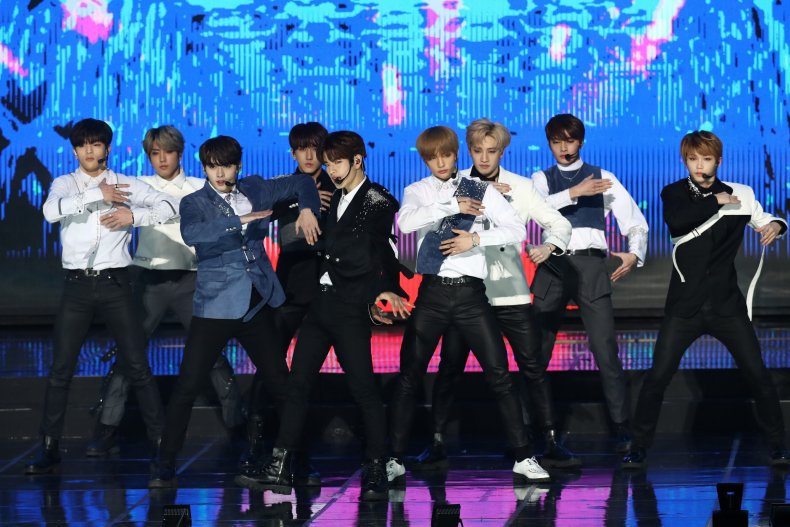 Last month, the eight-piece (formerly nine before Woojin's exit from the group last month) band unveiled a new single called "Double Knot" ahead of its official comeback and is also due to release a mini-album titled Clé: LEVANTER on November 25 at 6 p.m. KST [Korean Standard Time]. Their world tour District 9: Unlock kicks off on November 23-24 at the Olympic Hall in Seoul, Allkpop reports.
Extraordinary You: K-Pop Group Stray Kids Releases New Song From Korean Drama Series Soundtrack | Culture