Woojin Trends As Former Member of K-pop Group Stray Kids Reportedly Opens New Instagram Account
Woojin, a former member of K-pop boy band Stray Kids, has reportedly unveiled a new personal Instagram account.
His alleged new account, with a handle titled "woooojin0408" and citing the Korean spelling of his full name Kim Woojin (김우진) as its name, appears to be a new beginning for the singer, with its biography simply stating: "Restart."
The new profile is reportedly one of the first signs of public activity from Woojin following his sudden departure from the group last October due to "personal circumstances," according to a post shared on the official Stray Kids Twitter account.
"Woojin, who has been with Stray Kids as a member until this time, has left the group due to personal circumstances and terminated his exclusive contract," the announcement by the band's label JYP Entertainment said in Korean.
It has yet to be confirmed whether the latest social media profile was officially opened by Woojin, as it lacks the blue tick which verifies all official Instagram accounts. And there have been no official announcements from the band's label or Woojin himself. Newsweek has contacted Instagram to verify whether the account is official. But the profile has already garnered nearly 150,000 followers.
The profile has shared three posts so far, which includes images of Woojin against a seaside backdrop in an undisclosed location. Other images see him sitting by a traditional Korean-style sliding window/door and cabinet, which could perhaps be the inside of a restaurant or a home.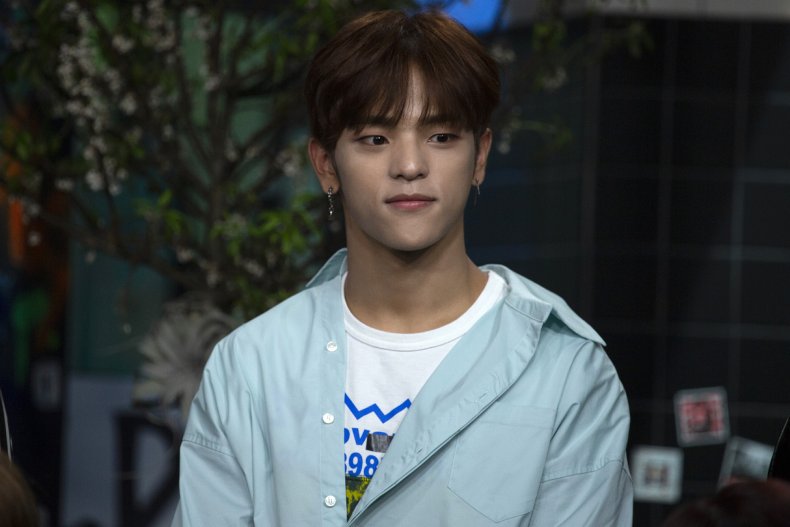 The new account has been causing a frenzy already among fans elated by seeing signs of life from Woojin following his exit. Fans have been sharing message of support and love for the singer on social media using the term "Woojin," which has been top-trending on Twitter, along with other terms includings "Kim Woojin" and "WOOJIN INSTAGRAM".
"Woojin's IG [Instagram] bio says 'New Start' and that's exactly what we're gonna give him; a new start. so yes kim woojin solo debut kim woojin world domination," wrote @woojinscult.
"EVERYBODY SAY THANK YOU KIM WOOJIN FOR FEEDING US NEW CONTENT AGAIN. I PROMISE TO SUPPORT THE NEW CHAPTER OF YOUR LIFE!," wrote @woojiniddles.
"Woojin is out there somewhere, healthy, and living his life to the fullest, and there is no other thought quite as comforting as that," wrote @cheeksungs.
"So you're telling me woojin's really back? as in our woojin? he has an online presence now? like we will get notifs from him again? see his amazing photos & even more amazing smile? maybe hear him sing again? or even talk to him again about his favorite perfume? he's really back?," wrote @felixcentric.
"I just really hope Woojin is supported in whatever he chooses to do, and is recognized as Kim Woojin and not "priorly a part of.." because I know he's going to work hard," wrote @incorrectCB97.
Last month, Stray Kids bagged their first win for their new single "Levanter" on a Korean music television show. The song was unveiled last December along with a new music video, both of which received much praise from fans.
"Levanter" is the title track of the group's new album Clé: Levanter, the final installment from their Clé series which also includes Clé 1: MIROH and Clé 2: Yellow Wood.
Back in November, the group also had its first-ever OST (original soundtrack) song release. The new track "끝나지않을이야기"—which translates to "The Story That Will Not End" in English—is featured on the soundtrack of a Korean television drama series titled in English as Extraordinary You.