K-Pop Stans Have Hijacked a Political Hashtag Again—This Time It's 'Impeach Biden'
When President Donald Trump supporters attempted to get the hashtag #ImpeachBidenNow trending on Friday, they were met by a mighty force: K-pop fans.
Upon exploring the trending hashtag, you're more likely to find images and videos of Korean superstars like the members of Black Pink and BTS before you eventually spot a conservative post ridiculing the new U.S. President Joe Biden. That's because K-pop fans have essentially taken over the hashtag in an effort to drown out those they oppose.
"Can we just appreciate how good RM looks tho like damn sir #ImpeachBidenNow," read one of the thousands of Twitter posts flooding the political hashtag, which accompanied a clip of the BTS member rapping at a concert.
Another K-pop fan shared a clip of TXT member Yeonjun dancing with the caption, "#ImpeachBidenNow yeah okay but Yeonjun."
This isn't the first time K-pop fans—or K-poppies as they often refer to themselves on social media—have rallied together to dominate a racial or political internet trend. During the height of racial protests in 2020, K-pop fan accounts from across the globe helped movements like Black Lives Matter to essentially hush-up those opposing their efforts on social media by doing what they do best: fanning-out over their favorite K-pop stars.
Following the death of George Floyd—a Black man who was killed by a white police officer in Minneapolis in May 2020—social justice groups, Hollywood stars and more started advocating for justice and calling for the end of police brutality by sharing messages online with hashtags like #BlackLivesMatter and #BlackoutTuesday in June.
People who opposed those movements attempted a social media coup by getting hashtags of their own to trend, including #WhiteoutWednesday and #BlueLivesMatter. But when K-pop fans stepped in and started using the hashtag to share hundreds of thousands of meme, gifs, videos and photos of performers like BTS, Black Pink, EXO, GOT7 and Loona, they drowned out all the Twitter posts that were actually in support of #WhiteoutWednesday.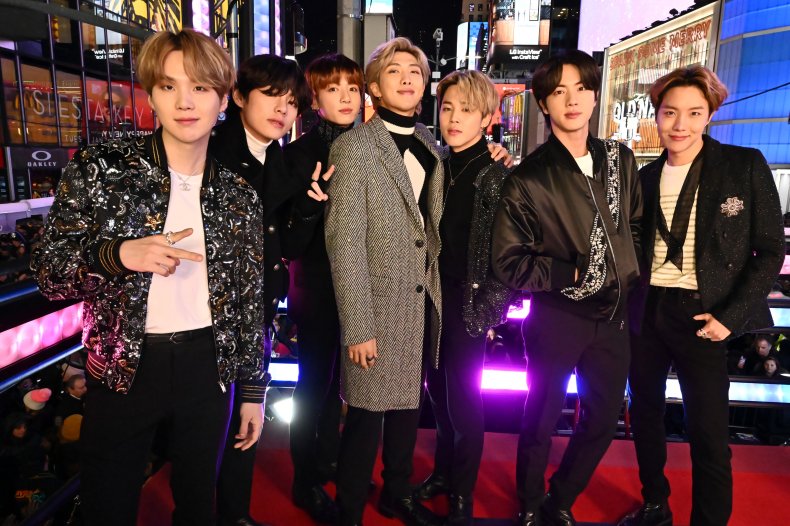 "The only blue thing that matters is Namjoons hair #bluelivesmatter," read one of the countless tweets shared in June.
K-pop Twitter similarly hijacked the #4MoreYears trend, which started out as a hashtag in support of a second term for Trump during the election. They even managed to silence conspiracists when they took over the hashtag #QAnon over the summer.
In June 2020, K-pop stans and TikTokers reserved tickets to a rally for Donald Trump in Tulsa, Oklahoma. That led to projections of an overflow crowd. Instead only about 8,000 people showed up.
The K-pop fan base is very large. In 2019 alone, K-pop Twitter amassed more than 6.1 billion tweets—many of them messages devoted to artists. So when they band together to takeover hashtags like #ImpeachBidenNow, their presence is almost unavoidable.