#WonhoWeLoveYou Trends As Devastated Fans Share Emotional Reactions To Singer's Monsta X Departure
Monsta X fans have shared their emotional reactions to the news of former Monsta X member Wonho's recent departure from the popular K-pop boy band.
His departure was announced on Thursday in an official statement by Starship Entertainment, the group's management company, that read: "We regret to announce this disappointing news, especially to the amazing MONSTA X fans who have always supported and cared for the group/ We promise to return with better music and stage for MONSTA X fans," in a post on the company's official Twitter account.
Several fans took to social media to express their disappointment using various hashtags including #WonhoWeLoveYou which has been trending, along with the name Wonho on Twitter since the news of his departure. Several have pined after the former Monsta X member to return to the group.
"Simply say: I can't lose you. Not you. You're my sunshine. What will Monbebe do without you?," wrote one user @uwujgk on Twitter.
"Please come back please we will no blame you please come back Monstar X need you Monbebe also need you @OfficialMonstaX #WONHO #WonhoWeLoveYou #원호탈퇴반대," wrote user @shijingh822.
"I'm devastated. why wonho why? please stay with us, we love you, we want you back, u can take a rest for a while but please go back to us whenever you feeling well and health, i can't imagine monex without you, uri bunny #WonhoWeLoveYou #원호사랑해 #WONHOCOMEBACK," user @natrep98 pleaded in an emotional post.
Many fans also shared messages of support for Wonho (also known as Hoseok) who shared a personal letter addressed to his fans announcing his departure and apologizing to fans "for causing so many people concern due to my personal issues," he wrote in the letter, Allkpop reports.
"I've received undeserving blessings and love while promoting as a MONSTA X member. I sincerely thank you for making precious memories with me. To the members who worked hard and stayed by my side, I'd like to tell them that I'm thankful, I love them, and show my apologetic heart.
"There was a time when I was immature, and I've made big and small mistakes. After becoming a trainee and debuting, I stayed on track and worked hard to avoid being ashamed of myself.
"I'm apologetic for causing harm to the members due to the unfortunate issues related to me. More than anything, I'm sorry for disappointing my fans who believed in me. I've reached this decision after seeing people having a hard time because of me," Wonho said in the letter.
Fans embraced Wonho's heartfelt letter with messages of encouragement on Twitter.
"Wonho, #원호탈퇴반대 , all of us make mistakes. We are all human. We will always be judged no matter what we do. Many will bring us down. The most important thing is to ignore these, change for the better and move on. #WonhoWeLoveYou," said user @alexismonkisha.
"Wonho don't leave your dreams , everything is gonna be okay. Please stay and let's get through this together but don't leave us. #WonhoWeLoveYou #원호탈퇴반대ll @OfficialMonstaX" wrote @J_JK20219
"Hoseok I don't think you'll ever read this but if you do please remember that you're a wonderful, sweet and amazing human being, you did nothing wrong and you're really precious for your members and monbebes, we all love you very very much #원호탈퇴반대 #WonhoWeLoveYou," wrote @ttaekbokkim.
The announcement of Wonho's departure follows this week's release of Monsta X's new album called Follow: Find You. The group today was also announced to be among the nominees in the Best Group category of this year's MTV European Music Awards.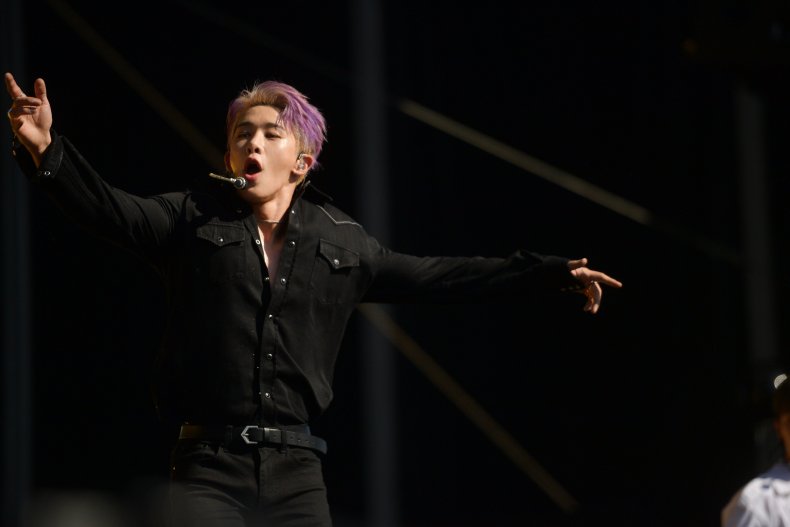 "Wonho will not attend any schedule from today [Thursday] and MONSTA X will continue with this week's scheduled music broadcast as a six-member band. We apologize for any inconvenience this may have caused to the many involved parties," Starship Entertainment said in its official statement.
Monsta X was formed in 2015 and rose to international fame in recent years, which has led to several collaborations with some of the biggest American artists including will.i.am and French Montana. Last year, the history-making K-pop sensation became the first ever K-pop group to perform on the main stage of the annual Jingle Ball concert series.