What is K2? Substance Hospitalizes 25 On One New York Street Corner
Dozens of people in Brooklyn, New York, have been hospitalized after taking a substance called K2, ABC-affiliated WABC reported. Officials believe the patients will survive, the outlet reported.
Police are looking for the dealer responsible for the substance, who they believe is a woman.
Back in 2016, 33 people were found at the same street corner and taken to hospital after having taken substances including K2, WABC reported at the time.
Eyewitnesses described bizarre scenes during the 2016 event. Some people shook as they lay on the floor. One man was seen leaning on a fire hydrant while others simply wandered around, the outlet reported.
Richard Rojas, the man who plowed through the crowd at New York's Times Square in May 2017—killing 18-year-old Alyssa Elsman—was apparently high on K2 at the time, WABC reported. He was subsequently charged with her murder, according to the New York Times.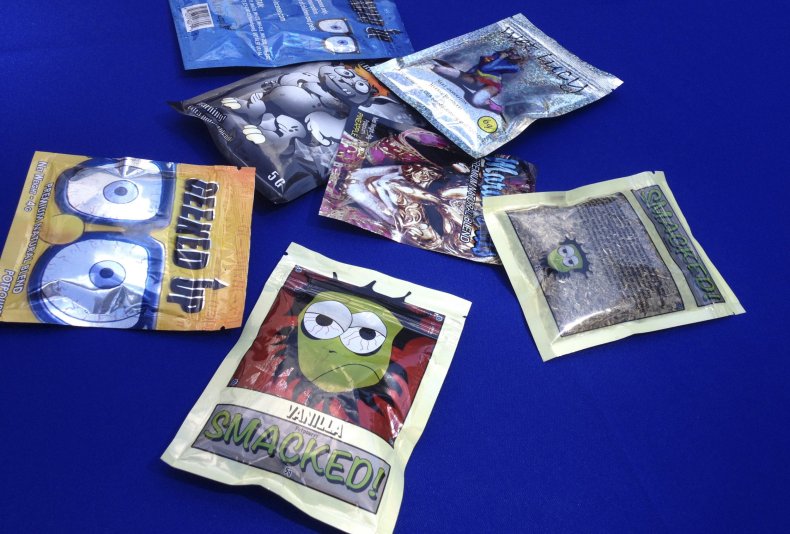 K2 is a name for synthetic pot. Also known as "Spice," these products contain substances related to marijuana, but can be far more unpredictable. Far less is known about K2's toxic effects than those of traditional pot, scientists reported last year in the journal Trends in Pharmacological Studies.
Drug tests do not always reveal synthetic cannabinoid products because they have a different structure to normal pot, they wrote.
Synthetic pot can lead to psychosis, seizures, dependence and even death, the authors report. These dangerous side-effects are more common, and more severe, than those associated with traditional cannabis, they added in the paper. The CDC states the products can cause a rapid heart rate, confusion, vomiting and hallucinations.
Recently, Illinois officials reported K2 had caused severe bleeding in 38 local users. "Despite the perception that synthetic cannabinoids are safe and a legal alternative to marijuana, many are illegal and can cause severe illness," Illinois Department of Public Health Director Nirav D Shah said in a statement released March 30. "The recent cases of severe bleeding are evidence of the harm synthetic cannabinoids can cause."
One of these users subsequently died, the Illinois Department of Public Health reported March 31. Investigations revealed some K2 cases may have been laced with rat poison.