K9 Sniffs Out $3 Million Worth of Fentanyl During Traffic Stop
Officers with the California Highway Patrol reported the largest fentanyl bust in the history of Central Valley, and part of that discovery was thanks to the work of "Beny" a K9 Belgian Malinois.
According to a Facebook post published by the agency, the driver was pulled over for speeding. While speaking with the driver and the passenger, the officer noticed "several factors and tradecraft" that led him to believe the two were "engaged in criminal activity."
Eric Zuniga, the public information officer for the California Highway Patrol's Mercer area told Newsweek that when the driver and the passenger answered some questions, things were not adding up, which led to the K9 search.
"CHP K9 'Beny' was asked to sniff the exterior of the Volkswagen and alerted to the odor of narcotics," the Facebook post read. "A subsequent search of the vehicle revealed approximately 75 pounds of counterfeit Oxycodone pills believed to contain fentanyl."
According to the American Kennel Club, dogs have 225 million scent receptors in their noses. They can be trained to detect drugs, explosives and accelerants.
"The dogs are able to perform their tasks anywhere and are most commonly searching airports and border entries for explosives and illegal drugs, large events for explosives and even civilian vehicles that have been pulled over," the piece with the American Kennel Club stated.
According to the agency's Facebook post, the two, both Washington state residents, were arrested for possession of narcotics for sale.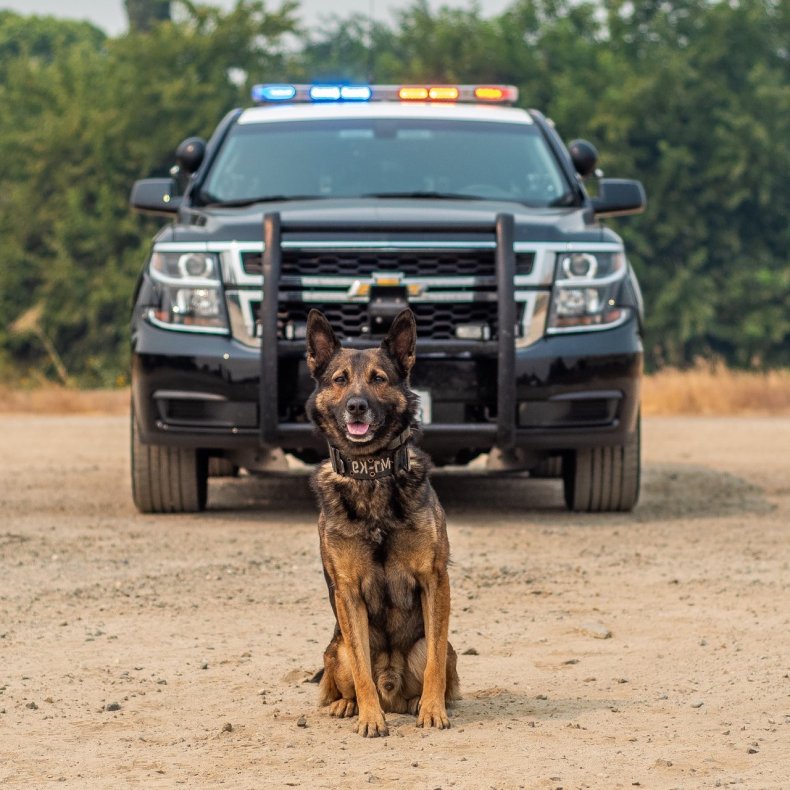 "The street value of these pills is approximately $3,000,000," the Facebook post stated. "This is the largest fentanyl bust in Valley history."
Used as pain relief, the highway patrol agency noted that drug trafficking organizations distribute fentanyl by the kilogram. Just one kilogram equates to about 2.2 pounds, which has the potential to kill 500,000 people, per the United States Drug Enforcement Administration.
One of the largest drug busts in the area's history was just another day's work for Beny.
Zuniga told Newsweek Beny joined the force in 2018, and this is the second handler he's worked with. He is about eight years old and is one of two K9s in that region's agency. Since he started, he and the other K9 have worked on sniffing out numerous cases of narcotics and cash up and down the corridor.
"Beny is a worker, he has that drive," Zuniga said. "He loves to work."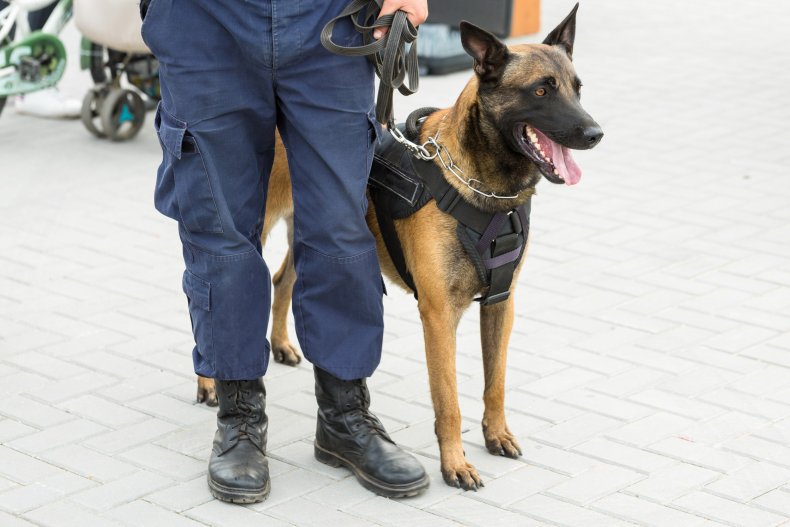 Newsweek previously reported on another dog working with law enforcement.
Shelby was meant to work as a guide dog but she was sworn in as the first therapy dog for the Denver Police Department. Her presence was meant to help make officers more approachable.
Updated 01/25/2022, 2:44 p.m. ET: This story has been updated with a photo of Beny.