Ka-Ching! The Madness and Common Sense of Handing Millions to College Football Coaches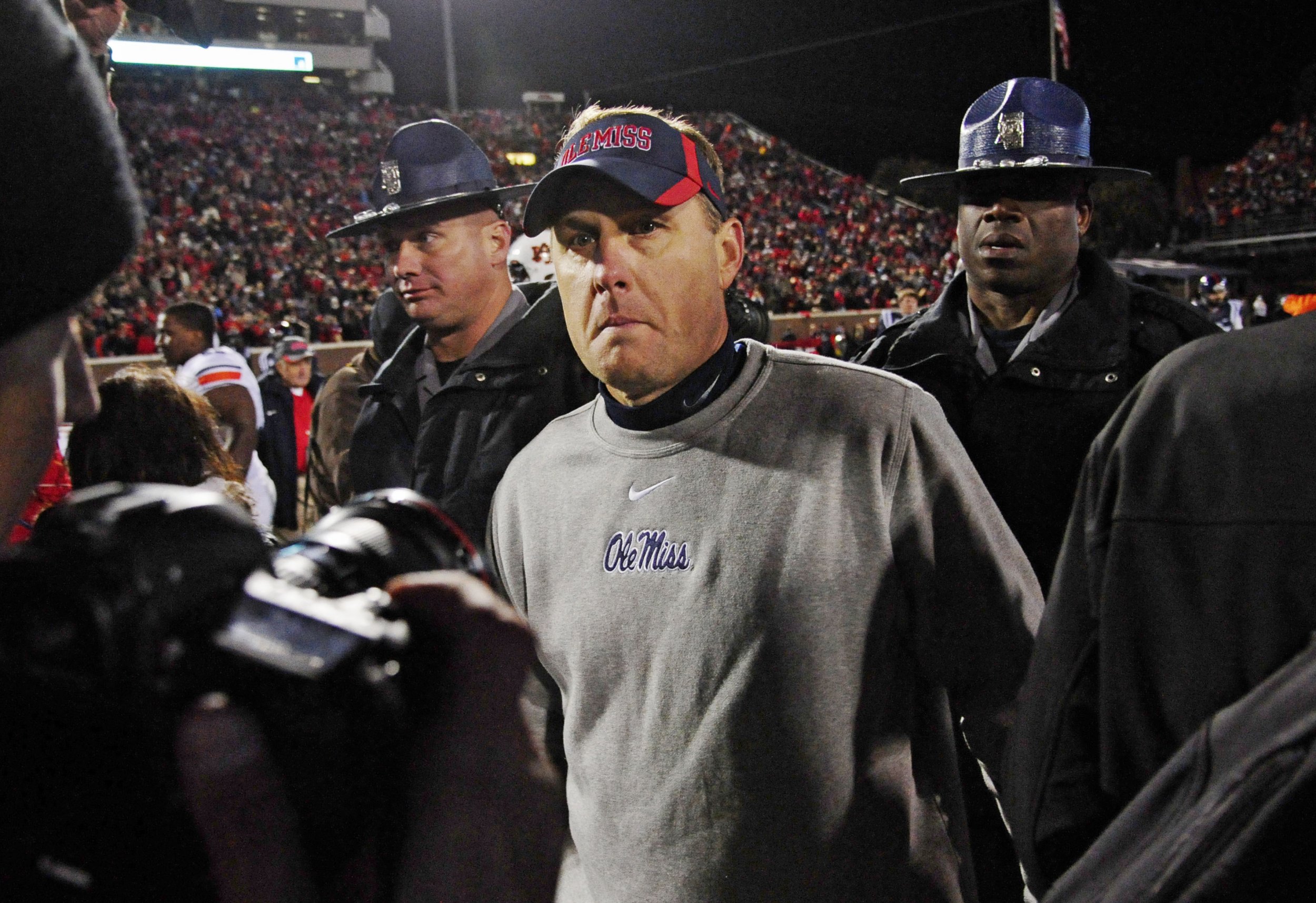 The term "Pay Freeze" assumed a different meaning in the Magnolia State Monday night. The University of Mississippi hiked the salary of football coach Hugh Freeze, already the state's highest paid employee, from $3 million annually to $4 million. While college football coaches in all but a handful of jurisdictions are the best compensated state employees, Freeze's 33 percent raise was doled out in a state that has the nation's highest poverty rate.
Is the decision to escalate Freeze's income by at least one-third in a state where one in four people live below the poverty line, and where the median household income is below $38,000, madness, or simply good business? The answer, alas, is both. "Proud that we have @CoachHughFreeze leading our program & young men for long time to come," the school's athletic director, Ross Bjork, tweeted Tuesday morning. "Agreement is in place & future is bright!"
Freeze, 45, is a homegrown product of Oxford, although he attended college at Southern Miss. After a decade or so as a high school coach in the Memphis area—yes, he was the coach of Michael Oher, i.e. the protagonist of Oscar-winning film The Blind Side—Freeze was hired as an assistant coach at Ole Miss in 2005. He departed after three years but returned as the head coach in 2012.
In the three seasons preceding Freeze's return, the Rebels were 15-22, including 2-10 in 2011. In the three years since Freeze arrived, Ole Miss is 24-13. The apex? A nationally televised upset of then-No. 3 Alabama, college football's unquestioned juggernaut of the past half-decade, on the first Saturday of October. Widely regarded as one of the nation's most charismatic recruiters, Freeze has breathed fire into a program that last won a Southeastern Conference (SEC) championship in 1963.
How do you place a value on that, when the chancellor of the University of Mississippi, Daniel Jones, earns less than $500,000? "We're at $3 million," Bjork told the Northeast Mississippi Daily Journal in early November when he confirmed that he was working on a contract extension and raise for Freeze. "So what's the new number? Is it closer to four? I don't know that five is the new norm yet. We're committed to playing and competing at the highest level."
The highest level of college football the past five years has been the SEC West, where Ole Miss plays. The SEC West has sent its divisional champion to the BCS National Championship Game every year since 2009 (winning four of the five championship games played). Freeze can compete with fellow SEC West coaches such as Alabama's Nick Saban and Texas A&M's Kevin Sumlin on the recruiting trail, so Mississippi feels it must compete with the universities of those coaches on the remuneration scale.
Saban, the highest-paid coach in college football—and deservedly so with three national championships in the past five seasons—earns $6.9 million a year. A Crimson Tide booster group even purchased his home (for $3.1 million) and allows him to reside there rent-free. Sumlin, whose 27-11 record in his three seasons in College Station is comparable to Freeze's, earns $5 million annually. Freeze's pay raise will take him from near the bottom of the SEC's 14 coaches in terms of salary to anywhere between third, behind the aforementioned two coaches, and fifth.
In order to make money, you have to spend money may not be as stirring a college football bromide as "Win one for the Gipper!" but in 21st century college football, it's more apt. Two years ago, according to statistics published by USA Today, Ole Miss ranked last in the SEC in expenditures ($51.7 million) and next-to-last in revenue ($51.9 million). In short, the Rebels were stopped for no gain.
Alabama, meanwhile, spent more than twice as much as Ole Miss but netted a profit of more than $17 million. Roll, Tide! Ole Miss has two built-in handicaps. First, it has the second-smallest enrollment of the SEC's 14 schools. Second, while Oxford may be the most charming locale in the SEC, it also has the smallest population (21,000; Memphis, located some 85 miles north, is Ole Miss' satellite demographic base).
While Ole Miss lacks the gridiron prestige of Alabama or LSU, it is steeped in football tradition: Hotty Toddy (a cheer that goes, in part, "Hotty Toddy/Gosh Almighty/Who the hell are we? Hey!"), The Grove, frat boys in blazers and red ties who kiss their dates after each touchdown make game days at Vaught-Hemingway Stadium a unique slice of Americana. And in terms of football prowess, old times there are not forgotten: The Rebels put together a pair of undefeated, national championship seasons in the early 1960s.
In much the same way that the characters in that Dish Network ad yearn to go back to college, Ole Miss wants to return to those glory years of a half-century ago. Earlier this autumn, after the Rebels shocked Alabama and their in-state rivals Mississippi State pummeled No. 6 Texas A&M on the same day, the sports lens focused squarely on the Magnolia State, a state with no major professional sports franchises and that hosts no major sporting events, for the first time in memory. Sports Illustrated put the two programs on its cover not once ("Mississippi Mayhem," Oct. 13) but twice ("1 Mississippi, 2 Mississsippi," Oct. 20)
Such good vibes provide intangible benefits to a state that is used to finishing first in the nation in poverty, last in literacy and last in the SEC West. A 9-3 season provides tangible benefits, though, such as a new single-season attendance record (430,829), which eclipsed the old record by approximately 3 percent.
In a state that sent only $23 million in additional funds to the entire K-12 educational system this year, a $1 million pay increase for a single football coach can sound obscene. Maybe because it is. However, if Freeze can keep the Rebels, currently ranked 13th in the Associated Press poll, at or near the Top 10, his salary will continue to pay for itself.
Don't blame the coach. Blame all of us who buy the tickets and watch the games. It's our values that are skewed, not the athletic director negotiating Freeze's pay raise.