As Pompeo Meets Taliban, Security Fears in Afghanistan Grow After at Least Eight Killed in Rocket Attack
Kabul was rocked by a barrage of rockets which killed at least eight people and injured dozens, raising security concerns in Afghanistan ahead of a planned drawdown of American troops from the country.
On the day that Secretary of State Mike Pompeo was meeting with Taliban negotiators in Qatar, more than a dozen rockets were fired into residential areas of the Afghan capital.
The center and the north of Kabul including the area which houses embassies and international companies, were targeted around 9 a.m. local time on Saturday.
The Iranian embassy said its compound had been hit by rocket fragments. Iran's foreign affairs spokesman Saeed Khatibzadeh blamed the attack on the U.S., saying it was "an example of proxy warfare and the actions of U.S. terrorist allies in Afghanistan," according to the Iranian agency ISNA.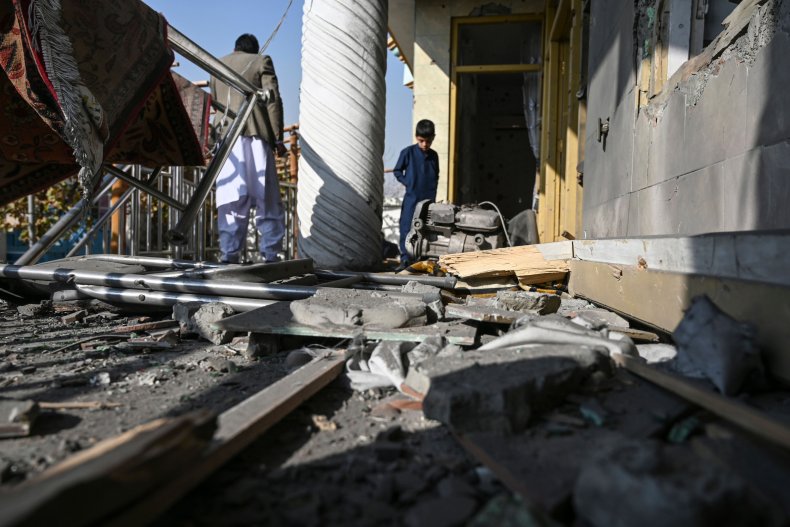 Tariq Arian, spokesman for the Afghan interior ministry said "terrorists" had fired 14 rockets from a truck, Reuters reported, although later reports suggested there may have been more. Images of the rockets being fired were shared on social media, as were pictures of damaged cars and houses.
Taliban insurgents, fighting against a foreign-backed Kabul administration have denied involvement, saying they "do not blindly fire on public places".
"The rocket attack in Kabul city has nothing to do with the mujahideen of the Islamic Emirate," Taliban spokesman Zabihullah Mujahid said, using the insurgents' name for Afghanistan.
The regional Islamic State group has claimed responsibility and was behind other recent attacks in the Afghan capital including two that targeted educational institutions and left 50 people dead, the BBC reported.
The attacks highlight the security concerns in Afghanistan as Pompeo held discussions with Taliban negotiators in Doha on Saturday.
The U.S. administration is looking to withdraw 2,000 troops from Afghanistan by January 15 2021, days before President Donald Trump is scheduled to leave office.
The Doha agreement struck in February this year had aimed at facilitating the drawdown of foreign forces by May 2021, in exchange for security guarantees and a pledge by the Taliban to negotiate a permanent ceasefire with the Afghan government.
But the move to speed up this process, would leave just 2,500 U.S. troops in the country, has raised concerns that it would weaken the Afghan government's ability to deal with a resurgent Taliban and other militants. Saturday's attack will also add to fears that the Afghan army is not strong enough to fight on its own after foreign troops have left.